What's next after marriage equality?
After a historic achievement, Taiwan's LGBT movement takes stock and prepares for battles in gender equity education and trans rights
When the annual Taipei LGBT Pride sets off from City Hall on Saturday, it promises to be an especially joyful occasion.
With the legalization of marriage equality earlier this year, participants will mark the closest thing to a crowning achievement for Taiwan's LGBT movement in more than 30 years of struggle. But even after that watershed moment in May, activists have not wasted any time sitting on their laurels.
Taiwan's LGBT movement now finds itself dealing with the lingering effects of the bigotry unleashed during last year's referendum campaigns. Looking ahead, it is also setting its sights on defending gender equity education and trans rights, viewing these as the next battlegrounds for equality.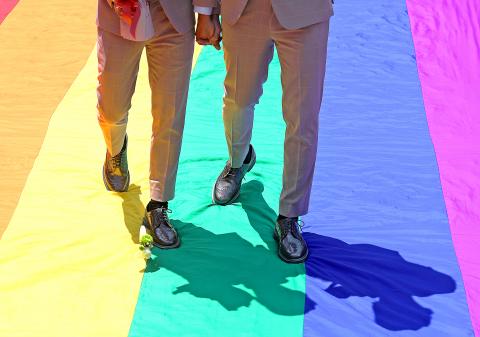 The road ahead is long for Taiwan's LGBT movement, even after marriage equality. In May, a newlywed couple walks into their wedding party.
Photo: CNA
SOCIAL RIFTS
Although same-sex marriage became a headlining cause in 2017, it is not the main preoccupation of LGBT advocacy and is not a panacea to other challenges and needs of the community, says Olivia Tsai (蔡瑩芝), secretary-general of the Taiwan Tongzhi Hotline Association (TTHA, 台灣同志諮詢熱線), a leading LGBT rights organization and convener of this year's Pride.
Nor can a piece of legislation paper over the widening rifts between pro and anti-LGBT camps. Social divides opened up during raucous public debate in the lead up to a controversial referendum on Nov. 24 last year, in which a majority of voters rejected same-sex marriage as well as LGBT-sensitive gender equity education.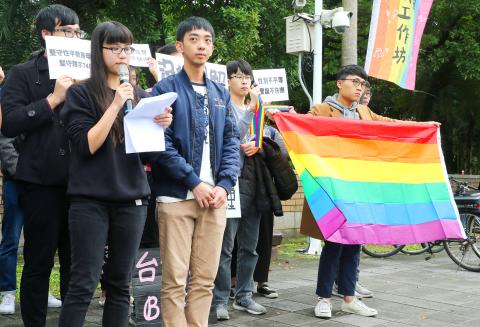 National Taiwan University students demonstrate in December last year for gender equality.
Photo: CNA
While marriage equality has broadly signaled the government's support for Taiwan's LGBT community, the referendum also paved the way for a new normal of open verbal attacks on LGBT people.
"In the past, even if you hated LGBT people, you left it at that, you didn't keep talking about it," Tsai says of Taiwan's tolerant atmosphere. "But during the referendum period, a lot of people would casually criticize, casually make comments." She adds that many in the LGBT community are still hurting from these exchanges.
Prior to the November referendum, Tsai says that activists from Ireland and Australia, which had held national polls on same-sex marriage in 2015 and 2017 respectively, cautioned TTHA against a referendum for the same reason.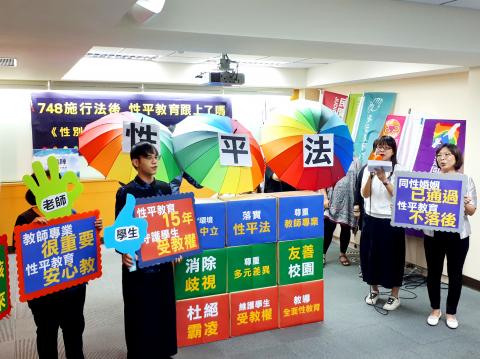 The road ahead is long for Taiwan's LGBT movement, even after marriage equality. A newlywed couple in May walks into their wedding party.
Photo: CNA
Supporters of marriage equality had won out in those two countries, which legalized same-sex marriage within a year of their own polls. But activists felt that the damage done almost outweighed the good.
"After the referendum, they really spent a lot of effort to remedy the hurt and pain felt by the entire community," she says.
Despite the successful policy outcomes, the Irish and Australian activists had advised avoiding any referendum on LGBT rights.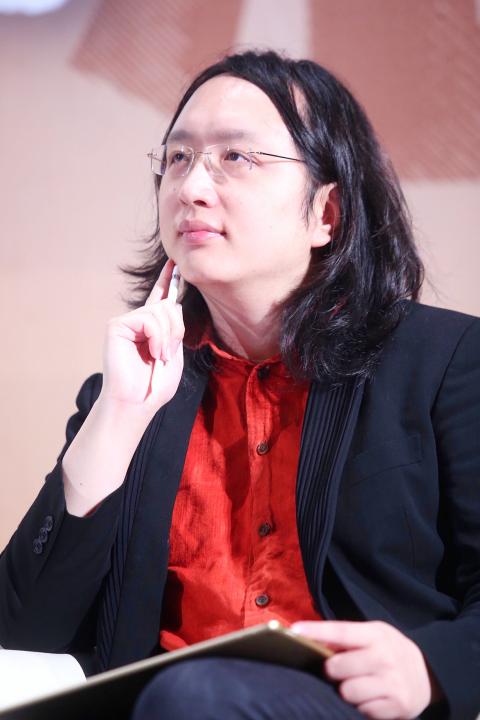 Audrey Tang, Minister Without Portfolio in-charge of digital affairs, became the world's first openly transgender government minister in 2016.
Photo: CNA
EDUCATING THE FUTURE
Another consequence of the high visibility of the marriage equality debate has been an increased scrutiny of efforts to protect LGBT rights, by the groups that oppose them. A key area where this is playing out is in gender equity education, which is proving to be a forefront of the fight for the future of Taiwan's LGBT community.
"Education is an area that everyone wants to seize, because education is a matter of the future," says Wang Li-ching (王儷靜), a longtime gender equity education advocate and National Pingtung University Department of Education associate professor.
The Enforcement Rules for the Gender Equity Education Act were amended in April to remove mention of "homosexual-related education," in accordance with voters' wishes in the November referendum.
Alongside the existing "affective education" and "sex education," the Ministry of Education has amended the enforcement rules to state that the curriculum will cover "different gender, gender characteristics, gender temperaments, gender identity and sexual orientation, and prevention and handling of sexual assault, sexual harassment and sexual bullying on campus."
Wang says that while this amendment is useful for clarifying the content of "homosexual-related education," the removal of that specific phrase means there is a risk that discussions will remain theoretical and geared to a worldview that sees heterosexuality as the norm, without taking into account the lived realities of LGBT people.
Still, Tsai says that anti-LGBT activists have reacted uneasily to the amendments, which they see only as a change in form and not in substance.
"We've heard that down the line, it is very likely that the anti-LGBT camp will target the primary legislation" — or the Gender Equity Education Act — "for amendment," she adds.
And while the act and its enforcement rules provide legal basis and broad outlines for gender equity education, Wang says that implementation in the classroom is usually subject to the interpretation of individual educators, available teaching materials and external pressures.
Wang, who also serves on the Ministry of Education's curriculum review committee, says that educators and textbook editors come under "manipulation" from conservative religious groups to remove teaching content that they deem objectionable.
"Publishers may end up producing textbooks that just go for the lowest common denominator, something that everyone can accept," she says.
Wang also cites recent revelations about "rainbow moms" (彩虹媽媽), or conservative Christian parents' volunteer groups, who were found to be conducting extra-curricular lessons in schools.
Various politicians, including Taipei City Councilors Huang Yu-fen (黃郁芬) of the New Power Party and Miao Po-ya (苗博雅) of the Social Democratic Party, have called out the groups' usage of teaching materials that feature religious language and an emphasis on concepts — such as abstinence and the gender binary — that go against the spirit of the Gender Equity Education Act.
Moving forward, Wang says that educators will require more support, in terms of training and resources but also encouragement, to strengthen the implementation of gender equity education. She also hopes that in the future more young people can have a say in curriculum development, in order to bring their own experiences and perspectives to bear on the content.
THE FIRST TRANS MARCH
TTHA has also created another "first" this year. Tomorrow night, on the eve of Pride, Taiwan's inaugural Trans March will set off from Ximending's Nishi Honganji Relics Temple (西本願寺) at 7pm.
Compared to other countries, Taiwan does not have a history of violence or hate crime against trans people. It is home to the world's first openly transgender government minister, Audrey Tang (唐鳳), who appears in the news more for her work as minister in charge of digital affairs than for her gender identity.
But Tsai says that there continues to be discrimination in the workplace and schools. For example, TTHA often comes into contact with trans people who have been outed without their consent and bullied in the workplace, or who have difficulty getting hired when their trans status is known.
Other medical challenges also persist. While trans people in Taiwan can change their legal gender marker from what they were assigned at birth, they are required to have completed gender-affirming surgery and produce two psychological evaluations. This can be an obstacle to those without the financial means, or who simply do not wish to have the surgery, Tsai adds.
This year's Trans March will serve three objectives: Firstly, to increase understanding of trans people and their experiences among the general public. Secondly, to raise the visibility of trans people and build allyship even within the LGBT community. Thirdly, to encourage more trans people to take a stand and play an active role in the LGBT movement.
"Some people think that politics is about contests between political parties, but actually that's not the case. Politics is everyone's business," Tsai says.
For more information, visit the event's Facebook
Comments will be moderated. Keep comments relevant to the article. Remarks containing abusive and obscene language, personal attacks of any kind or promotion will be removed and the user banned. Final decision will be at the discretion of the Taipei Times.