Taipei church helps activists navigate asylum
Che-lam Presbyterian Church has become a beacon of hope for protesters fleeing from Hong Kong to Taiwan, even as the government lacks a clear policy toward asylum-seekers
Andy Lin left Hong Kong for Taiwan five years ago to get away from the strain and dashed hopes of the Umbrella movement.
"In the end we didn't achieve any of our demands. At the time I felt discouraged. I felt that if [Hong Kong] continued that way, it would get worse and worse, and more unbearable," the 29-year-old says. "So I made a sudden decision to come to Taiwan."
The Umbrella movement ended on Dec. 15, 2014, after a 79-day occupation of central locations in the financial hub by protesters demanding electoral reform.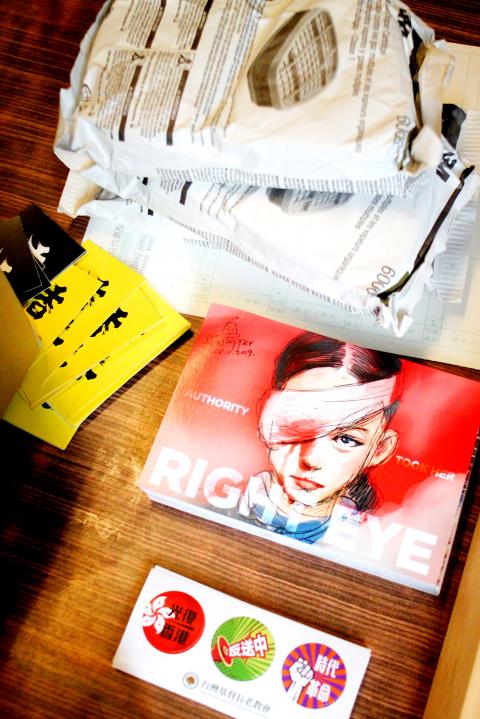 Publicity materials and gas mask filters for Hong Kong protesters lie on a table at the front entrance of Che-Lam Presbyterian Church.
Photo: Davina Tham, Taipei Times
Lin was still a university student. After leaving, his plan was to stay in Taiwan for a temporary break. He ended up finding a job at a tour agency, and has now lived here for the past five years.
Lin's experience has some parallels with the protesters who are now coming to Taiwan because of fatigue and fear of reprisal for their role in ongoing protests against a proposed extradition bill, which have expanded to calls for wider political reform and for Hong Kong Chief Executive Carrie Lam (林鄭月娥) to step down.
They are not alone. Local supporters are now stepping up to provide long-term assistance to those protesters who find their way to Taiwan, most of whom are young and dealing with lingering stress and trauma.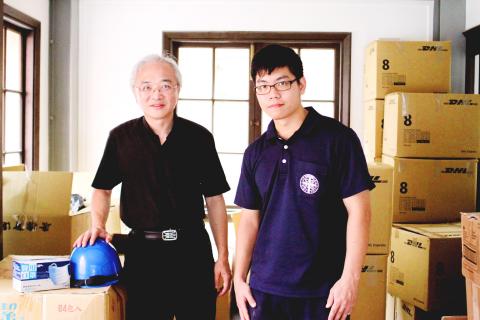 On Monday, head pastor Huang Chun-sheng, left, and youth leader Alex Ko, right, stand in the makeshift warehouse storing protest gear at Che-Lam Presbyterian Church.
Photo: Davina Tham, Taipei Times
COMMUNITY EFFORTS
Since the protests in Hong Kong started on June 9, Lin has flown back several times to march with his fellow citizens. But he has also found ways to support them from Taiwan.
On Monday — the 100-day milestone of the protests — Lin was at Che-lam Presbyterian Church (濟南教會) next to the Legislative Yuan, sorting boxes of donated protest gear bound for Hong Kong. He bantered in Cantonese with a young woman who had flown to Taipei to pick up the boxes and courier them back to the city.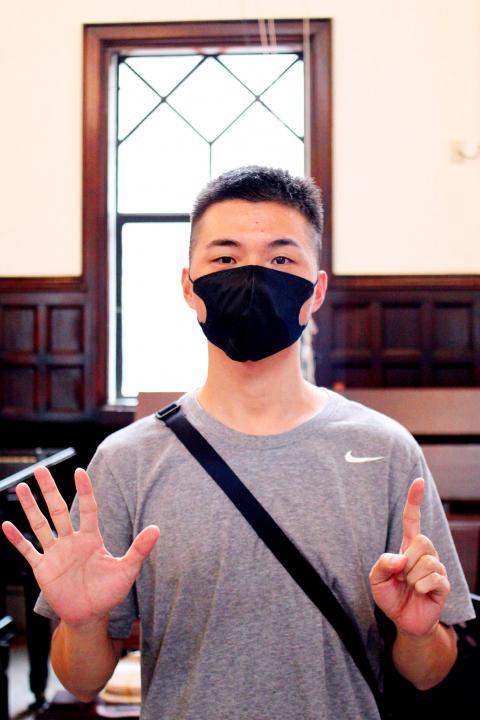 Andy Lin, giving the gesture representing the "five key demands, not one less," came to Taiwan after the 2014 Umbrella Movement.
Photo: Davina Tham, Taipei Times
Head pastor Huang Chun-sheng (黃春生) estimates that NT$4 to NT$5 million (US$130,000 to US$160,000) worth of protest gear has passed through the church since the protests started. A room behind the church's main building has been converted into a makeshift warehouse containing gas masks and goggles. They will all be shipped out within the week.
Che-lam is so far the only organization in Taiwan to publicly say that it is assisting Hong Kong's protesters. Through its work with the donation drive, the church has earned the trust of protesters and the attention of Hong Kong media.
This has made the church a beacon for protesters seeking a way out, even as Taiwan lacks a clear policy toward requests for asylum.
"We are worried that our friends in Hong Kong will be misled into thinking that the Taiwanese government does not care about them," Huang tells the Taipei Times. "So we are telling them that we will walk with them through their trials and tribulations, and we will always welcome our friends from Hong Kong."
Huang was unable to provide an estimate of the number of protesters who have sought the church's help. But last week, the South China Morning Post reported that about 60 people involved in the protests had fled to Taiwan since July.
None who received assistance from Che-lam agreed to be interviewed by the Taipei Times, citing worries about their safety as they intend to return to Hong Kong. Some have been charged with rioting by authorities at home.
"We don't call them 'righteous persons' or refugees. We call them travelers," Huang says. "People who have no choice but to travel because of politics."
Huang says that protesters who want to come to Taiwan must first secure an entry permit, which is required for Hong Kong passport-holders and allows a 30-day stay. Upon arrival, they can reach out to the church for help with temporary accommodation as well as medical, psychological and social support.
"Not all who come to us from Hong Kong are Christians, they could be people who have faced oppression," Huang says, including many young people who display symptoms of post-traumatic stress disorder.
To help them, the church relies on community resources, including the services of the church-affiliated Mackay Memorial Hospital. Local supporters have also acted as guarantors to secure visa extensions for some individuals.
Huang envisions some protesters staying in Taiwan for up to one to two years. Moving into the second act of its humanitarian assistance, the church is now working with civil society to formalize a group of Hong Kong mental health professionals, social workers and pastors who are based in Taiwan, or who can make regular trips here, to help people affected by the protests recover and better integrate into Taiwan.
But others may find what they need — a change of scenery and time and space to unwind — within the duration of an entry permit.
Huang laughs as he recalls a young man who missed an appointment to meet a psychiatrist at the church because he had gone sightseeing in Hualien.
"The doctor said, 'That's great! Being able to have fun and have a change of environment are even better than going to see the doctor,'" Huang says.
CHRISTIAN SUPPORT
Che-lam's provision of humanitarian assistance is made possible by the Presbyterian Church in Taiwan's (PCT) public and formal support for the Hong Kong protests.
On July 31, the PCT co-signed a "Joint Statement on the Hong Kong Democracy Movement," which urged the Hong Kong government to agree to the protesters' demands. The statement was issued by the Churches' Forum for Peace and Security in North East Asia, which also includes the National Council of Churches in Korea and National Christian Council in Japan.
The statement crossed denominational lines when the National Council of Churches of Taiwan endorsed it on Tuesday last week.
The PCT did not respond to requests for comment for this story.
But Huang says that a key factor in the church's decision to mobilize is the injustice in "acts of violence by the Hong Kong police, including shooting tear gas and attacking civilians indiscriminately."
Defense of religious freedoms is likely to be another motivation. Huang says that Hong Kong-based pastors and seminary teachers are "very worried" about possible restrictions as China seeks to blur any distinction between Hong Kong and China, where religious persecution is intensifying.
Huang says he has not received any pushback from parishioners about the church's efforts to support protesters.
For Alex Ko (柯啟安), a university student and youth leader at Che-lam, the church has become a place where faith, humanitarian values and democratic ideals converge.
Ko runs the protest gear donation drive and is also a founding member of Fridays for Future, PCT, a Christian youth activist group that has organized protests supporting action on climate change and same-sex marriage.
When asked why he supports the Hong Kong protests, Ko replies entirely in secular terms.
"In Taiwan, we are also subject to China's advancing power and influence," he says. "If we do not protect the system of [democratic] government that we have now, we might very well lose it in the future."
But Ko has also been given reason to reflect on his faith, especially as some naysayers have argued that the protesters' disobedience of authority is not Christian-like.
"If the Bible ever says to obey an authoritarian figure, then I think that faith isn't Christianity. It's the faith of authoritarianism."
Comments will be moderated. Keep comments relevant to the article. Remarks containing abusive and obscene language, personal attacks of any kind or promotion will be removed and the user banned. Final decision will be at the discretion of the Taipei Times.