Restaurants: Izakaya
Japanese skewers, or kushiyaki, are the main course at these Taipei izakaya restaurants
The izakaya is a cultural force of habit in its native Japan. On a nightly basis, office workers make pilgrimages to their equivalent of a pub, where sake and shochu flow like holy water, promising relief after a long day. It's become a quintessential experience of modern Japanese life.
Universal admiration for Japanese food and drink culture means that the izakaya format has also found its way around the world. In Taiwan, workplace angst is more often exorcized in karaoke bars and rechao (熱炒, literally "hot fry") restaurants. Izakaya hence retain relative tranquility and elegance, and occupy a different role in the dining eco-system. Consider the fact that a date at an izakaya is a non-starter in Tokyo, but is not out of the question in Taipei.
A fully-stocked bar is mandatory, but an izakaya can distinguish itself from the competition with outstanding food. Izakaya menus tend to be generalist — the same menu could give equal weight to sashimi and deep-fried chicken. Where there are efforts to specialize, a familiar contender is kushiyaki: bite-sized meat and vegetables arranged tidily on skewers, set on a grill and often basted with tare, a ubiquitous thick, sweet soy sauce seasoned with sake and aromatics.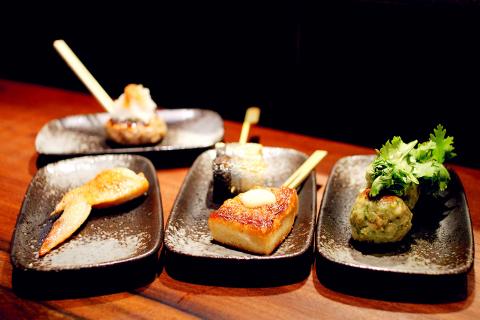 Clockwise from top left, a one-bite hamburger steak, chicken meatballs with cilantro, shrimp toast and a chicken wing stuffed with dumpling filling are among the grilled offerings at Nen San Jyuu.
Photo: Davina Tham, Taipei Times
As diners' palates grow more sophisticated, these two izakaya in central Taipei exemplify how chefs are finding ways to pack more personality, flavor and variety onto their skewers. The result falls in a sweet spot between bar snacks and pub grub — fresh but unfussy, compact but still capable of satiation and even nourishment.
NEN SAN JYUU
Since opening in November last year, Nen San Jyuu (年三十) has consistently pulled in a young and urbane crowd with inventive kushiyaki masterfully grilled by its head chef, who hails from Osaka.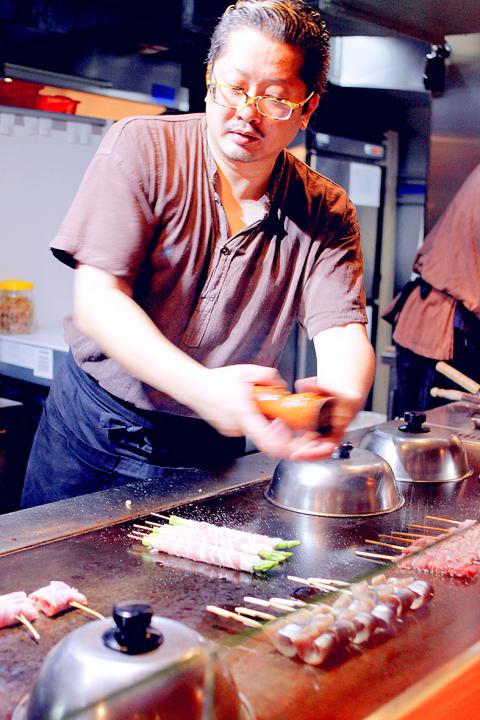 Nen San Jyuu's head chef, who hails from Osaka, seasons kushiyaki on the grill.
Photo: Davina Tham, Taipei Times
Inspiration is drawn from a range of cuisines. Skewered shrimp toast (NT$60) is an adaptation of a deep-fried Cantonese appetizer commonly found in Chinese restaurants in Japan, consisting of fresh prawn paste smeared over bread. Bone-in German sausage (NT$60) makes an appearance. Salmon is taken a step further with a topping of cured salmon roe (NT$80), echoing a seafood oyakodon, or "parent-and-child rice bowl."
Even the usual suspects are dressed differently. A chicken wing (NT$70) is deboned and stuffed with jiaozi (餃子) filling to fuse the best of both worlds. Instead of leeks or asparagus, pork belly strips (NT$70) are paired with local bamboo shoots or white water snowflake (水蓮), a crunchy vegetable resembling a bunch of bright green wires. Pacific saury (NT$70), usually presented whole, is deboned and filleted and can be popped into the mouth straight off the skewer. A standout is the sweet and juicy grilled scallop (NT$90) slathered with buttery crab miso, or the savory innards of the crustacean.
Beef is presented in a few ways, all of them distinct. Miniature hamburger steak (NT$60) is a natural on the grill, as are tender beef tongue (NT$100) and beef ribs with mushroom (NT$90). Beef yakiudon (NT$200) surprisingly hits above its weight. The deceptively simple dish of fried udon noodles, beef and cabbage (NT$200) is slicked with a savory caramel tare and is a seasonal offering only, although the perennial offering of pork and kimchi yakiudon (NT$180) also seems promising.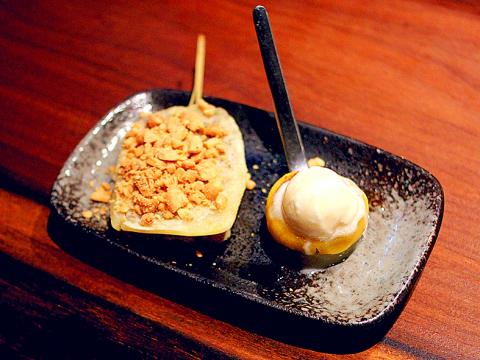 For dessert at Nen San Jyuu, choose between grilled mochi with crushed peanuts, left, and hot sweet potato puree with milk ice cream.
Photo: Davina Tham, Taipei Times
Not being much of a drinker, I opt for a housemade, naturally sweetened fruit soda consisting of fresh grapefruit juice and pulp mixed with carbonated water (NT$150). The bartender will add a shot of shochu for another NT$50 — a rule that also applies to a range of sours (NT$130 to NT$150) flavored with yuzu honey, matcha, oolong tea and Calpis, a Japanese fizzy milk beverage.
Rare for a kushiyaki joint, dessert is not an afterthought. Grilled mochi (NT$40) combines the crunchy peanuts and chewy texture that are so beloved of locals. But it's the dessert known as "sweet thirty" (甜三十, NT$40), which plays off the temperature contrast between a dollop of milk ice cream atop a round of hot sweet potato puree, that continues the earlier streak of well-balanced and self-contained morsels.
Nen San Jyuu (年三十)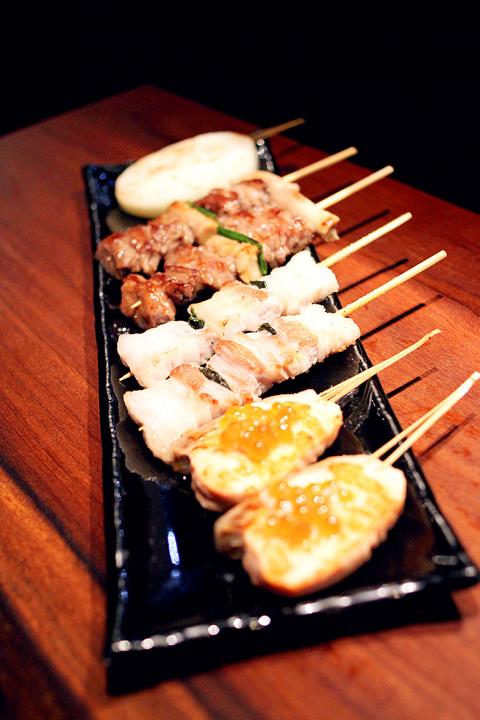 From top to bottom, grilled mountain yam, beef rib with mushroom, pork with basil and salmon with cured salmon roe are served at Nen San Jyuu.
Photo: Davina Tham, Taipei Times
Address: 30, Lane 308, Guangfu S Rd, Taipei City (台北市光復南路308巷30號)
Telephone: (02) 2771-1730
Open:Wednesdays to Mondays, 5pm to 11:30pm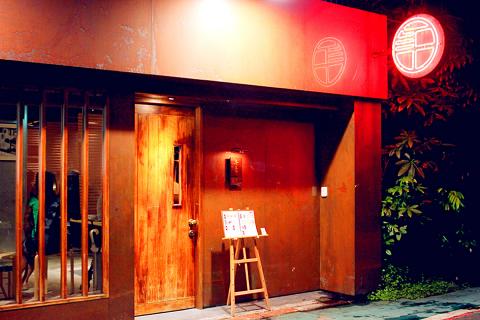 Nen San Jyuu has been pulling a steady stream of young and urbane diners since opening in November last year.
Photo: Davina Tham, Taipei Times
Average meal: NT$600
Details: Menu in Chinese and Japanese; credit cards accepted
On the Net: facebook.com/nensanjyuu/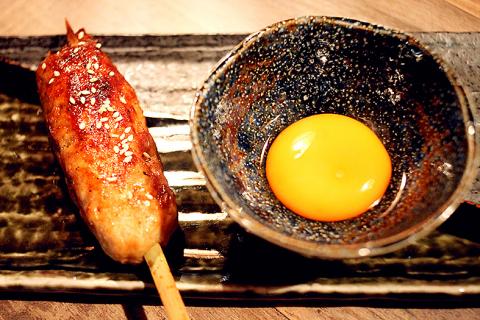 Minced chicken grilled on a skewer is dipped into egg at Nozaki.
Photo: Davina Tham, Taipei Times
NOZAKI
Nozaki prides itself on innovation — its full name in Chinese emphasizes its creative license with kushiyaki, and compared to Nen San Jyuu, it has a wider range of off-the-skewer dishes that are clearly designed to impress.
One dish with unusual texture and flavor is the chicken ham (NT$180), consisting of pale, pate-like slices of chicken served with yuzu jam, yuzu pepper, wasabi and mayonnaise. Care is taken with the ingredients, evidenced by another appetizer of cold tofu topped with katsuobushi (NT$160), or dried skipjack tuna flakes, shaved fresh tableside.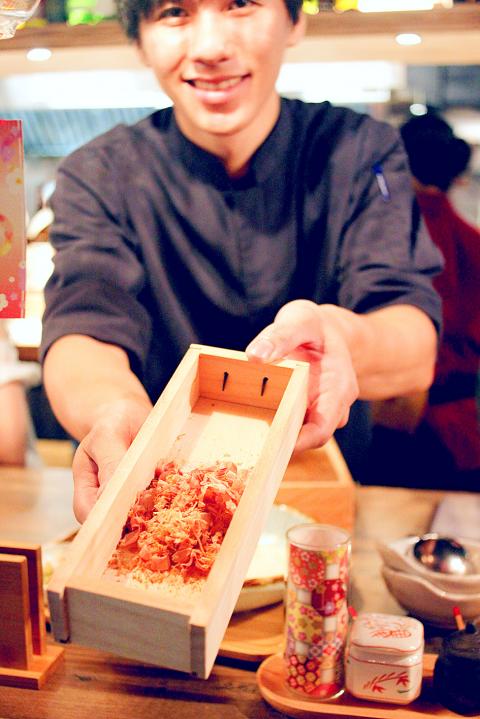 Freshly-shaved katsuobushi is used to top Nozaki's cold tofu appetizer.
Photo: Davina Tham, Taipei Times
However, the menu sometimes seems to go for concept over execution. A dish of smoked beef slices and raw salmon with cured salmon roe and fried taro strips (NT$380) comes to the table in a glass bell jar obscured by thick smoke. This makes for a somewhat dramatic reveal, but when the eating commences, the elements on the plate stay disparate rather than coming together into a greater whole.
Crab miso tofu (NT$220), described in the menu as "crab mousse," is dainty-looking and generous with the crab meat and innards. But the taste itself veers toward an unpleasant fishiness.
Simpler dishes fare better. Among the kushiyaki, cabbage wrapped with grilled pork belly (NT$130) is an easy but clever combination, with the greens helping to ensure the fatty meat does not become cloying. This rightly leaves space to sample other winning combinations of grilled Camembert cheese wrapped with pork belly (NT$120) and a large chicken meatball with an egg yolk for dipping (NT$120).
At Nozaki, chicken ham has an almost pate-like consistency.
Photo: Davina Tham, Taipei Times
For a light drink, ask about the off-menu umeshu that Nozaki infuses with seasonal fruits, such as pineapples, strawberries and apples. My peach-infused umeshu with club soda (NT$250) goes down very easily.
Nozaki (野崎)
Address: 19, Alley 33, Lane 216, Zhongxiao E Rd Sec 4, Taipei City (台北市忠孝東路4段216巷33弄19號)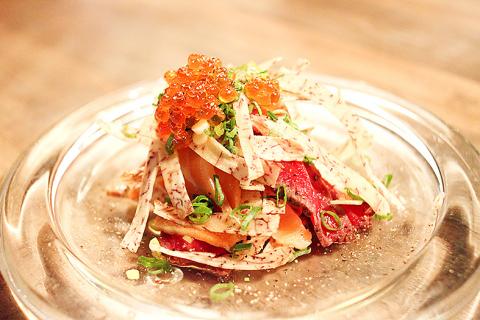 Nozaki's smoked beef and raw salmon looks impressive, but never really comes together.
Photo: Davina Tham, Taipei Times
Telephone: (02) 2779-0335
Open: Mondays to Saturdays, 6pm to 11:45pm
Average meal: NT$700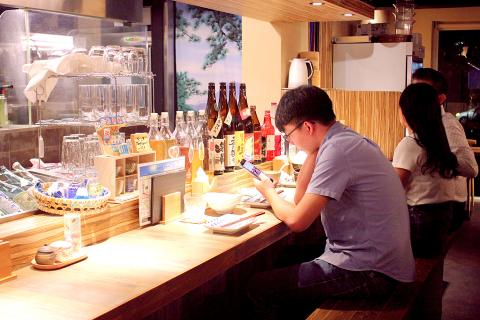 Like any izakaya worth its name, Nozaki has a fully-stocked bar.
Photos: Davina Tham, Taipei Times
Details: Menu in Chinese and Japanese; credit cards accepted
On the Net: facebook.com/taipeiNOZAKI/
Comments will be moderated. Keep comments relevant to the article. Remarks containing abusive and obscene language, personal attacks of any kind or promotion will be removed and the user banned. Final decision will be at the discretion of the Taipei Times.