Highways & Byways: The landmarks of Yuanlin
A police museum, Confucian academy and abandoned granary are among the highlights of a trip to Changhua County's second most populous city
Yuanlin City (員林市), Changhua County's second-largest settlement, gets few tourists, and there's no compelling reason to stay overnight.
The sights described here are within walking distance of the railway station; seeing all three takes just a few hours. They're niche attractions, for sure. But if you've a particular interest in the history of policing, the Confucian schools where many boys received their education back when Taiwan was part of the Qing Empire or modern yet abandoned infrastructure, you may find a trip to Yuanlin very worthwhile.
Yuanlin's current population is just under 125,000, and some local Han families have been living here for close to 300 years. During the period of Japanese rule, the town prospered thanks to sugar and pineapple production. The colonial authorities established local institutions to facilitate control and development, among them schools, an epidemic-prevention office and a police station.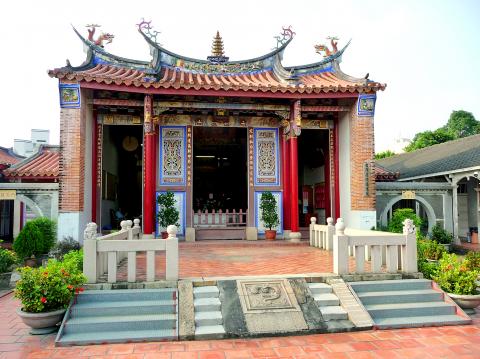 The central part of Singsian Tutorial Academy in Changhua County's Yuanlin City functions as a shrine.
Photo: Steven Crook
POLICE MUSEUM
What's now Yuanlin Police Museum (員林警察故事館) used to be official housing for a senior police officer and his family. I haven't been able to ascertain the year of construction, but it looks like a typical (and obviously renovated) colonial-era bungalow.
Since 2014, it has housed what could be the finest collection of police paraphernalia anywhere in Taiwan. There's equipment from the latter part of the colonial period, including several swords, and the short lengths of rope with which policemen could restrain those they'd arrested before handcuffs became standard issue.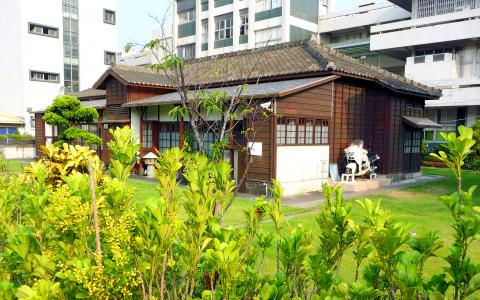 A delightful wooden building surrounded by greenery, Yuanlin Police Museum in Changhua County's Yuanlin City is interesting inside and out.
Photo: Steven Crook
Items from the Chinese Nationalist Party (KMT) era include batons, handcuffs, holsters and uniforms. There's a forensic-evidence collection kit with adhesive tape and tweezers. During the Cold War, Taiwan's police were trained to respond to conventional, chemical or nuclear attack, and the museum displays a hand-cranked air-raid siren, gas masks and Geiger counters.
Other intriguing items include a bulletproof face mask; a beguilingly complicated Chinese-script typewriter; and a fairly recent riot shield which visitors can pick up and pose with. If you're into cosplaying for photos, there are hats and other accessories. Outside, there's a BMW motorcycle formerly used by the highway patrol.
The museum is at 14 Sanmin Street (三民街14號), 460m due east of Yuanlin Railway Station (員林車站). It's open from 9am to 11:30am and 2pm to 4:30pm every day except Monday, and almost everything inside is labeled in English and Chinese.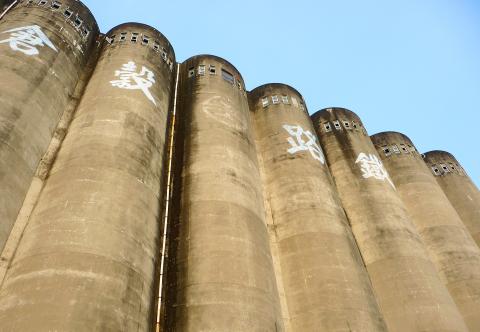 Drab yet imposing, the long-disused granary beside the elevated railway in Changhua County's Yuanlin City dates from the 1970s.
Photo: Steven Crook
CONFUCIAN EDUCATION
Less than 100m south of the police museum, Singsian Tutorial Academy (興賢書院) stands in the northeastern quarter of Yuanlin Park (員林公園). The academy was founded in 1807, then given its current layout in 1881 after a public appeal for rebuilding funds.
Between these two dates, a Guangdong native called Chiu Hai (邱海) took over the academy and recruited students from the surrounding area. Many of them were preparing for the imperial civil service examinations. Chiu is fondly remembered for his devotion to the school; a memorial tablet in the chamber to the left of the main altar bears his name.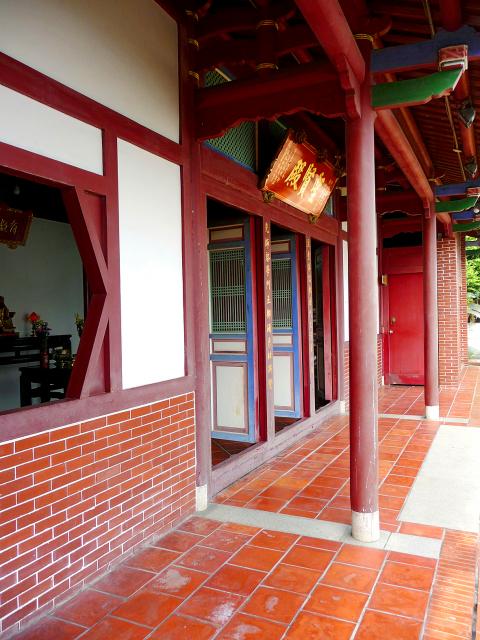 The left wing of Singsian Tutorial Academy has a much more Chinese appearance than its right-hand-side counterpart.
Photo: Steven Crook
In 1937, teaching at the academy was abruptly halted when the Japanese colonial authorities launched the Kominka Movement (皇民化運動), an official effort to replace Han identity among Taiwanese with Japanese values and loyalty to the emperor in Tokyo.
The complex encompasses a central shrine devoted to Wenchang Dijun (文昌帝君), a Taoist deity associated with learning and literature, two wings divided into study rooms, a sealed well and storerooms. The left wing as you face the front of the shrine is distinctly Chinese in terms of design, materials and color. The one on the right is more typical of buildings constructed during the Japanese colonial era.
The academy was grievously damaged by the 921 Earthquake. In 2003, a budget of NT$48 million was set aside for reconstruction. My first visit to the academy was long after the disaster, so I can't judge how authentic the rebuilding has been. It certainly looks nice, and in keeping with the building's original purpose, on both occasions I've been here, at least a dozen young people were making use of the good study rooms.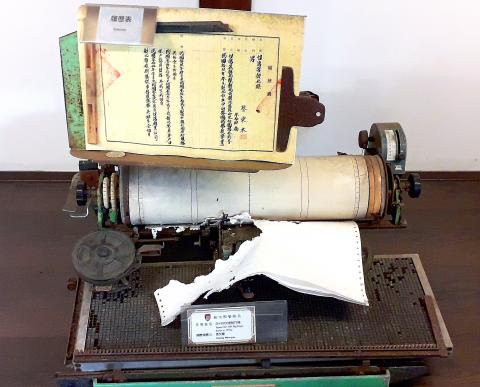 A Chinese-script typewriter displayed inside Yuanlin Police Museum.
Photo: Steven Crook
The academy's address is 1 Sanmin Street (三民街1號). It's daily from 7am to 7pm. As at the police museum, there's no admission charge.
YUANLIN GRANARY
To reach the third place of interest, follow the elevated railway tracks 450m north from Yuanlin Station. It's impossible to miss Yuanlin Railroad Granary (鐵路穀倉), a massive concrete edifice that's 58m long, 12.8m wide and 34.3m high.
The plaque at ground level on the building's south side uses a slightly different English name ("Yuanlin Railroad Barn"), and notes that the granary has been a county-level relic since mid-2003. Up to 10,500 tonnes of grain could be stored in the 18 interconnected silos, some in bulk and some in bags. Stirring and air-circulation machinery prevented overheating or mold accumulation.
The granary was built in 1976 to hold grain before it was sent by train to Keelung or Kaohsiung for shipping abroad; it's hard to believe now, but Taiwan used to be a food producer of international significance. However, exporters soon realized that road transportation was cheaper than rail, and the facility was permanently shuttered in 1983.
Since then, the granary has been opened to the public for occasional events, but I've never been inside. It certainly looks robust enough to stand for another century, and thus cries out for repurposing. The upper part would make for an unusual AirBnB.
The town's bus station is just across the road from the granary, which is convenient if you plan to travel next to Nantou (南投) or Sitou (溪頭), if you want to take a high-speed train from Changhu HSR Station, or if you plan to take a freeway bus to Taipei.
Steven Crook has been writing about travel, culture, and business in Taiwan since 1996. He is the co-author of A Culinary History of Taipei: Beyond Pork and Ponlai, and author of Taiwan: The Bradt Travel Guide, the third edition of which has just been published.
Publication Notes
IF YOU GO
GETTING THERE
>> Many of the 20-plus express trains that run from Taipei to Yuanlin each day take less than two hours 45 minutes. From Kaohsiung, travel time is about two hours. Changhua County's YouBike shared-bicycle system has 19 rental points around Yuanlin; for details (in Chinese) go to: wa.chcg.youbike.com.tw.
Comments will be moderated. Keep comments relevant to the article. Remarks containing abusive and obscene language, personal attacks of any kind or promotion will be removed and the user banned. Final decision will be at the discretion of the Taipei Times.