Turning Taipei upside down
The third annual Nuit Blanche Taipei begins at 6pm on Saturday, with MRT services between Taipei Main Station and Yuanshan Station staying open to the end at 6am on Sunday
The organizers of Nuit Blanche Taipei (臺北白晝之夜) have been on a steep learning curve, but it looks like the third installment of the world-wide night-long phenomenon will finally be hitting the right notes.
The idea behind Nuite Blanche, which was first held in Paris in October 2002, is for a city to become a huge art gallery for one night, opening up the art world and a city's neighborhoods to a wider audience. Scores of cities now host their own Nuite Blanche on the first Saturday in October.
Taipei's first effort in 2016 stretched from the North Gate (北門) to the 228 Peace Memorial Park (228和平公園), but coordination and promotional hiccups created more confusion than excitement. Last year's event explored the west side of the city, centered around National Taiwan University, the Taipower Building and the Taipei City Hakka Cultural Park (客家文化主題公園).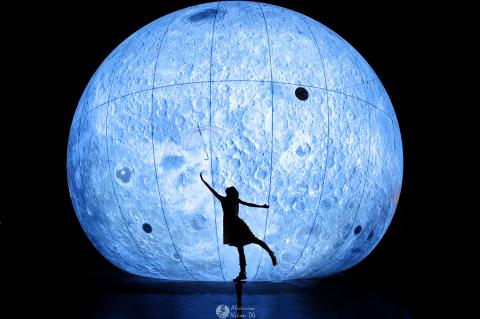 Moon Haze, a 10m inflatable moon by Chinese artists Feng Jiacheng and Huang Yuanbei, will be near the intersection of Nanjing E Road and Linsen N Road this weekend for Nuit Blanche Taipei.
Photo courtesy of Feng jiaCheng and Huang Yuanbei
This year's event, which begins at 6pm on Saturday, runs along Zhongshan N Road from Section One, at the intersection with Nanjing W Road, to Section 3 and the Taipei Fine Arts Museum and Flora Expo Park, and unlike the first two, there will be performances at several sites up until 6am.
The theme for this year is "Upside Down City" with a goal of "liberating the space and redefining the city.
Organizers said Zhongshan N Road was chosen as the venue because its architecture and shops reflect different periods of Taipei's history, from the Japanese colonial era to Taiwan's economic boom and the cultural diversity represented today by the influx of migrant workers.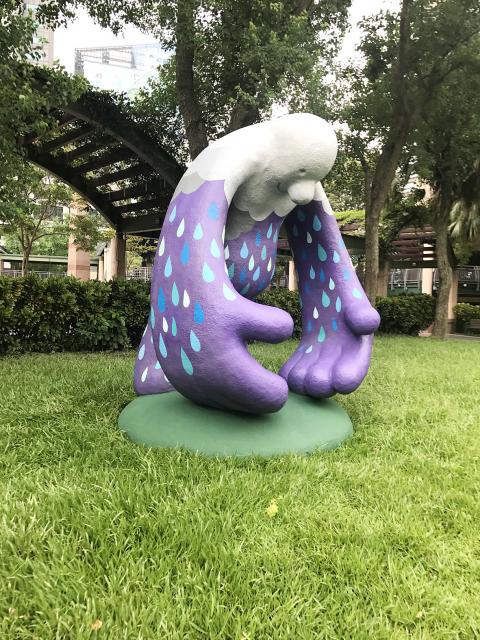 Tsai Chieh-hsin's large-scale fiberglass sculpture, Let us hug each other today!, has been installed in Taipei's Shuangcheng Children's Park for Nuite Blanche Taipei.
Photo courtesy of Tsai Chieh-hsin
The main sites include the Taipei Fine Arts Museum (TFAM), the Museum of Contemporary Art, Expo Hall, the Expo Dome, Taipei Artists Village, the Nanxi circle the Yushan MRT Station and around St Christopher's Church.
Organizers have pulled together a program that features more than 70 performances or programs by Taiwanese and foreign artists, including migrant works, and several collaborative efforts, and 43 art installations.
The art installations have been placed around TFAM, Expo Hall and the small park at the intersection of Nanjing E Road and Linsen N Road.
People Ball was created by Tang Tang-fa.
Photo courtesy of Nuite Blanche Taipei
One of the more visible installations will be an environmental piece, Moon Haze, by Chinese artists Feng Jiacheng (馮嘉城) and Huang Yuanbei (黃苑倍), a 10m high inflatable moon that changes brightness according to the amount of fine particulate matter (PM2.5) in the air.
Major performances Herbert's Dream by Compagnie des Quidams from France; One-Forty Migrant Stars, which brings together musicians and fashionistas among Taipei's migrant worker population for a mix of concerts and runway shows; Noised (噪型) by the French-Taiwanese Sondes A/V Duo (電波接收器), an abstract audiovisual performance about city noises; and Night of Rebellion — Grand Dress-up Party, a drag queen showcase by performers from different generations.
The Midnight Service section will feature films at the Late Night Cinema and pop-up hotels at the two museums and Taipei Artist Village, although advance registration is required for these events.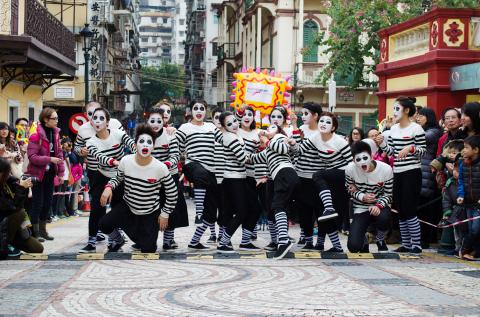 The L'Enfant Sauvage Physical Theatre are among the groups performing as part of Nuit Blanche Taipei this weekend.
Photo courtesy of L'Enfant Sauvage Physical Theatre
To make it easier to reach the different sites, the Mass Rapid Transit system is going to keep trains running between Taipei Main Station and Yuanshan Station until 6am.
There is a well-designed Web site (nuitblanchetaipei.info) with information in Chinese and English, including a program schedule, artist information and downloadable map.
The Taipei City Police Department announced yesterday that traffic controls would be imposed on Changan W Road starting at 3:30pm on Saturday and on Zhongshan N Road Sec 3 starting at 4pm.
Comments will be moderated. Keep comments relevant to the article. Remarks containing abusive and obscene language, personal attacks of any kind or promotion will be removed and the user banned. Final decision will be at the discretion of the Taipei Times.