Taiwan in Time: The former president's reversal
Lee Teng-hui adhered to the KMT's pro-unification, one-China stance during much of his political career, but his attitude started to change in the 1990s, finally breaking ties with the party in 2001 and leading the 2003 march to change the country's name to Taiwan
Sept. 3 to Sept. 9
More than 100,000 marchers convened in front of the Presidential Office on Sept. 6, 2003 as former president Lee Teng-hui (李登輝), who just had heart surgery a month earlier, addressed the masses.
"During my 12 years as president, I've faced many obstacles in my quest for Taiwanese democracy. This has led me to deeply feel that our country is not a normal country … Taiwan has often been influenced by foreign powers ... leaving our people unable to decide the path we want to take," he said.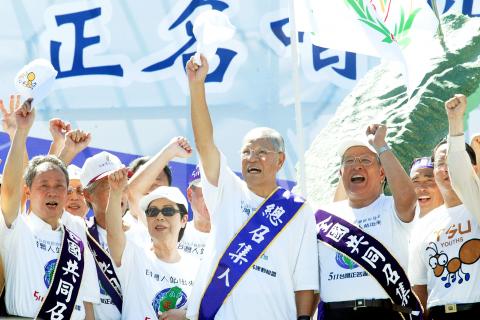 Former president Lee Teng-hui participates in the Sept. 6, 2003 march to rectify Taiwan's name.
Photo: Lin Cheng-Kun, Taipei Times
Lee then mentions his "Republic of China on Taiwan" term, which he first brought up in 1995 at a lecture at his alma mater Cornell University. It was the first time a government official publicly referred to the country as anything other than the Republic of China.
"I also advocated the 'New Taiwanese' ideal in hopes that our people would cast aside their differences and identify with Taiwan, cherish Taiwan, and work for the happiness of our descendants. But that has not gone well either."
"Because of this, I ... recognize that our difficulties have much to do with the unrealistic country name of 'Republic of China.' We must begin with rectifying our name … A while ago, I said that the Republic of China doesn't exist. I received much criticism for this, but I was not speaking carelessly, but from historical truth."
A scene from the Sept. 6, 2003 protest to rectify Taiwan's name.
Photo: Wang Yi-sung, Taipei Times
Lee argues that the Republic of China did not include Taiwan when it was established in 1912, nor did it have legal jurisdiction over Taiwan after World War II. The Republic of China had lost all its territory after the Chinese Civil War and had disappeared from the international stage when it was replaced in the UN in 1971 by the People's Republic of China, he said.
"The Republic of China is only a title, not a country, and we all need to know that," he said.
This marked Lee's complete turnaround from his Chinese Nationalist Party (KMT) roots, of which he had been a member of since 1971 and rose to become its first Taiwan-born leader in 1988. In fact, by the time of the 2003 march he had completely broken ties with the party, being expelled two years earlier.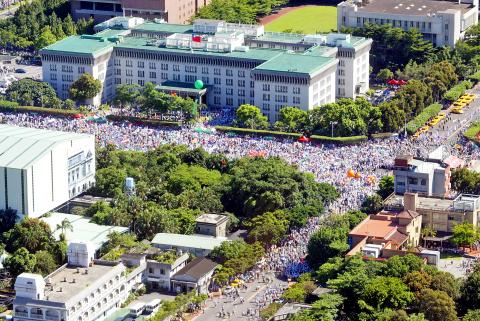 A scene from the Sept. 6, 2003 protest to rectify Taiwan's name.
Photo: Wang Yi-sung, Taipei Times
TREADING CAREFULLY
Lee, who earned his doctorate in agricultural economics from Cornell University in 1968, was teaching at National Taiwan University and working with the Council of Agriculture when soon-to-be-premier and future president Chiang Ching-kuo (蔣經國) approached him. Chiang was organizing his cabinet and asked Lee to join the KMT.
In his memoir, The Remaining Years: My Life Journey and the Road of Taiwan's Democracy (餘生: 我的生命之旅與台灣民主之路), Lee writes that he did not like the KMT and had no political aspirations, but he saw it as an opportunity to change Taiwan from the inside.
"For someone who had gone through the White Terror era, I probably subconsciously believed that the most dangerous place is the safest," he writes.
Lee writes that he had long disagreed with the "Republic of China" name, preferring to see the country as Taiwan, but he had to tread carefully as that would directly conflict with KMT beliefs. He had not consolidated his power yet, and there was much distrust toward him by the China-born majority in the party.
When Lee was elected president in 1988, he could only say, "Let's all work together towards a common goal," he writes. When he ran for re-election in 1992, he still did not mention the notion of "Taiwanese," instead stating, "Let's create a new era for zhonghuaminzu (中華民族, referring to people of Chinese descent).
By the 1996 elections, Lee stated, "Let's create a new culture with greater Taiwan as its foundation." This is when he brought up his "New Taiwanese" ideal, essentially stating that besides Aboriginals, most people in Taiwan came from China at one point or another and that the time of arrival in Taiwan should not be a determining factor for being Taiwanese.
"We just need to know that Taiwan is ours; and only by working hard for Taiwan can one show that he or she is 'Taiwanese,'" he said in a speech. "Of course, we should not forget our Chinese cultural roots either."
'STATE TO STATE'
In a 1998 submission to the Wall Street Journal Lee denied promoting independence or two Chinas, instead stating his hopes for Taiwan and China to unite under a democratic government and denouncing the idea of "one country, two systems," stating that democratic rule must be enjoyed by people on both sides.
In his memoir, however, he explains his aversion to the term "independence" as due to Taiwan not being under occupation by China, so it would not need to achieve independence from any entity.
Lee continued to make reforms toward his ideals, for example restructuring the government by minimizing the powers of the Taiwan Provincial Government and transferring its major duties to the Executive Yuan.
In 1999, Lee caused an international stir by stating that China and Taiwan relations should be on a "special state-to-state" basis, drawing outrage from China, who saw it as a proclamation of Taiwan as an independent state.
In 2000, Lee stepped down and the KMT lost power for the first time since it arrived in Taiwan in 1945. KMT-supporters were outraged, surrounding party headquarters at one point and Lee eventually resigned as chairman.
The next year, his supporters in the KMT formed the Taiwan Solidarity Union (TSU) with Lee as "spiritual leader." In July, the group stated that it would "loyally advocate former president Lee's ideals and continue to implement his guidelines."
During this time, Lee announced his support for the TSU and criticized the KMT as a "sore loser," upset that they were not following his pro-Taiwan policies. The Taipei Times reported that Lee believed that the TSU's "ideals are consistent with his own, and that he would do everything possible to help the new political party achieve victory in the year-end legislative elections."
After months of debate, the KMT revoked Lee's party membership on Sept. 21, stating that he "betrayed the party's resolutions, blemished its reputation and harmed the party's interests." From then on, Lee was free to take whatever stance he wanted.
Taiwan in Time, a column about Taiwan's history that is published every Sunday, spotlights important or interesting events around the nation that have anniversaries this week.
Comments will be moderated. Keep comments relevant to the article. Remarks containing abusive and obscene language, personal attacks of any kind or promotion will be removed and the user banned. Final decision will be at the discretion of the Taipei Times.