Art exhibition listings
The Taipei Museum of Fine Arts tomorrow opens Cross-Domain Reading & Writing: A Biblio-ecology in Art (跨域讀寫:藝術中的圖書生態學), a group exhibition that interprets the relationship between contemporary art and books. The show is the winning proposal submitted by curators Jian Li-ting (簡麗庭) and Po Ya-ting (柏雅婷) in response to the museum's open call for its basement galleries. The show emphasizes the culture related to books, but it "is not a book fair," the museum stresses in a press release. Bringing together the work of 11 artists from Taiwan and abroad, the exhibition examines "how artists think of books through related activities, such as reading, writing, binding, publishing, preserving and categorizing." Chiu Chieh-sen's (邱杰森) Voice of Map is an installation that features 11 maps from Taiwan hand engraved on vinyl records. As the records are played, the texture of the engravings is sonified to express a sense of vital energy of Taiwanese geography. Chen Shiau-peng's (陳曉朋) Gift to Other Artists is a reflective piece that consists of a series of screen prints presented neatly in a grid; the prints visually and textually narrate the artist's process of associating her own art motivations with other artists or organizations.
■ Taipei Fine Arts Museum (台北市立美術館 TFAM), 181, Zhongshan N Rd Sec 3, Taipei (台北市中山北路三段181號), tel: (02) 2595-7656. Open Tuesdays to Sundays from 9:30am to 5:30pm and until 8:30pm on Saturdays
■ Until Oct. 14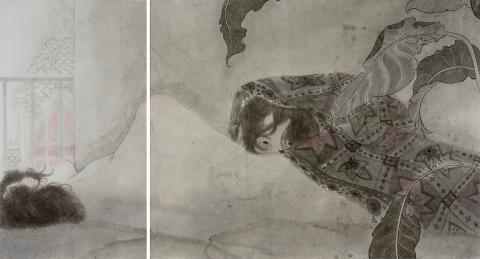 Wong Hsiang-yi, Black Landscape (2014).
Photo Courtesy of the Artist
Currently on view at Pon Ding is the first part of a group exhibition, Diversity Via Nature: Religion, Gender or Art? (多元成展亞洲交流:因性稱異 — 宗教?性別?藝術?). The show is the seventh iteration of an exhibition series that brings together "artists who care about gender and marriage equality as well as authors who are willing to discuss gender politics." Twelve artists from Taiwan, Japan, Korea, Singapore and Thailand, explore issues surrounding belief and gender and relation of the two with bio-politics. A talk about Thai Buddhism and homosexuality will kick off the show, featuring Shine Waradhammo, a monk from Wat Khean Khet school, and Shih Chao-wei (釋昭慧) from Taiwan. Participating artists include Hou Chun-ming (侯俊明), who will be presenting Woman Island, a project that involves interviews and images of people who discuss their experiences from martial law up to the present. Baru Madiljin is a dance director who interprets through dance the culture and life of the Aboriginal Paiwan community. His work deals with the dilemmas of ethnic and gender identity. Yu Cheng-ta (余政達) and Ming Wong (黃漢明), from Taiwan and Singapore respectively, collaboratively presents The Water Melon Sister, a project that explores gender gestures in traditional huangmei opera (黃梅調). The exhibition will be followed by a second presentation happening at Bangkok's Tentacles Gallery next month.
■ Pon Ding (朋丁), 3F, 6, Ln 53, Zhongshan N Rd Sec 1, Taipei City (台北市中山北路一段53巷6號3樓), tel: (02) 2537-7281. Open Tuesdays to Sundays from 11am to 8pm
■ Until Aug. 12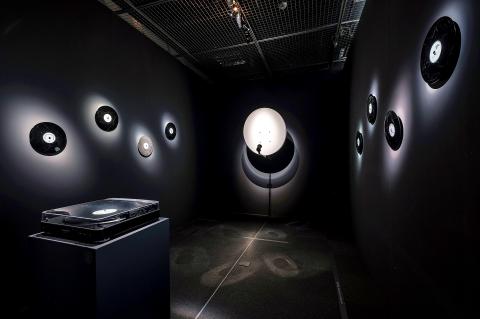 Chiu Chieh-sen, The Voice of Map (2017).
Photo Courtesy of the Artist
Ideal Life (理想的生活) is a solo show by Taiwanese artist Lo Chiao-ling (羅喬綾). Lo received her Masters degree in fine arts at the Taipei National University of the Arts in 2009, and soon after her works Students and Stand By Me were collected by the National Museum of Fine Arts. Lo often draws from her childhood memories as well as her memories of people she has encountered throughout her life. She paints images of an adorable child with luscious color and disarming sweetness. "She aims to capture innocence and sincerity," writes the gallery in a press release. By working through these memories, Lo explores the relationship between herself and her social environment. Her current show includes works from recent years that draw from her family life. Back to Your Warm Blanket shows a young child huddling in a patterned blanket while sipping from a teacup.
■ Liang Gallery (尊彩藝術中心), 366, Ruiguang Rd, Taipei City (台北市瑞光路366號), tel: (02) 2797-1100. Open Tuesdays to Sundays from 11am to 6pm
■ Until July 29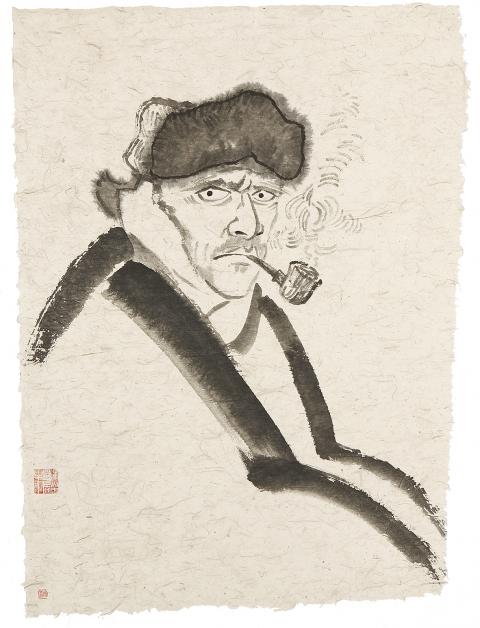 Zhang Hong-tu, Van Gogh — Bodhidarma 35 2015.
Photo Courtesy of Tina Keng Gallery
Van Gogh / Bodhidharma (張宏圖: 梵高/達摩) is a solo painting exhibition by Chinese artist Zhang Hongtu (張宏圖) at Tina Keng Gallery. The China-born, New York-based painter draws on his experiences in China and combines that with his interest in European and American art. His works "transcend and escape the limitations of concepts such as east, west, realism or conceptualism," writes the gallery in a press release. His new show features 39 ink-on-paper drawings created between 2007 and 2014. In this series, Zhang references portraits of Vincent Van Gogh and transforms him into a Zen Bodhidharma. "Van Gogh described himself as appearing like a Japanese monk in his own paintings," writes the gallery in a press release. Extending from this self-description and Van Gogh's intense interest in Japanese art and Zen Buddhism, "Zhang Hongtu detected a possibility of cultural coalescence between the two and applied a Zen painting style to re-create Van Gogh's portraits," writes the gallery. Each painting in the show is coupled with a QR code that provides information on the Van Gogh portraits Zhang references.
■ Tina Keng Gallery (耿畫廊), 15, Ln 548, Ruiguang Rd, Taipei City (台北市瑞光路548巷15號), tel: (02) 2659-0798. Open Tuesdays to Sundays from 10am to 7pm
■ Until tomorrow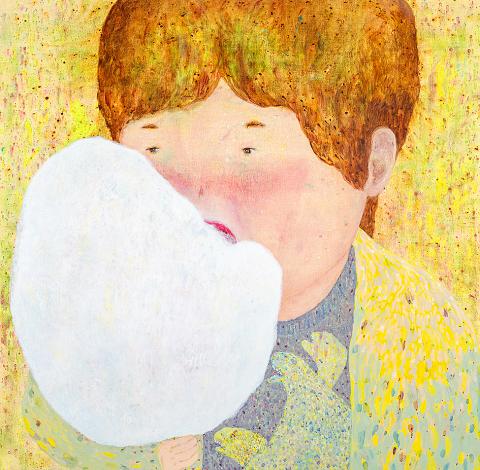 Lo Chiao-ling, Eating Cotton Candy (2017).
Photo Courtesy of Liang Gallery
The National Palace Museum presents Testaments to Healing (養生醫療趣味書畫), an intriguing look at painting and calligraphy that deals with healthy living and medical treatment. Chinese wisdom has a long history of challenging death from the angle of prolonging life through healthy living. "Many blessings in traditional Chinese culture speak to notions of prosperity, longevity, health and tranquility," writes the museum in the exhibition text. While there have been many searches for an ultimate solution to death, ancient The works featured in this show include a number of precious artifacts from the palace museum collection, including Firing Elixirs of Jade Grotto, a scroll attributed to the style of Ming dynasty Qiu Ying (仇英); the Classic of the Yellow Court is a work of calligraphy that speaks to the Taoist concept of qi and the generation and maintenance of good life energy; and Illustrated Album of the Eight Pieces of Brocade, an ink-on-paper work about an eight-part martial arts exercise that includes standing and seating positions. This exercise, known as the "Eight Piece of Brocade," is still widely practiced and studied by martial arts practitioners worldwide.
■ National Palace Museum (國立故宮博物院), 221 Zhishan Rd Sec 2, Taipei City (台北市至善路二段221號), tel: (02) 2881-2021. Open daily from 8:30am to 6:30pm; closes at 9pm on Fridays and Saturdays
■ Until Sept. 25
Comments will be moderated. Keep comments relevant to the article. Remarks containing abusive and obscene language, personal attacks of any kind or promotion will be removed and the user banned. Final decision will be at the discretion of the Taipei Times.