A not-so-dreamy process
The Employment Gold Card's slow start points to recurring issues such as communication barriers and ambiguous instructions
The National Immigration Agency (NIA) claims on its Web site that the new Employment Gold Card (就業金卡) makes Taiwan a "Dream Land for High-end Talents."
Launched in February with the Act for the Recruitment and Employment of Foreign Professional Talent (外國專業人才延攬及僱用法), the four-in-one gold card consists of a resident visa, an alien resident certificate, a re-entry permit and a work permit that allows foreign workers to transition between jobs without their employer's consent. It also includes other benefits such as tax breaks and residence permits for family members.
However, foreign professionals wishing to work in Taiwan have found the application process more nightmarish than dreamy.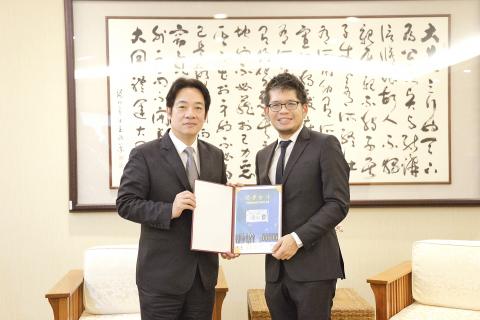 Premier William Lai, left, presents the first ever Employment Gold Card to YouTube cofounder Steve Chen in March.
Photo courtesy of Executive Yuan
Michael Fahey, a legal consultant and a policy adviser to Forward Taiwan, an advocacy organization that lobbies to reform Taiwanese immigration, residence, citizenship and employment laws to help Taiwan meet its demographic and economic challenges, says that language and communication barriers continue to plague foreigners looking to find work and permanent residency in Taiwan.
"The truth is, if someone was sitting in San Francisco and had no connection to Taiwan, they would never be able to come here without going through an adviser the way things stand now," Fahey says. "Partly, there's not enough pull with salary and opportunity, which has always been a problem, but there's also the issue of communication and misunderstanding."
CHAOTIC START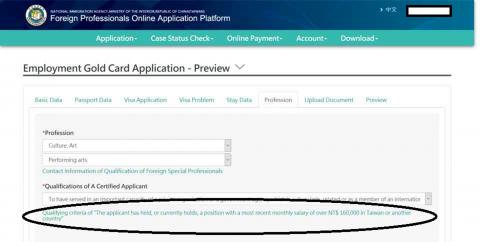 A Ministry of Culture Employment Gold Card application incorrectly states a salary requirement.
Screenshot courtesy of Forward Taiwan
While phoning several agency contacts listed on the Act for the Recruitment and Employment of Foreign Professional Talent's Web site, both Fahey and the Taipei Times found that several employees who answered spoke little to no English.
The act, which is meant to attract overseas talent in several highly-skilled labor sectors such as science, technology and economics, has shown few indications that its revised tax, insurance and retirement benefits and the highly touted Employment Gold Card have strengthened Taiwan's competitive edge in the international labor market.
According to statistics from the Ministry of Labor, 37 foreigners had received gold cards through the end of May. Just three freelance artists had applied for the act's new independent artist work permits.
The National Development Council plans to release the most recent official application numbers later this month.
Twenty-one gold cards were issued in May, a possible sign that applications will start to pick up now that the NIA and the various agencies involved in reviewing the applications have begun to smooth out their procedures. But the act's chaotic start follows a familiar pattern of legislation passed hastily without proper consideration of the user experience.
WEB SITE WOES
Longtime educator Terry Waltz considers Taiwan "a second home" and has taught language and interpreting at National Taiwan University, Taipei Medical University and several other institutions in Taiwan. Waltz holds a Ph.D in Foreign Language Education from the University of Texas at Austin, making her eligible for an Employment Gold Card through the Ministry of Education.
"I'm very happy to see this new program offered," Waltz says. "I'd love to get on board with it. I just don't know if it will be possible because of limitations on the Web site."
One section of the application asks Waltz to list her previous employment experience in Taiwan, but does not allow dates earlier than 2008. Waltz's last employment visa was from the late 1990s.
The trickle of applications submitted successfully is discouraging, says Fahey. He worries that the gold cards will be a repeat of the Entrepreneur Visa announced in July 2015 at the height of the Silicon Valley startup boom.
The Entrepreneur Visa has been largely unpopular, with only 80 applications submitted and 70 visas issued through November of last year.
AMBIGUOUS INSTRUCTIONS
Complaints troubling the Act for the Recruitment and Employment of Foreign Professional Talent and the Employment Gold Card mostly concern the decentralized review process and ambiguous instructions.
Each profession's corresponding government agency disseminates varying application requirements and information specific to their industry of interest, laid out in cumbersome and bureaucratic language on the act's Web site and only partially on other government sites. The online application platform, meant to save applicants a trip to Taiwan, has been known to offer information inconsistent with the Web site.
According to Forward Taiwan, an actor who tried to apply for a Ministry of Culture gold card was prompted to prove that his most recent monthly salary was above NT$160,000 (US$5,255) which the Ministry of Culture has confirmed is not a requirement for their gold card. At the moment, it is only a prerequisite for lawyers and architects.
Tom Fifield, an IT professional currently in the application process for a Ministry of Science and Technology gold card, can see how some of the formatting issues some applicants have reported when uploading supporting documents may be due to security measures. While he expected to encounter rough edges as an early applicant, Fifield says he received swift and cooperative responses from government departments.
"The government here is incredibly accessible and can be very helpful, but when they have to put information down in writing, they start to get really nervous," Fahey says. "They draft a bunch of regulations in Chinese, and when they put up these Web sites, they translate the rules into English directly from really precise bureaucratic language instead of organizing it and presenting it in a clear way people can understand."
Fahey points to the MRT system's successful bilingual program as proof that the government can convey its message when willing to invest the necessary resources to hire consultants.
Perhaps with outside expertise, the government can better advertise the Employment Gold Card's biggest benefit for foreign professionals: its function as an "open-work" permit. With the gold card, holders can switch jobs freely, work part-time or for lower salaries at startups, for example, before its expiration and the government reviews the applicant's qualifications again.
But at present, the government is sending a mixed message about their desire to attract foreign talent. No matter how irresistable the Employment Gold Card incentives, Taiwan cannot be a 'dreamland' until the communication woes are addressed.
Comments will be moderated. Keep comments relevant to the article. Remarks containing abusive and obscene language, personal attacks of any kind or promotion will be removed and the user banned. Final decision will be at the discretion of the Taipei Times.