Back to basics
Director Yim Soon-rye wanted to make a film that would comfort an unhappy and stressed-out younger generation in South Korea's competitive society
It's a tantalizing prospect many urbanites may have toyed with before: packing up and moving to the countryside, leaving behind the hustle and bustle of the big city for a simpler, slower way of life.
The female heroine of South Korean coming-of-age film Little Forest, which opens in Taiwan on Friday, does just that. Played by actress Kim Tae-ri, Hye-won is a young, jaded woman who returns to her childhood home in the countryside, after she fails a certification exam to become a teacher in Seoul.
Over the course of the four seasons, she embarks on a journey of personal growth and healing, adopting a self-sufficient lifestyle of farming and cooking traditional Korean dishes.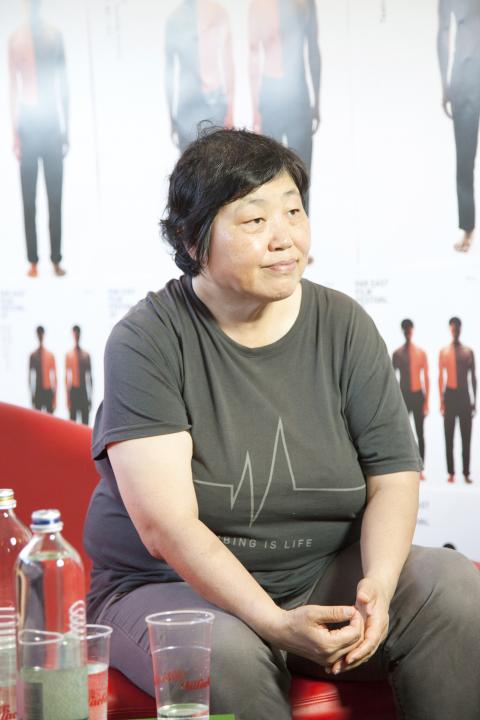 South Korean director Yim Soon-rye is a self-professed nature lover and moved from the city to the countryside 13 years ago.
Photo courtesy of Paolo Jacob
Directed by notable South Korean female auteur and screenwriter Yim Soon-rye, Little Forest is originally based on a manga by Daisuke Igarashi. The manga was previously adapted into a two-part live-action Japanese film in 2014 spanning four hours, with each hour dedicated to one season.
At 103 minutes, Yim's adaptation isn't as long, though her film still retains the manga's basic source material. With its uncomplicated storyline and leisurely pace featuring lots of glorious food porn, Little Forest stands out among the typical fare produced in South Korea's film industry, which is characterized by violent, gritty thrillers and action blockbusters.
"This film is about Korean nature, Korean youth and Korean food," Yim tells the Taipei Times. "Nowadays, mainstream Korean cinema is very violent and big-budgeted. So I wanted to make a small film which can heal and soothe the younger generation in Korea, who are going through hard times."
Kim Tae-ri, left, plays Hye-won, a young jaded woman who moves back to her home in the rural countryside after growing tired of the city life.
Photo courtesy of Far East Film
Faced with the pressure of an increasingly competitive society, social inequality and scarcity of jobs — South Korea's youth unemployment rate reportedly hit a record high in January — young people have been spurred to coin their nation as "Hell Joseon," referring to their lives in South Korea as a living hell.
A recent movement termed as gwinong, or "return to farm," has since emerged. A growing number of young Koreans have been moving to the countryside over the last few years, to escape the stress of overcrowded cities and seek promising careers in agriculture.
Just like protagonist Hye-won in Little Forest, Yim moved from the city to the countryside 13 years ago for a more tranquil and laidback environment. The director currently lives in Yangpyeong, a small town in the Gyeonggi province about an hour's drive from Seoul.
"I have a dog, so I wanted to give my dog a bigger space to run around," says the self-professed nature lover. "I'm very acquainted to this kind of environment, and I also grow food in my small fields."
With filming taking place in a village in Uiseong, North Gyeongsang Province, over 200km from Seoul, Little Forest presents a charming back-to-basics appeal of countryside living.
Hye-won plants potato sprouts in spring, digs up frozen cabbage in winter and plucks fruits from an orchard in summer. Alongside her childhood friends Jae-ha and Eun-sook, she then prepares a mouthwatering variety of meals with these fresh ingredients, using recipes passed down from her mother who has mysteriously disappeared.
The film features 16 courses, with four representing each season: think popular Korean cuisines such as makgeolli (rice wine) and tteokbokki (spicy rice cakes), to crowd-pleasing international fare like pasta and creme brulee.
Yim says she wanted to show audiences that many of these dishes could be made at home from scratch, instead of being bought outside — she herself finally succeeded in making makgeolli while directing Little Forest.
"I tried three times before, but all my attempts failed. It's very important to set the exact time, I was always a little too late and the wine would become fermented already, so it's not that easy," she adds.
Casting for the film was also a delicate process, especially when it came to the part of Hye-won. Yim offered the lead role to rising star Kim Tae-ri, who was fresh off her debut in Park Chan-wook's acclaimed 2016 erotic thriller The Handmaiden.
"The story is very calm, and the main character has to be in every scene of the film. So I felt that the leading actress has to be really attractive, not in the superficial beauty sense, but in that she needs to have attractive screen presence," Yim says.
Little Forest clearly resonated with its target audience of young viewers. The low-budget film was a surprise box-office success and has been watched by more than one million moviegoers since opening in domestic theaters in February.
"The plot is simple, there is no stress among the characters and the cooking scenes are things not possible in the frantic life of a metropolis," Yim says.
"I think young people were drawn to this, and to the idea of dedicating their time to friends and friendship. They understood the message of this film."
Comments will be moderated. Keep comments relevant to the article. Remarks containing abusive and obscene language, personal attacks of any kind or promotion will be removed and the user banned. Final decision will be at the discretion of the Taipei Times.