Why Taiwan should maintain its foreign aid programs
Taiwan's foreign aid programs are generally aimed at helping alleviate poverty, providing medical assistance and boosting harvests, and the recent loss of two diplomatic allies should not stop Taipei from providing aid to those countries, experts say, even if such a policy is unpopular
Few publications have documented Taiwan's official development assistance (ODA) efforts in such a personal way as the booklet Greening the Sahel, which was put out by the ODA agency, the International Cooperation and Development Fund (ICDF), in 2003. Using text and pictures, the publication describes in detail how Taiwanese agricultural know-how helped create swathes of lush paddy in the desert of Burkina Faso.
Lapsing at times into mawkish self-congratulation, the text is nonetheless a testament to the efforts of the men and women staffing the technical teams that Taiwan began sending to countries around the world from the late 1950s. Then, as now, there was always the ulterior motive of shoring up support for Taiwan, particularly in Africa.
Amid the post-colonial uncertainty, a two-way, soft power scramble for the continent was afoot. Underfunded officials were dispatched by Taipei to spook leaders of nascent polities with tales of the havoc the Chinese red agitators would wreak on traditional tribal structures. Another tactic was to pooh-pooh the Communist claim to represent the peasant masses.
A group of children from Eswatini in December 2015 perform at Taichung City Hall and thank Taiwan for providing aid to the country, Taiwan's only remaining diplomatic ally in Africa.
Photo: Su Chin-fong, Taipei Times
"I asked them, 'Have you seen Mao Zedong (毛澤東) working in the fields?" said former career diplomat Liu Ying (劉瑛), who worked to garner support for Taiwan in various African countries from the late 1950s. "How about Zhou Enlai (周恩來)?"
Rare is the ODA initiative that springs from unfettered altruism, and developing nations fairly bemoan what they see as hypocrisy and sour grapes on the part of Western governments that decry the strings-attached aid that China offers. Taiwan's needs are simply more obvious, pressing and, in a word, existential.
TAIWAN'S AID OVERSEAS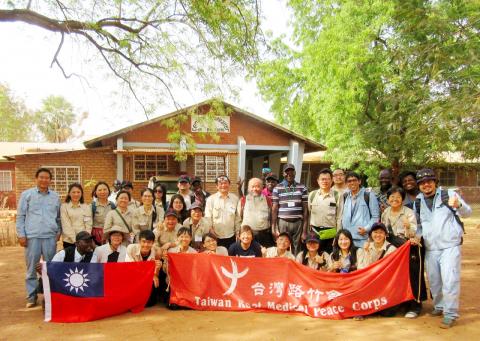 Volunteers from Taiwan Root Medical Peace Corps in March 2016 pose for a picture in Chad.
Photo courtesy of China Petroleum Corp
Still, vested interests do not negate the enormous good that Taipei's assistance has brought about. One of the best examples of the tangible difference Taiwan has made to the lives of some of the world's neediest was a project to eradicate malaria in Sao Tome and Principe between 2003 and 2007, an achievement that was also documented in an ICDF brochure.
Yet Taiwan's image as a beneficent development partner is completely undermined by announcements such as the May 24 statement by the Ministry of Foreign Affairs' (MOFA) that it was to "begin the process of recalling our diplomatic staff, medical and technical teams" from Burkina Faso following the West African nation's decision to breaks ties.
While this might seem like a natural reaction to the double whammy Taipei suffered last month — the Dominican Republic having severed relations May 1 — it is not in keeping with the trends that currently inform progressive development aid thinking: increased participation by NGOs and nongovernmental development organizations (NGDOs), civil society and philanthropists.
It is instructive to note that this element of Taiwan's development aid and diplomacy has been almost completely glossed over in the fallout from that Labor Day defection.
'THIRD SECTOR' AID
Observers of Taiwan's foreign policy have long touted this "third sector," as an escape route from the asphyxiatory tactics China has employed to limit Taiwan's international space. Colin Alexander, a former research fellow with MOFA, has stressed that traditional thinking on development aid has given way to models that must account for public input. Diplomats from Taiwan's partner countries have echoed this, with Honduran Ambassador to Taiwan, Rafael Fernando Sierra Quesada, among the most vocal proponents of a "people-to-people" approach.
Meanwhile, Australian academic Joel Atkinson has touted cash transfers as a possible means of conveying the personal touch. In fact, Taiwan already has experience with such innovations. In 2008, the Taiwan Red Cross Society cooperated with the Red Cross Society of China to set up a cash transfers program for victims of the Sichuan earthquake.
Such programs are in keeping with current best practice, and while there are often misgivings on the part of the public over unconditional cash donations, research suggests that, when left to their own devices, recipients invariably use the money productively. Naturally, the nature of this assistance is likely to engender goodwill toward the donors while presenting a clearer idea of who they are — an important point when considering the efficacy of this approach for Taiwan.
PUBLIC PERCEPTIONS OF AID
In an article in Taiwan Sentinel on May 6, University of Western Kentucky scholars Timothy Rich and Andi Dahmer presented research into the Taiwanese public's perceptions of its government's diplomacy and international aid. The conclusion was that President Tsai Ing-wen's (蔡英文) administration should downplay assistance in its diplomacy, as it is never a crowd pleaser. Notable by its absence, though, was any attempt to gauge opinion on a potential third way for Taiwan.
Among the four research questions devised by the scholars, two related to assistance spending and whether this would influence respondents' views of Taiwan's diplomacy. Yet there was no mention of the role that citizens might play through NGDOs and civic bodies. Would the Taiwanese public support increased participation by civil society as a means of reinforcing Taiwan's case for international recognition?
There is a common perception, particularly among the political class, that excessive benevolence has made Taiwan a soft touch for developing nations looking for a handout. This may well be true of the governments of those countries, but it does a disservice to the people who, tarred with the same greasy brush as their venal elites, are cast as desperate scroungers. Furthermore, critics assert, these people neither know nor care about Taiwan's situation.
It is undeniable that this has been the case in the past.
"Most people don't know the difference between Taiwan and China," says Carlos Rosales, a Nicaraguan who was a beneficiary of a scholarship in Taiwan. "To most people, they are all 'El Chinos'" This is a common refrain with other citizens of Taiwan's diplomatic allies past and present, but there are signs things are changing.
"In recent years, Taiwan has communicated a lot more on its different aid projects," says Viviane Bayala, a Taiwan Fellowship scholar from Burkina Faso with extensive knowledge of Taiwan and China's development aid. "This is starting to change perceptions."
Bayala, who first came to Taiwan as an undergraduate in 2004, has been dealt a particularly cruel blow by the rupture between Ougadougou and Taipei. Along with all Burkinabe scholarship students, she has seen her grant cancelled, effectively ending her fellowship before it had even begun.
"I felt surprised and frustrated," she says. "This is a program open to all scholars and post-docs worldwide. I applied like every one, have the chance to get in and less than two weeks after my arrival I have to stop everything and go back. Though I don't mind going back home, I think this is not a gallant way to treat people, especially for Taiwan, which claims to contribute to the common good with its foreign aid program," Bayala said.
"More generally, I am sorry this may add more arguments to those who think that Taiwanese aid to African countries is mere money diplomacy."
INFORMAL TIES
Those who have worked on the front line for Taiwanese NGDOs agree that Taiwan is succeeding in asserting its identity.
"People know what Taiwan is now," says Jessica Chen (陳依伶), director of the development division of the Noordhoff Craniofacial Foundation (NNCF), a Taiwan-based organization that has provided surgery and medical assistance to patients around the world.
Chen says that during one mission to the Dominican Republic, doctors with the organization treated patients with particularly severe burns.
"These people were so grateful and warm toward us. They kept saying thank you. 'Thank you Taiwan.'"
The recent rupture with San Jose, Chen says, will not affect the goodwill that the NNCF and like-minded organizations have generated for Taiwan. She adds that many of the foundation's younger patients have suffered social stigma and bullying because of facial deformities. These children receive a massive psychological boost from what, in some cases, can be life-changing surgery, and they are unlikely to forget where this help came from.
"In the future, these children could become leaders or important people in their communities," she says.
Furthermore, the missions integrate overseas Taiwanese, who contribute financially and help to get the word out. "With the Dominican mission, Taiwanese businessmen did lot of promotion with local television, letting people know there would be a medical team from Taiwan arriving," says Chen. "This gave many people a strong impression of Taiwan."
In fact, it was a Taiwanese businessman in Vietnam who first contacted the NNCF to suggest they send a team to assist youngsters with facial disfigurements.
"He saw children with cleft palates and other issues and realized they couldn't get treatment because of a lack of equipment and qualified staff," Chen says.
This is a striking example of how private individuals can make an important contribution in fostering informal relationships for Taiwan that are grounded in genuine acts of selflessness.
PLAYING TO TAIWAN's STRENGTHS
Chien Shiuh-shen (簡旭伸), a professor in geography, development and urban studies at National Taiwan University also supports such an approach, observing that Taiwan should play to its strengths in building support for itself. Chien says that Taiwan's experience can be a good reference.
"When we talk about the 'Taiwan Miracle,' we are always talking about Taiwan's economic situation — Taiwan's development from a poor rural society into an economic power with an IT industry within a couple of decades of World War II. But actually that's the Taiwan Miracle 1.0. The new way we can contribute is through social and political transition models," Chien says, citing as an example Taiwan's evolution from a paternalistic society to one that has embraced LGBT rights.
Serving as an adviser for the Taiwan Alliance in International Development — an umbrella group for Taiwan NGOs — Chien has long pushed for a more progressive approach to development aid. However, he believes the process has been hampered by resistance to change at the top. "I believe it takes time, but it could definitely be faster," he says. "We need a new model for international development and foreign affairs thinking."
He highlights France's integration of development into foreign policy under a Ministry of Foreign Affairs and International Development, which was created in 2012 (which was last year replaced by the Ministry of Europe and Foreign Affairs).
"We need to extend foreign affairs and really think of Taiwan's strategic role from an international development perspective," Chien says, adding that he believes Taiwanese society would support such a change.
Regarding the potential for a civil society approach to have an impact at government level, Chien again cautions against expecting too much too soon.
"If the goal is only accessing the UN, then certainly using the civil society platform is not a shortcut," he says. "It should be a long-term strategy. But even without considering the long-term goals, many people on the civil society side believe that the current policy, based on diplomatic and official relationships is not working."
BEIJING SUSPICIOUS OF NGOS
What makes this approach all the more attractive is China's almost complete absence from the field. As it is with any organization not firmly under its thumb, Beijing is instinctively suspicious of NGOS. Last year's crackdown against "foreign forces" under the so-called "Foreign NGO law" has severely hampered the independence and effectiveness of many nonprofits working in China, including some the biggest names in the sector.
The situation with China's own nonprofits is little better. The few that do contribute in any meaningful way to overseas development projects scarcely merit the designation NGO and serve mainly as propaganda tools. In a 2017 paper on Taiwan's transition from ODA to a civil society approach, Taiwanese scholars Lin Teh-chang (林德昌) and Jean Yen-chun Lin say that Taiwan's maneuvering in this area "fills a niche that its big state competitor ignores, since China has no civil society organizations conducting foreign aid at the moment."
If Taiwan is to truly highlight the injustice of the pariah status it has had foisted upon it, it should undertake development assistance initiatives premised on the well-being of the citizens in recipient nations and the strengthening of civil society in those countries. Importantly, these need not be diplomatic allies.
In adopting such a strategy, Taiwan would be occupying the moral high ground by embracing philanthropy for its own sake. "Just because Taiwan is not a member of the United Nations, it does not mean it shouldn't be responsible for international development," says Chien. "We are richer than many other countries, and certainly we can help others to live better: to drink more, to think more and to become more."
It would also be pursuing a pragmatic approach, both in terms of contributing to global security through the alleviation of poverty — a causal relationship that all but the most obtuse or cynical governments must accept as reality — and also by earning the respect and support that can eventually render China's quest to restrict Taiwan's international space obsolete.
Comments will be moderated. Keep comments relevant to the article. Remarks containing abusive and obscene language, personal attacks of any kind or promotion will be removed and the user banned. Final decision will be at the discretion of the Taipei Times.