How China excludes Taiwan from the WHO
As Taiwan waits for an invitation to the health body's yearly assembly, one expert is 'not very optimistic' it will come
For Alexander Swan, a physician who has practiced medicine for three decades, politics should have no place in ensuring access to good healthcare.
He's reminded of that belief every time he returns to his native Myanmar, a country whose healthcare disparities Swan has tried to help alleviate through his own private outreach work.
That's why when Swan looks at Taiwan — which, according to the government, has invested over US$6 billion in international medical and humanitarian aid efforts since 1996 in more than 80 countries — he can't help but wonder how keeping it out of the WHO benefits anyone.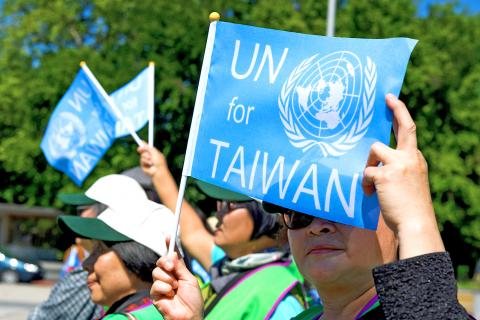 A pro-Taiwan protester last year holds a flag during a demonstration outside of the UN offices on the opening day of the WHA, the WHO's annual meeting, on May 22 in Geneva. Despite impassioned pleas from several countries, the World Health Organization's annual assembly refused to even discuss admitting Taiwan to the meeting, in a move hailed by China.
PHOTO: AFP
"[If] we exclude one country all the time, we lose an opportunity to help each other," Swan said.
Swan shared his views ahead of Support Taiwan's Participation in the WHO (推動台灣參與WHO), a symposium that will take place on Saturday in New York City, where he will participate on a panel that's expected to discuss how and why Taiwan should be included in the WHO and UN.
The event, organized in part by the Culture Center of the Taipei Economic and Cultural Office (僑務委員會) in New York, comes as Taiwan awaits word on whether it'll receive an invitation to this year's 71st WHA, held between May 21 and May 26 in Geneva, Switzerland.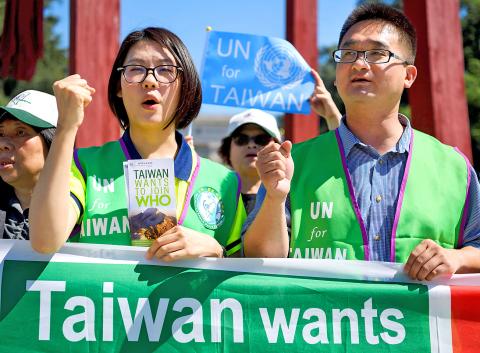 Pro-Taiwan protesters last year demonstrate outside of the UN offices on the opening day of the WHA, the WHO's annual meeting in Geneva. Despite pleas from several countries, the World Health Organization's annual assembly refused on May 22 to even discuss admitting Taiwan to the meeting, in a move hailed by China.
PHOTO: AFP
After getting invitations to attend the annual meetings as an observer for eight consecutive years, Taiwan was not invited last year.
That snub has been seen as a reflection of Beijing's efforts to limit Taiwan's international space since President Tsai Ing-wen (蔡英文), of the Democratic Progressive Party (DPP), took office the year before.
Bonnie Glaser, a senior adviser for Asia at the Center for Strategic and International Studies, a nonprofit policy research organization, said she's not very optimistic about Taiwan receiving an invitation to this year's World Health Assembly.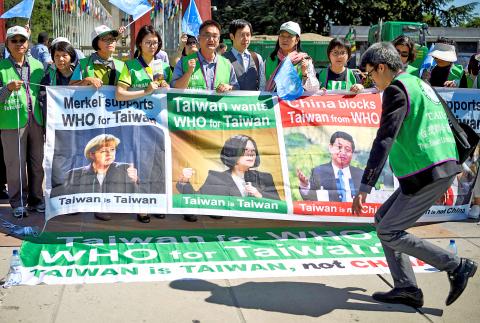 Pro-Taiwan protesters last year demonstrate outside of the UN offices on the opening day of the WHA, the WHO's annual meeting in Geneva. Despite pleas from several countries, the World Health Organization's annual assembly refused on May 22 to even discuss admitting Taiwan to the meeting, in a move hailed by China.
PHOTO: AFP
"There's no reason, in my view, to exclude Taiwan from anything that's related to the WHO, and certainly not the annual WHA meeting," Glaser said. "The only reason they're not there is because of Beijing."
The Tsai administration's refusal to accept the so-called "1992 consensus" has blocked Taiwan from participating in the assembly.
The term, which former Mainland Affairs Council chairman Su Chi (蘇起) admitted making up in 2000, refers to a supposed understanding between the Chinese Nationalist Party (KMT) and the Chinese government that both sides acknowledge there is "one China," with each side having its own interpretation of what "China" means.
"One of the lessons I think that Beijing drew that year (2016) was that they were going to make sure that the next year — unless Tsai Ing-wen stepped up and accepted 'one China' — that they were not going to allow Taiwan to participate," Glaser said. "I think that's where we've been ever since."
Taiwan's last invitation to the WHA came in 2016. It differed from previous ones in that it mentioned the "one China" principle — China's view that it has sovereignty over the mainland, Hong Kong, Macau and Taiwan.
It also cited a UN resolution passed on Oct. 25, 1971, that recognized the People's Republic of China (PRC) as the only legitimate representative of China to the UN.
The WHO is a specialized health agency of the UN.
Senior health officials from 194 members states meet annually at the assembly, which includes committees to debate technical and health matters, as well as financial and management issues. Delegates also gather several times in plenary sessions to listen to reports and adopt resolutions.
Swan, a naturalized American citizen whose parents came from China, said he believes it's wrong to exclude Taiwan from the WHO on political terms. He said Taiwan has a lot to offer other countries, including Myanmar, in the areas of medical training and technology.
Swan noted that China, too, could benefit in this regard from Taiwan's inclusion in the WHO.
"China needs pressure from the international community to look at healthcare as healthcare, not political things," he said.
Taiwan's World Health Assembly invitations between 2009 and 2016 came under observer status as "Chinese Taipei" and were viewed as a positive sign. They were seen as an opportunity for Taiwan to exchange information to protect public safety and share expertise with other countries about public sanitation and disease prevention.
Taiwan's presence at the annual meeting of the decision-making arm of the WHO marked the first time the country had been allowed to participate in a meeting or activity of a specialized UN agency since losing its UN membership to China in 1971.
The first invitation came around six years after Taiwan was in the grips of an outbreak of SARS, or severe acute respiratory syndrome, that resulted in at least 60 deaths, according to the US Centers for Disease Control and Prevention.
In March 2003, Taiwan's Ministry of Foreign Affairs criticized WHO officials stationed in Beijing for allegedly saying the organization was unable to offer direct assistance to Taiwan on three SARS cases because "Taiwan is a province of China."
The ministry further accused the WHO of "allowing politics to override public health issues" and succumbing to pressure from China.
"There was a very clear negative consequence for Taiwan, not receiving information in a timely manner then, that not only affected people of course in Taiwan, but people elsewhere, including on the mainland," Glaser said, referring to the SARS epidemic.
A World Health Assembly invitation for Taiwan this year has garnered support from members of the international community.
A number of Taiwan's 20 diplomatic allies have petitioned the WHO to invite Taiwan to this year's assembly as an observer. The Foundation of Medical Professionals Alliance in Taiwan has said the European Union, US and United Kingdom, Canada, France, Germany, New Zealand, Australia and Japan are also planning to speak up in favor of an invitation.
And the US House of Representatives passed an act in January to direct the US secretary of state to develop a strategy to regain Taiwan's WHO observer status.
Glaser said she believes the US is also doing more, like talking to "like-minded countries" about Taiwan's participation in the WHO and, in private, with China. If Taiwan does send a delegation to Geneva in May, even without an invitation, Glaser said the US could help Taiwan organize meetings there with other countries in attendance.
Last year, an official delegation from Taiwan traveled to Geneva, despite being excluded from the assembly, and met with officials from nations participating in the conference.
Amid increasingly strained cross-strait relations, Taiwan was also not invited to the 2016 assembly of the International Civil Aviation Organization, a UN group. Its request to take part in the 2016 general assembly of the International Criminal Police Organization, known as INTERPOL, was also rejected.
As for this year, Glaser cited a few reasons that make her feel less optimistic than last year about Taiwan receiving a WHA invitation.
One is the Taiwan Travel Act, signed by US President Donald Trump in March, which aims to allow high-level visits between Taiwanese and US government officials.
"The Chinese are alarmed, almost apoplectic" about it, Glaser said, adding that China believes the US is poised to significantly strengthen its relationship with Taiwan.
She also said the Chinese are concerned about statements made by some Taiwanese officials recently that suggest to them that people in Taiwan are pushing for independence.
"They seem to be even more concerned than they were a year ago," Glaser explained. "So at this particular juncture, it's going to be very difficult to assuage these concerns and convince the Chinese that now is the time to let Taiwan attend this meeting."
But despite this, Glaser said Taiwan shouldn't give up.
"Even if Taiwan does not go, it is an important signal from the rest of the international community to speak out on behalf of the importance of Taiwan's participation," she said.
Comments will be moderated. Keep comments relevant to the article. Remarks containing abusive and obscene language, personal attacks of any kind or promotion will be removed and the user banned. Final decision will be at the discretion of the Taipei Times.