Movie review: 'About Youth'
This high school romantic drama fails to deviate from the stereotypical handsome rich playboy meets plain shy girl narrative, with a plot that is painfully predictable
About Youth has an inspiring backstory: Wang Yu-huei (王郁惠) makes her directorial debut after a pregnancy and health scare derailed her cinematic dreams for almost two decades. The assistant director for the late Edward Yang's (楊德昌) 2000 masterpiece, Yi Yi (一一), abruptly left the industry and became a shopping channel fortune teller to raise her child, and after beating cancer she seems mightily determined to make this comeback, even mortgaging her house to complete the film's financing.
The film is one that Wang has wanted to make for a long time, based on her real life experiences as a 15-year-old freshman at Hwa Kang Arts School in 1990. Unfortunately, it seems like her later-life experiences would make for the more intriguing screenplay, as there have already been too many stereotypical retro high school dramas just like About Youth in recent years, most notably the 2015 smash hit Our Times (我的少女時代).
In a sense, Wang's film comes at the right time as such settings are currently still in vogue with Taiwanese youth, but on the other hand, it fails to set itself apart, instead falling into cliche after cliche. There's enough intrigue in the beginning as the film begins with a slick student theater production scene, and even after the stereotypical-to-a-tee shy, plain but spunky protagonist Yuan (Sunnie Wang, 王宇兒) and equally banal handsome rich playboy love interest Shichun (Dino Lee, 李玉璧) are introduced, one keeps hoping for some sort of twist or unexpected turn that would break the plot out of the mold. But nope, there's even the beaten-to-death plot device of a bet between two characters to see if they could get their targets to fall in love with them (of course, this backfires and they fall in love with the targets instead). We're not spoiling anything here, you know that this happens in every movie involving a love bet.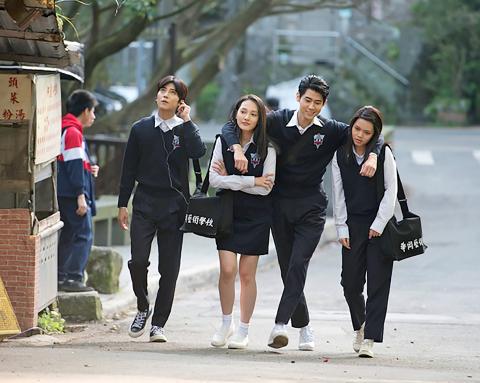 From left, Bii, Lin Ying-wei, Dino Lee and Clara Lee are high school sophomores in About Youth.
Photo courtesy of atmovies.com
The film even ends in a way that's typical to such chasing-your-dreams youth stories (still not spoiling anything). Yuan doesn't develop much past the love-struck innocent girl who knows that Shichun is a notorious playboy yet repeatedly falls for his incredibly corny and obvious "moves." Shichun also remains the secretly sensitive type that loves to play cool — the kind of character that would say "tell her I was never serious" while fighting back tears — but yearns to break free of the shackles of his destiny as the heir to his father's shipbuilding business.
The side characters are actually more complicated and interesting, providing some depth to the one-dimensional leads, but their intentions are muddy, they disappear for stretches and the director leaves little room to flesh out their tales.
The most intriguing character is possibly the effeminate South Korean boy-band-looking Hsiunan (Bii, 畢書盡, who happens to be half-Korean) as Shichun's talented roommate and best friend whose father was raised by Shichun's rich family, serving in somewhat of a subservient role. Because of this background, he's determined to make his own money, even moonlighting as a boytoy for a rich lady (who has gangster-looking bodyguards — a mandatory element for a mainstream Taiwanese film). He seems to have a crush on Manhsien (Lin Ying-wei, 林映唯), who he spends much of the film trying to keep Shichun away from, but one also wonders if he has feelings toward Shichun as he seems incredibly jealous of Yuan. Unfortunately the story focuses too much on the lead couple and only gives Hsiunan some sort of closure during a credits scene.
Manhsien is a also a deeper character than she appears to be. Flirty and not too serious about her school projects, she actually runs a live music bar (just assume that regulations weren't as strict in the 1990s) whose only patrons seem to be the rich lady, her chain-smoking bodyguards and the students. Hsiunan entertains the rich lady in part to keep Manhsien's bar alive. As the big romance between the two leads intensifies, though, Manhsien disappears, her intentions and purpose in the film never made clear.
Manhsien and Hsiunan and their efforts in keeping an empty music bar alive and dealing with its eccentric customers would have made a much more watchable story than yet another cheesy high school romance.
Kudos to Wang for persevering and pushing through with her original vision, but someone has made this movie already.
Publication Notes
Film Notes
About Youth
(有一種喜歡)
Directed by: Wang Yu-huei (王郁惠)
Starring: Dino Lee (李玉璽), Bii (畢書盡), Lin Ying-weI (林映唯), Clara Lee and Sunnie Wang (王宇兒)
Running time: 87 minutes
Taiwan release: In theaters
Comments will be moderated. Keep comments relevant to the article. Remarks containing abusive and obscene language, personal attacks of any kind or promotion will be removed and the user banned. Final decision will be at the discretion of the Taipei Times.