A tale of two Italys
Choosing family over commerce for the best of meals
This is a tale of two restaurants: a tale of love, passion, regret, mass marketing — and "scientific research."
It starts with Botega del Vin, one of my favorite restaurants for several years, from its original tiny inception in an alley off of Guandu S Road to its present incarnation on a lane off of Zhongxiao E Road, right next door — as is so often the case in Taipei, to another eatery (supposedly) featuring the same cuisine.
While the move to a larger premise allowed for more tables and window frontage, Botega del Vin remains a small family-run restaurant, helmed by the ever-cheerful Giorgio Trevisan, whose culinary skills are partly hereditary, as his parents and grandmother ran a trattoria in his hometown of Colognola ai Colli, Italy.
The frattoria platter for two people at Botega del Vin.
Photo: Diane Baker, Taipei Times
Trevisan moved to Taipei almost two decades ago and worked at some well-known Italian restaurants before opening the first Botega del Vin five years ago with his son, Andrea, and a family friend, Matteo.
The restaurant features the cuisine of northern Italy, and the love of what they make and attention to detail shines through every bite.
The gnocchi with Gorgonzola sauce, which I christened "pillows of love" the first time I tasted them, are reason enough to go.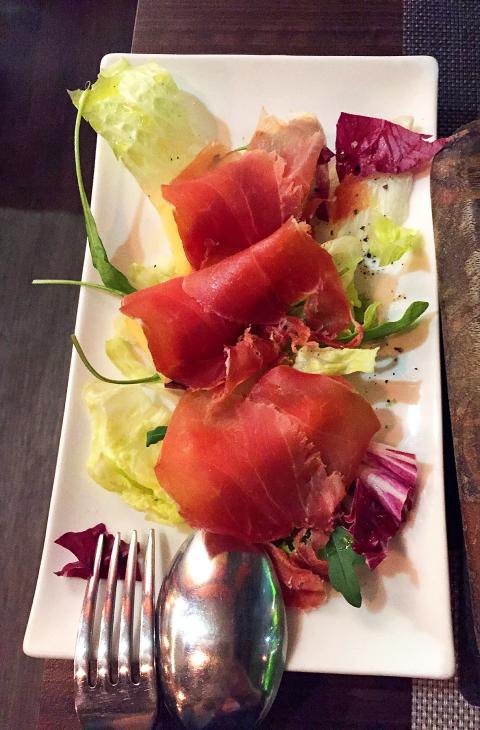 The prosciutto and melon appetiser at Botega del Vin.
Photo: Diane Baker, Taipei Times
The gnocchi are light and just melt in your mouth, while the little kick from the Gorgonzola makes you want to do a little happy dance right in your seat.
The gnocchi also comes with a pomodoro (tomato) sauce, but once you have had the Gorgonzola, why bother with anything else?
The dish is so good that carnivore friends who were once willing to split an order with a vegetarian of the Gorgonzola gnocchi and the spinach and ricotta ravioli — the ravioli cooked perfectly with just a bit of bite to the pasta and the centers melt-in-your-mouth delicious — are now demanding their own full order of the gnocchi.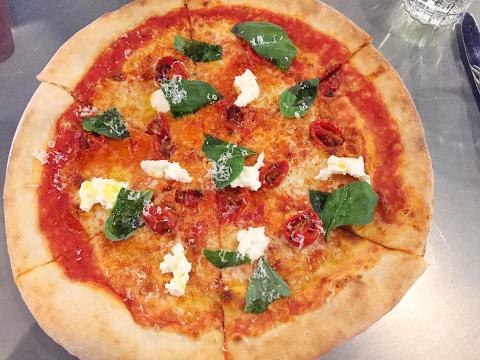 The Pimped Margherita pizza at Jamie's Italian Xinyi.
Photo: Diane Baker, Taipei Times
The Trevisans et al keep things simple, except for their wine list, which is about four times as long as the menu.
There are eight to 10 antipasta or appetizer options, ranging from a caprese salad (mozzarella and tomato, NT$380) to antipasti misti platters for two to five people (NT$450 to NT$750), tonnato (sliced pork with tuna sauce, NT$280), a frattoria platter for two people (NT$380) that includes slices of salami, sausage, cheese, polenta, sauted onions and mushrooms and olives, and a grilled mix vegetables plate (NT$280), or the daily soup (NT$160).
In addition to the gnocchi and ravioli, the first course options include talligatelle with a choice of duck, porcini or meat sauce, maccheroni with sausage and truffle, as well as a risotto with porcini, all priced at NT$420.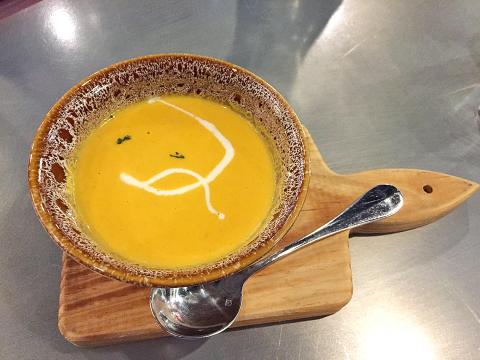 The daily soup, a creamy vegetable, at Jamie's Italian Xinyi.
Photo: Diane Baker, Taipei Times
The main courses range from a 10oz prime rib-eye steak and pan-fried lamb chops, at NT$820 each, to a veal fillet (NT$680) and roasted chicken (NT$650).
It is worth checking with your server or the blackboard over the kitchen window for the daily specials, which can include prosciutto and melon, beef ravioli, a mixed grill for four people, larger rib-eye steaks, a seafood special or osso bucco.
Depending on the number of people in your party, it is worth splitting a frattoria or antipasti misti platter, the grilled vegetables or one of the salads, as well as an order or two of pasta and then a main.
However, be warned that the tables for just two people can get crowded if you order several starters.
The restaurant recently started offering "botega sets" for groups of six and up that offer a selection of appetizers, pastas, mains and cakes.
As a vegetarian, I cannot personally attest to the chicken, lamb chops or maccheroni with sausage and truffle, except to say that they looked and smelled good and my dining companions have almost always swooned after their first bites.
Try, if you can, to save a little room for dessert, even if it means splitting one between several people. Even one or two bites are worth it. The menu regulars are a tiramisu and Giorgio cheesecake, but the daily specials have included an apple cake to a chocolate pie, both good.
For years, I resisted the cheesecake, thinking stupidly for some reason that it would be one of the Philadelphia cream cheese kind of monstrosities with fruit toppings too often found around the city, or worse. I could not have been more wrong. Italians use mascarpone, which means Giorgio's is as light as his gnocchi, with a biscuit-like base and flecks of shaved chocolate.
A perfect way to end a meal at Botega del Vin is with a glass of their homemade Limoncello.
So when I think of a great Italian meal, I immediately think of the Trevisans, or if I want a great Italian pizza, the choice is Cosi O Cosi off of Dunhua South Road. However, sometimes you have to allow friends to choose, even if you have misgivings.
JAMIE'S ITALIAN — XINYI
As I did when a friend visiting Taipei suggested trying the branch of famed British chef Jamie Oliver's Italian restaurant, which opened last fall.
"It's got French Fries on the menu, how real can it be?" I whined, even though I have seen some of Oliver's cooking shows and other television appearances and found him funny and sincere about his love of cooking.
I caved in for "scientific research" purposes, my family's catch phrase for trying something we know we should not, an excuse that can cover a multitude of sins.
We should not have bothered.
Jamie's Italian Xinyi, on the third floor of the Shin Kong Mitsukoshi department store on Songshou Road, is the antithesis of the Trevisans' establishment, and not just because Oliver is not Italian.
It is much bigger, brasher, decorated with copies of his cookbooks, branded kitchen towels, bottles of olive oil and other items, and neon signs. It screams chain outlet, just like TGI Fridays and Chili's Bar and Grills do. The wait staff are just as friendly as those at their rivals, but have the ability to disappear for long stretches of time, with a resulting wait between courses.
On my first visit, on a Saturday night, my friend and I sampled some of appetizers, two of the salads and two of the pastas.
The tomato bruschetta (NT$220) was good, with the ricotta cheese whipped to a froth and nicely roasted cherry tomatoes. The bread platter we tried came with a great tapenade, but only enough for a couple of swipes over pieces of bread.
Those proved to be the only good things that night.
The Crunch Italian Nachos (NT$240), which were advertised as cheese ravioli with a spicy Sicilian tomato sauce, proved to be a pyramid shaped mound of tasteless squares, dusted with parmesan, with a tiny dish of watery sauce that vaguely tasted of tomatoes but failed to even hint at one spice, let alone multiples.
The Rocket and Parmesan salad came drenched in so much balsamic vinegar dressing that you could not taste the rocket, which was the same problem with my house salad with lemon-yogurt dressing (which is no longer on the menu).
For pastas we tried the Truffle Tagliatelle (NT$580) and Pasta Primavera (also no longer on the menu). The noodles in both dishes were cooked al dente, but that was about all that the kitchen got right.
While the menu described the tagliatelle as cooked with "silky black truffle butter, aged Parmesan, nutmeg and shaved black truffle," it tasted more like a weak fettucine Alfredo with a hint of truffle.
Since the other pasta is no longer on the menu, all I can say is that while it was the greenest pasta dish I have ever seen, the sauce was completely flavorless, and the vegetables were limited to a few string beans (albeit perfectly blanched) and a couple of thin half-moon slices of potato.
Neither of us could finish either our salads or the pastas, although people at neighboring tables — and the place was pretty full — seemed to be enjoying themselves.
My friend summed up the meal perfectly when she said: "Where is the love?"
While I was reluctant to give Jamie's a second try, given the abysmal food and desultory service, I felt that I should before writing a review, so I went back at weekday lunchtime to try a pizza.
Although the restaurant was not as busy as it had been for a weekend night, my friendly server again had the ability to disappear.
The daily vegetable soup was hot and filling, but suffered from a lack of exposure to the spice and herb rack.
As for the Pimped Margherita pizza (NT$460) — where did Oliver get these names — while the basil and mozzarella appeared on top as promised, the thin brushing of tomato sauce failed to save the crust from tasting like toasted cardboard.
It was enough to make me want to turn in my "scientific research" credentials.
The only saving grace I can think of for Jamie's Italian is that if a family has cranky children in tow after a couple of hours of browsing the stores or a movie, there is a Kids Menu that comes in small (NT$260) and big portions (NT$320), with a salad and drink and options that include a burger, pizza, salmon fillet and "chicken lollipops."
The kids probably won't mind the lack of love, or taste, in the cooking.
Botega del Vin
ADDRESS: 7, Alley 17, Lane 170, Section 4, Zhongxiao E Road, Taipei City (台北市忠孝東路四段170巷17弄7號)
OPEN: 11:30am to 2:30pm and 5:30pm to 10pm. Closed Sundays and Monday lunchtimes
AVERAGE MEAL: NT$1,000 to NT1,200 per person without a bottle of wine
DETAILS: Menu in Italian, English and Chinese
TELEPHONE: (02) 2367-2320
ON THE NET: www.botegadelvin.com
Jamie's Italian Xinyi
ADDRESS: Shin Kong Mitsukoshi Taipei A11 (台北新光三越台北信義新天地A11-3F), 3F, 11, Songshou Road, Taipei City (台北市信義區松壽路11號3樓)
OPEN: 11am to 9:30pm Monday to Thursday and Sunday, 11am to 11pm Friday and Saturday
AVERAGE MEAL: NT$800 to NT$1,500 per person, depending on whether you order a steak, without a bottle of wine
DETAILS: Menu in English and Chinese. Kids menu available in two sizes (NT$260 and NT$320 including salad and drink)
TELEPHONE: (02) 8780-2050
ON THE NET: www.jamieoliver.com/italian/taiwan/restaurants/xinyi-district
Comments will be moderated. Keep comments relevant to the article. Remarks containing abusive and obscene language, personal attacks of any kind or promotion will be removed and the user banned. Final decision will be at the discretion of the Taipei Times.