Why Taipei is Asia's top destination for vegans
A long tradition of Buddhism and a vegan wave from the West have created an abundance of plant-based restaurants and cafes in the nation's capital, as well as vegan events and clothing brands
In order to honor plant-based eating worldwide, People for the Ethical Treatment of Animals (PETA) nominated Taipei as Asia's most vegan-friendly city in December 2016. A long tradition of Buddhism and a new vegan wave from the West have created an abundance of restaurants and cafes serving plant-based fare, vegan events and clothing brands.
A little more than a year ago, an expert panel of PETA staffers traveled throughout the continent and sampled vegan restaurants and street-food, judging cities on the number of vegan restaurants based on population, the variety of options available at non-vegan restaurants, the range of cuisines offered and the visibility of the local vegan movement. Since then, Taipei's vegan scene has only been growing.
"Taipei's vegan scene is the most dynamic in Asia, thanks to numerous restaurants that offer cutting-edge vegan meals and a powerful community of animal advocates," Jason Baker, vice president of International Campaigns at PETA, said.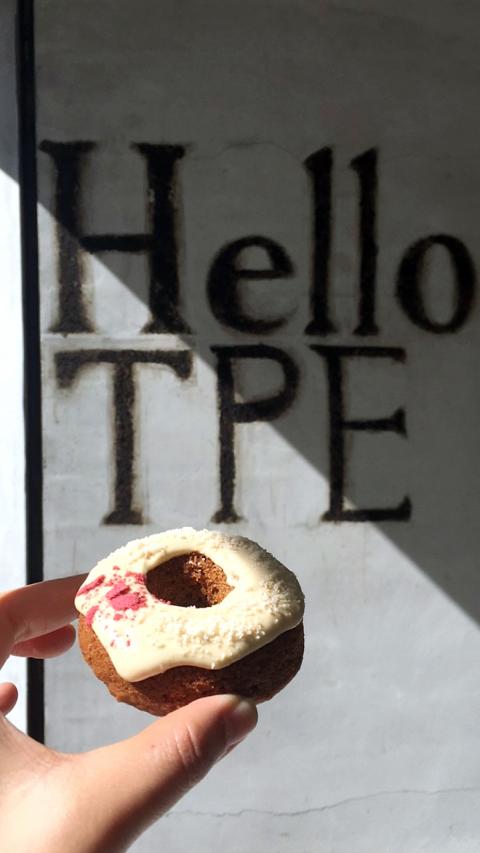 PETA dubbed Taipei Asia's most vegan-friendly city in December 2016, and one look at Ooh Cha Cha's vegan donut and you can see why.
Photo courtesy of Mai Bach
Shi Hue-shou (釋慧守), a Buddhist monk from Austria who has been living at Kaohsiung's Fo Guang Shan Monastery (佛光山) for 18 years, isn't surprised Taipei won the award.
"Even here in Southern Taiwan you drive five minutes and will find a vegetarian canteen right around the next corner," Shi said.
BUDDHISM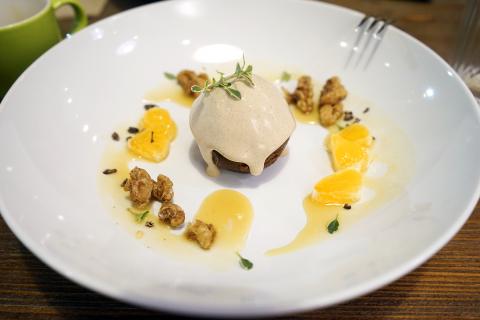 Fresh ingredients and aesthetically arranged dishes are cherished at Taipei's Plants.
Photo courtesy of James Bell
Taiwan's large Buddhist population is considered one of the main reasons why Taiwanese avoid meat.
"To be exact, there is no true law in Buddhism that says you cannot eat meat. But people believe that by eating less of it, you can become more compassionate and improve your karma," Shi said.
Buddhism certainly plays a role when it comes to the abundance of vegetarian restaurants that Taiwan has to offer. Vegetarian hole-in-the-wall noodle shops and vegetarian buffets can be found in every population center, large or small.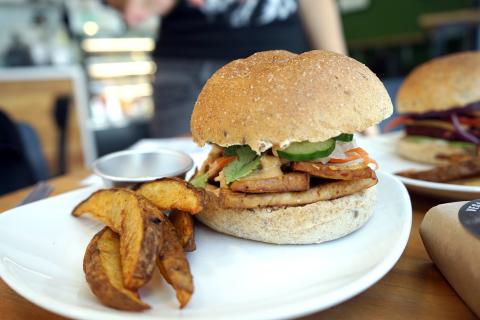 Looking for a vegan burger that is free of animal-cruelty? Ooh Cha Cha has you covered.
Photo courtesy of Mai Bach
Health reasons, food allergies and skepticism toward the safety of food due to past food scandals are other reasons to go vegan.
VEGAN VS VEGETARIAN
There remains some confusion over the differences between vegan and vegetarian diets said Mayo Lai (賴孟君) a vegan actress, zero-waster and animal rights activist in Taipei.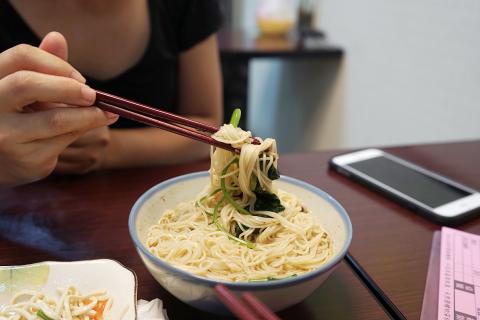 A good Taiwanese noodle dish doesn't always require meat in order to taste delicious.
Photo courtesy of James Bell
"It's hard for people in Taiwan to understand the term vegan because we don't really have an equal word for it," Lai said.
Lai said that su (素) is the Chinese for vegetarian, which means dairy products and egg may be found in the meal. However, she added, over the past two years it has become so much easier to be a vegan in Taiwan.
"Slowly people are learning about this trend, that is actually a Western thing coming to Taiwan."
According to HappyCow, which is a crowd-sourced review portal for vegans and vegetarians (www.happycow.net), there are more than 600 vegan and vegetarian restaurants in Taiwan. Taipei offers 57 restaurants that are completely plant-based and put a strong emphasis on health. Considering this number, Taipei can definitely compete with other Asian capitals, who have been praised for their vegan friendliness, such as Singapore,which offers 46 vegan restaurants, placing second in PETA's ranking.
Taipei's first plant-based restaurant, Ooh Cha Cha, celebrated its four-year anniversary in November last year and just recently opened a second store near the Technology Building in the city's Daan District (大安). They get their vegetables and greens freshly delivered from a Taiwanese organic farmer.
"Our number one priority is educating people to understand the difference between junk food veganism and actual healthy vegan eating," said Mai Bach, owner of Ooh Cha Cha.
They are also one of many businesses that partnered up with Green Monday, an initiative that started in Hong Kong and is part of a worldwide Meatless Monday movement. They encourage companies to go meatless for one day, which Green Monday said not only reduces 900,000 tons of CO2 emissions annually, but also saves up to 300 million animal lives per year.
Sidney Hsu (徐令軒), founder of Taiwan Vegan Frenzy, Taiwan's first vegan fair, and its first vegan clothing label, Vnicorn, also sees a dynamism to Taipei's vegan scene.
Hsu made the change from vegetarianism to veganism in 2014 because of her drive to protect animal rights and to live a more sustainable life.
"Vnicorn is 100 percent made in Taiwan and uses so-called mill-end fabrics. I hate waste, so my principle is to not create new demand but use leftover fabrics. Cutting down waste is my main priority."
PROTECTING ANIMALS
The Taiwan Vegan Frenzy started coincidentally after a friend encouraged Hsu to use her shared space in late 2015 to hold the first event. Since then the fair has been growing yearly and attracting up to 3,000 visitors by promoting local vegan enterprises.
Usually hosted three to four times a year, locations alternate between Taipei and Taichung to get both north and central Taiwan familiar with the vegan lifestyle and more sustainable options.
Environmentally friendlier soaps, shampoos, as well as vegan dog food are some of the things that you can find at Plants, a restaurant that is run by Taiwanese filmmaker Square Jao (饒孟蓁) and her partner. They also offer workshops and talks on vegan topics.
James Bell, a vegan blogger from New Zealand, has traveled throughout Asia and can relate to PETA's choice of cities.
"It really depends on how you define vegan-friendly... I think in some ways it's incredibly fortunate to be based in Taipei, in other ways I wish there was more accessibility to vegan and vegetarian products in supermarkets, such as imported goods, which you can find in abundance in Hong Kong."
For many, veganism has become a lifestyle that is not just about the mere absence of animal products. It is also about cultivating a life that is more sustainable and friendlier to the environment and animal life.
"If we want to change, we need to feel good doing it. If we don't feel good, it's not going to stick. Right now, what I see with veganism and with movements like Zero Waste and Upcycling are people feeling positive about these changes," Bell said.
Comments will be moderated. Keep comments relevant to the article. Remarks containing abusive and obscene language, personal attacks of any kind or promotion will be removed and the user banned. Final decision will be at the discretion of the Taipei Times.