Highlights: Dance of all types, for all ages
Dance performances in and around Taipei this weekend offer something for almost all ages and fans of different techniques.
Fans and students of contact improvisation have been meeting at Songshan Cultural and Creative Park's Song Yan Creative LAB in East Building 2F (松山文創園區 — 東向製菸工廠2樓) and other spots since Tuesday as part of this year's "I-dance Taipei" organized by choreographer Ku Ming-shen (古名伸) and her troupe, Ku and Dancers (古名伸舞蹈團).
"I-dance Taipei" consists of workshops, a showcase, a roundtable discussion and five nights of performances under the banner "Spectrum of Dance Improvisation."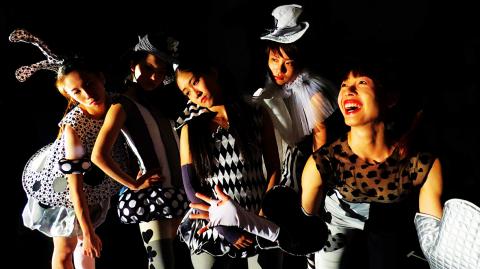 Lin Chun-hui's newest work, To grin like a Cheshire cat, will be performed at the Taipei City Shuiyuan Theater for four shows, starting tonight.
Photo Courtesy of Jade Dance Theatre
Each show boasts a different line-up: tonight is Taiwan-based Israeli dancer Shai Tamir, Kirstie Simson, an associate professor of dance at the University of Illinois and Kim Bong-ho from South Korea; Kim, Ku's group and something called "The Wandering Baby's Fantastic World" tomorrow; and Simson and Chico Katsube and Shoko Kashima from Japan for Sunday's "gala."
■ Tickets for each show are NT$700 and more information on "I-dance Taipei" is available at www.idancetaipei.tw/en/events.
At the Taipei City Shuiyuan Theater (台北市羅斯福路四段92號10樓), the Jade Dance Theatre's (肢體音符舞團) youth section is performing To grin like a Cheshire cat (70種笑).
To grin like a Cheshire cat was choreographed by Lin Chun-hui (林春輝), and the inspiration was the "tears behind the smiles" — how people cover up their feelings of helplessness and grief in everyday life with smiles.
Daniel Cheng (鄭乃銓) created the music and digital design, using "FaceOSC" facial recognition technology to create sounds from the five dancers' expressions.
■ Tickets are NT$600 and NT$800.
In New Taipei City's Tamsui District (淡水), White Dance Studio (白蹈場) will be performing Gray (灰) in collaboration with the band Elephant Gym (大象體操) at the Bamboo Curtain Studio (竹圍工作室).
Hsinchu-born dancer/choreographer Lee Zi-da (李治達) mines daily life and experiences for inspiration for his choreography. Gray is about the lack of absolute answers in today's world.
■ The Bamboo Curtain Studio is at 39, Ln 88, Jhongjheng E Rd Sec 2, New Taipei City (新北市淡水區中正東路二段88巷39號), next to the bicycle path by the Tamsui River and is about a 10 minute walk from the Zhuwei MRT Station (竹圍捷運站).
■ Tickets for Gray are NT$600.
■ Tickets for all three shows are available online at www.artsticket.com.tw, at convenience store ticket kiosks or at the door.
Comments will be moderated. Keep comments relevant to the article. Remarks containing abusive and obscene language, personal attacks of any kind or promotion will be removed and the user banned. Final decision will be at the discretion of the Taipei Times.