Asia-focused fair
This year's Art Taipei, though mostly pleasant and non-risky, hit a sound balance of culture and commerce
Art Taipei (台北藝博會) felt like a minimally designed, intimate dinner party with a moderate market adrenaline. Hosted by Taipei's World Trade Center (台北世貿中心) from Thursday to Sunday last week, the gray and white event was subtly decorated with occasional LED gateways and modern chandeliers that lent it a touch of noble prestige in the otherwise gridded modules of white-cubed spaces. At the main entrance, Art Taipei's academically sounding theme The Rise in Private Art Museums was spelled in big letters, promising that this year's program was set up to be much more than a trade show experience. Along the aisles, familiar dealers and collectors casually chitchatted with each other, catching up on old friendships and art world news.
Considerably smaller in size than previous years, the 24th edition of Art Taipei hosted 123 galleries from 15 Asian countries, including China, Taiwan, Hong Kong, Korea, Japan and Southeast Asia. Organized by Taiwan Art Gallery Association (社團法人中華民國畫廊協會), Taiwan External Trade Development Council (中華民國對外貿易發展協會), and the Ministry of Culture (文化部), Art Taipei is the longest running art fair in Asia and has established itself as a senior platform for artistic and commercial exchange within the Asian region. While Hong Kong has quickly risen as an epicenter for art dealing within the last decade, Art Taipei continues to vie for critical position as a center for international exchange. With the proliferation of art fairs across Asia, the fair this year seemed to show a strategic shift in its approach to maintaining a stake in the regional network.
The fair's title set up a contemplative mood for discussion about collection building and institutional development. In addition to being a leading force in the art market, according to Minister of Culture Cheng Li-Chun (鄭麗君), Art Taipei "is an exchange platform for culture and thought, and an embodiment of contemporary art trends and the spirit of the times." By placing emphasis on the cultivation of arts, the fair shows potential for a refreshing blend between art appreciation and business talk.
TeamLab, Fleeting Flowers (2017).
Photo courtesy of Liang Gallery
With a total offering of 3,000 works this year, Art Taipei reportedly hit NT$5 million in total sales by the second day. Representing works by Yoyoi Kusama and Shiro Tsujimura, Nukaga Gallery achieved a collective sales of almost NT$2 million. Wu Hsueh Jang's (吳學讓) ink paintings at Mingshan Art (名山畫廊) were 80 percent sold by the first day of the fair. Other pieces that attracted collector's interest include Tang Jie's (湯傑) Stone Story (石雨) and Geng Jie-Sheng's (耿傑生) A Very Sociable Kevin (合群的凱文) at Daxiang Art Center (大象藝術中心).
CONSERVATIVE FAIR
Overall, the fair showcased a largely conservative yet good-quality selection of modern and contemporary artworks. Many galleries featured well-curated booths of single or multiple artists that provided visitors with more than a salesroom experience. Liang Gallery (尊彩藝術中心) devoted a good portion of its booth to watercolors on paper by prominent Taiwanese modern painter Chen Cheng-Po (陳澄波). Dating from the early 1930s, the sketches are valuable traces from the painter's critical Shanghai period during which the Chinese literati tradition heavily influenced his painting style.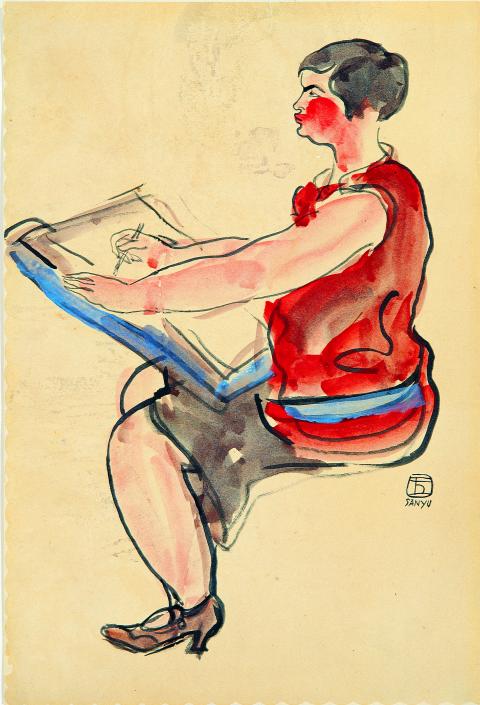 San Yu, The Painting Lady in Red Clothes (1930).
Photo courtesy of Liang Gallery
Eslite Gallery's (誠品畫廊) solo presentation of post-war Taiwanese master painter Tommy Chen (陳道明) offered substantial insight into the artist's practice of colorful cosmic abstractions. Asia Art Center (亞洲藝術中心) chose a Pan-Asian approach, bringing together a selection of paintings, including works by Pan Hsin-hua (潘信華) and Chu Wei-bor (朱為白), Singapore's Cheong Soo Pieng (鍾泗濱) and China's San Yu (常玉) and Zhao Wou-ki (趙無極). The piece by Zhao Wou-ki, in particular, is a remarkable 1930's black painting with an etched in landscape of mountains and cathedrals.
Alisan Fine Arts (藝倡畫廊) from Hong Kong also joined the fair this year after over two decades of hiatus. Featuring a selection of iconic works including paintings by Walasse Ting (丁雄泉) and Nobel Laureate Gao Xingjian (高行健), the gallery hoped to reconnect with Taiwanese collectors and catch up with old friends, said one of its gallery spokespersons.
Despite Art Taipei's modern art emphasis, many galleries also showed internationally distinguished contemporary artists. Yoshiaki Inoue Gallery presented an intriguing group of miniature, wood-carved dolls by Hiroto Kitagawa that explored themes of role-play and character building.
Ikkan Art Gallery from Singapore brought a collection of monitor-based works by Japanese digital collective teamLab. Fleeting Flowers is a four panel, software animated series that featured pixelated animals that, according to legend, accompanied the Buddha at the end of his life. The animal images are assemblages of blooming flowers that repeated their cycle of growth and decay, causing the animals to emerge and disintegrate by the flower's state of existence. According to dealer Ikkan Sanada, the artists had gone to substantial effort to ensure the greatest permanence of its digital artwork, by providing a renewable 10-year guarantee so that the work would be periodically treated with necessary upgrades that accommodate future operating systems and other software running technologies.
This year's Art Taipei, though mostly pleasant and non-risky, hit a sound balance of culture and commerce. This may be a good strategy for Taiwan's international positioning, which compared to the higher pressure markets of Hong Kong and Shanghai, seems to be prime setting for a more conservative market approach, museum-oriented cultural discourses and a more lyrical art atmosphere.
Comments will be moderated. Keep comments relevant to the article. Remarks containing abusive and obscene language, personal attacks of any kind or promotion will be removed and the user banned. Final decision will be at the discretion of the Taipei Times.