Restaurant review: Saathiya Indian Cuisine (莎堤亞印度料理)
Indian cuisine has struggled to find its place in Taiwan's international food scene. Not rare enough to be cast among the "exotic" types that have but a handful of representative restaurants in Taipei (think Peruvian, Russian or even Turkish), nor popular enough to join the mainstream giants (Italian, Thai, Korean), it occupies a culinary no man's land where most restaurants stick to the predictable Taj Mahal formula to get noticed.
My passion for the condiments of the subcontinent began back in college, cooking with my Indian roommate. Years spent bonding over the rituals of onion chopping and roti tossing, we not only forged a lasting friendship, but also fine-honed a string of curries that have been the talk of countless dinner parties I've hosted since. I'm the kind of person who has a list of favorite Indian restaurants, and I'm always looking to add to it.
And so it was with high hopes that my wife and I came to Saathiya (莎堤亞), located on a second floor on Xinyi Road (信義路), just above Dongmen MRT Station (東門). You'd miss it if it weren't for the orange, green and white menu stand at the bottom of the stairwell. Nothing, (except perhaps the Taj Mahal), says Indian restaurant quite like the country's trademark tricolor.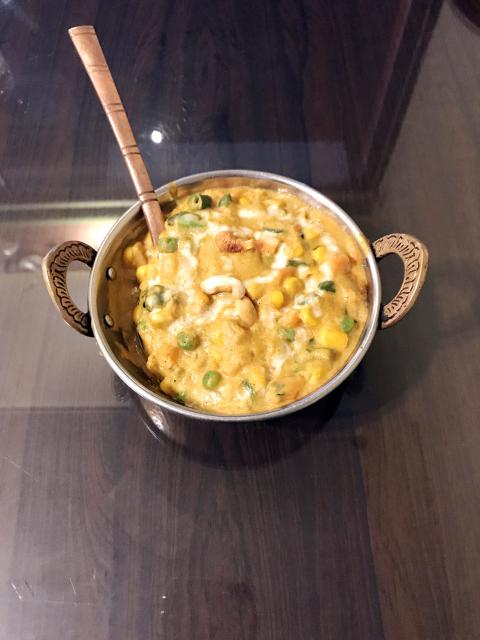 The corn in the vege korma was a nasty surprise.
Photo: Liam Gibson
We sit by a large window at the far end of the space which overlooks Xinyi Road. Its low-key for a Saturday night. The place is almost empty except for a couple of tables. The walls of the place are lined with abstract paintings of a remarkably consistent style, courtesy of the owner's friend and long-term Taiwan resident, artist Sagar Telekar. The paintings are aesthetically pleasing, but stand in jarring contrast next to the flat-screen monitor playing an MTV-like stream of Bollywood dance scenes. The seats are Ikea-chic: simple, black and covered with a nice padding that upon second squeeze feels like one of those thick, cushy mouse pads that gamers use.
We are served by a young Mongolian waiter/waitress duo. Neither can speak Chinese, (nor Hindi for that matter), "Only English," they say. My wife lets me order.
Flavoring a curry's gravy with methi (fenugreek seed powder) takes experience. Believed to have special medicinal properties, it's something of an acquired taste, even in India. I've ruined plenty of curries crossing the threshold where stimulating acidic bite becomes bittery awfulness. Saathiya's methi malai paneer (NT$350) past the test. The methi flavor is subtle, but noticeable, just as it should be.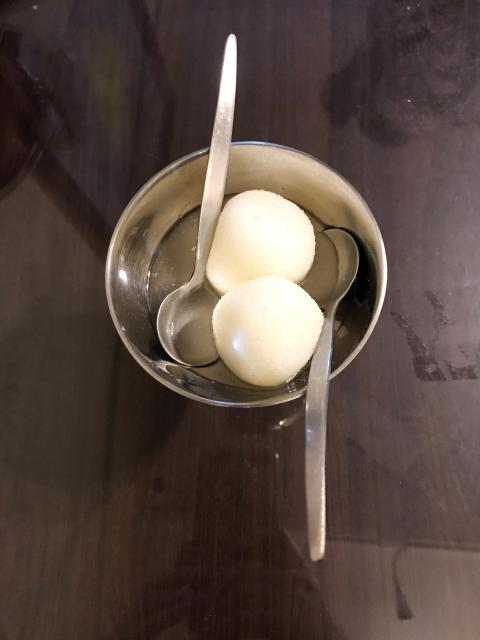 A succulent rasgulla is a great way to end on a sugary high.
Photo: Liam Gibson
A plain lassi (NT$100) is a must if you're sampling multiple curries in one sitting. Its tangy/salty sharpness helps bring your palate back to ground zero in a quick neutralizing gulp. This one delivered the palate-purging hit and a satisfying mouthful of yoghurt-milky frothy goodness.
The aloo paratha (NT$125) was a major disappointment. Undercooked, damp, oily and served on ugly pieces of paper towel.
One critical test for any restaurant, but especially so for Indian ones, is whether or not they can tailor the spice level to your specifications. Saathiya needs to work on this. I asked for the Hyderabadi special chicken curry (NT$380) to be very spicy and it was medium, at best. If they can't get it right using their preferred English, I can't imagine how they'd fare in Mandarin.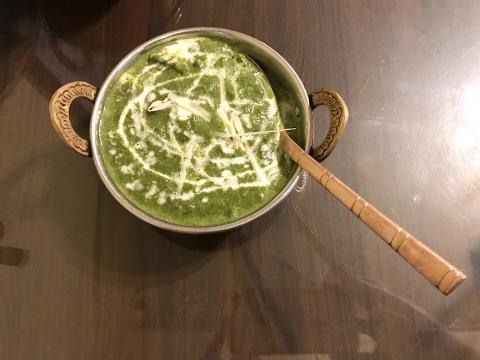 The palak paneer's spinach gravy was satisfying but the cheese was lacking in flavor.
Photo: Liam Gibson
The spinach-based gravy of the palak paneer (NT$320) was smooth, thick and just a little pulpy. Unfortunately, that was all this dish got right. The paneer was sliced into cubic pieces, chewy but bland. Lightly frying paneer with jeera (cumin seeds) really transforms its flavor. But it seems they'd rather skimp on the seeds here, and so its aromatic potential was left unrealized. Inch-sized onion slices were an unpleasant surprise. This faux pas would have been permissible if it were accompanied by other veggies such as bell peppers, (as is usual in dishes like paneer tikka masala), but as it was the only vegetable in the gravy, it was hard to overlook.
For desert, we ordered rasgulla (NT$90) as gulab jamun wasn't available. Two white balls come soaked in a little pool of syrup. To really relish the heady-sensation it offers, rasgulla, like gulab jamun, should be taken in one bite. One bite of heavenly bliss. The ball's sponginess resists the weight of your jaws as they slowly clamp down, letting the syrup slowly ooze and flow out over your teeth and tongue. The sponge becomes firmer as you push into the core before finally splitting and filling your cavity with a sugary mouthful of sinful proportions.
I wish the rest of the meal had delivered similar levels of sensory satisfaction, but all in all, it was hit and miss. At just over a year old, Saathiya is a new arrival on Taipei's indistinct Indian scene, and like a toddler, still trying to find its feet. Above the MRT, it's very accessible and a stroll around the pretty backstreets of Dongmen is nice after dinner. Yet I wouldn't go out of my way to come back to Saathiya.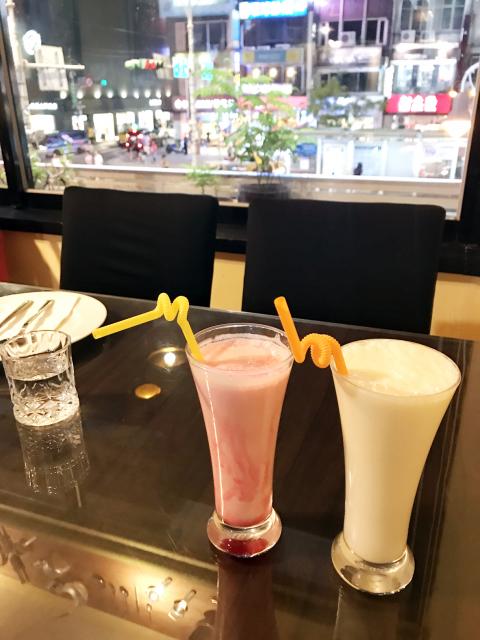 Lassis, rose and plain, served with cocktail straws against the backdrop of Xinyi Road.
Photo: Liam Gibson
The aloo paratha is so oily it needed to be served on a paper towel.
Photo: Liam Gibson
Publication Notes
Saathiya Indian Cuisine(莎堤亞印度料理)
Address: 2F, 195, Xinyi Rd Sec 2, Taipei City
(台北市信義路二段195號2樓)
Telephone: (02) 2343-2513
Open: Tuesday to Sunday from 11:30am to 2:30pm, 5:30pm to 9:30pm, and Monday from 5:30pm to 9:30pm
Average meal: NT$500 to NT$700
Details: Menu in English and Chinese, credit cards accepted
On the net: www.facebook.com/saathiya989/
Comments will be moderated. Keep comments relevant to the article. Remarks containing abusive and obscene language, personal attacks of any kind or promotion will be removed and the user banned. Final decision will be at the discretion of the Taipei Times.