The Sad Fate of Taiwan's Beautiful Wild Hot Springs
Some of Taiwan's most beautiful natural hot springs are losing the battle against gratuitous development
Taiwan is stunningly beautiful, and as the nation's natural bounty becomes increasingly known to foreign visitors, more are learning about its more publicized natural attractions. However, as any canyoneering guide here will affirm, some of the country's most mesmerizing sights are to be found in the countless beautiful mountain streams, gorges and waterfalls hidden in the island's impossibly steep and rugged central highlands. During the warmer months, they provide magnificent opportunities for canyoning, while in winter, the attention of many local explorers turns to the 20 or so remaining undeveloped hot spring sources that can be found hiding in the depths of some of these enchanted ravines.
However, all is not well.
Typhoon-triggered damage such as rock falls and landslides (which in a few moments can disfigure a once stunning landscape for decades) are a fact of life, considering the fragile, crumbly nature of much of the island's rock. Human action is also spoiling many beautiful, once pristine mountain gorges and waterfalls. As Taiwanese discover the incredible beauty of their homeland, an increasing number of once difficult-to-reach places are being developed as tourist attractions. Thankfully, the days when this often meant installing wide concrete paths and ugly faux bamboo handrails are largely long gone, and recent development is generally more discreet. In any event, despite an inevitable sacrifice of pristine natural beauty, allowing everyone to appreciate and admire it is an excellent way to get people to care about its future, while any opportunity for parents to get their kids away from their computer games or exam prep for the day can only be a good thing.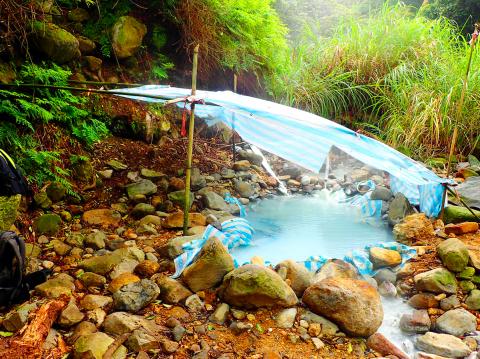 Relatively little-known Xiaqigu Hot Spring in Yangmingshan has already been given a tarpaulin makeover.
photo: Richard Saunders
THREATS: CEMENT AND 'MOUNTAIN RATS'
The most serious threats to Taiwan's countryside, however, generally go on in places where the damage can't be so easily observed. Asia Cement Corporation's (亞洲水泥公司) mining activities on the fringe of Taroko National Park is a case in point, as is the releasing of pollutants by various sources into the nation's air and water.
On a smaller scale, the continuing activities of illegal tree cutters (known locally as "mountain rats," 山老鼠) are depleting Taiwan's magnificent ancient trees (especially red cypress), many of which have stood for a millennium or two, all to supply hardwood for the luxury furniture trade.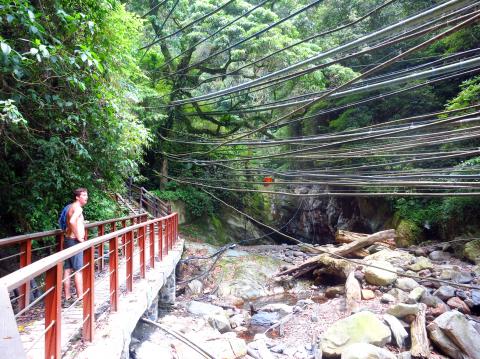 A veritable forest of pipes send cold water from the pool below Rainbow Waterfall down to resorts at Dongpu Hot Springs in Nantou County.
photo: Richard Saunders
Returning to Taiwan's mountain streams, one very widespread misuse of the natural environment is generally only seen by canyoning teams and hikers: the (often unregulated) tapping of the island's pristine water sources and hot springs.
TAPPING PRISTINE WATER SOURCES
Formerly unspoiled water sources in mountain areas across the country are tapped for a variety of reasons, among the most common being to irrigate rice paddies, replenish fish farms or ensure a steady supply of mineral water to hot spring resorts. In many places, the practice is having a negative effect on the landscape. For example, the rarely visited hot spring sources within Yangmingshan National Park (陽明山國家公園), just a stone's throw from one of Yangmingshan's most famous sights, the Flower Clock.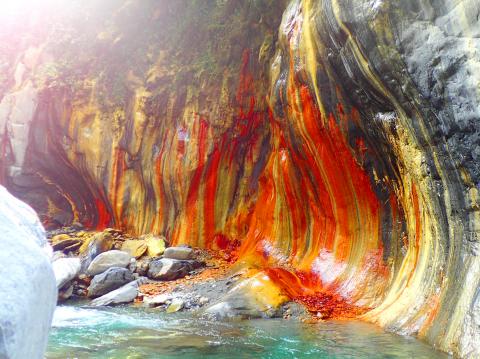 The beautiful formations at remote Hayouxi Hot Spring are starting to attract increasing numbers of tourists, who now arrive by four-wheel drive vehicles.
photo: Richard Saunders
The first, Xiaoyintan Hot Spring (小隱潭溫泉), sits at the head of a wild little gorge, just below a majestic waterfall. The second, known as Yangmingshan Hot Spring (陽明山溫泉), is a babbling brook of bath-hot water, splashing through a sea of giant silver grass, the razor-sharp leaves of which are a bane to hikers and explorers who venture off the main routes all over Yangmingshan. These are two remarkable little spots, and both are very rarely visited, mostly because they're quite difficult to reach, despite being so close to one of the National Park's main tourist draws. Sadly, both have been despoiled by a mass of plastic piping that channels hot spring water to several resorts and bath houses a little lower down the mountainside. At least one of the three sources at Yangmingshan Hot Springs is completely dry these days, as the water is piped straight out the underground source down the mountainside.
Steven Crook, author of the Bradt Travel Guide to Taiwan, tells me that he would like to know how much the resorts pay the national park for the right to extract hot-spring water, whether they pay anything in compensation for the way in which such pipes disfigure nature and whether anyone has studied the impact on the local environment of water no longer flowing in the way nature intended.
"If a patch of forest dries out as a result, surely landslides are more likely," Crook says.
The unique Shikeng Hot Spring waterfall: the bullseyes at the bottom are almost certainly not a natural formation.
photo: Richard Saunders
HOT SPRINGS
Since hot spring bathing as a leisure activity began to really take off in Taiwan during the late 1990s, when the first of the new generation of "luxury" hot spring bath houses started opening, the number of resorts around the nation's developed hot spring sources has mushroomed.
Most hot spring sources within Yangmingshan National Park have now been tapped, and artificial boreholes have also been dug to boil up more hot spring water to supply the insatiable demand.
The situation is slightly less dire elsewhere in Taiwan, perhaps because those hot spring sources that haven't already been tapped by commercial businesses are generally too remote or too inaccessible to make developing them commercially viable.
Unfortunately though, even some of Taiwan's remoter hot springs are now under threat. Since Typhoon Morakot plowed through and left a wide "freeway" of relatively level stones on the bed of the river leading up it, the magnificent Hayouxi Hot Spring (哈尤溪溫泉) in Pingtung County has become far more easily accessible: a fact not lost on local villagers, who now drive large numbers of tourists up in four-wheel drive during the winter (the dry season).
Following Morakot, the unique Shikeng Hot Spring (十坑溫泉), off the South Cross-island Highway in neighboring Kaohsiung, can now be reached directly by four-wheel drive, and it's a popular destination with off-road enthusiasts each weekend during the winter months. During a visit earlier this year, we found someone had even parked his dune buggy right against the hot spring cliff, possibly damaging the formation, presumably in an effort to keep it out of the hot sun.
Further down the same river the once natural hot spring sources at Qikeng (七坑) and Shidong (石洞) have already fallen victim to the tarpaulin hot spring brigade.
There's something acutely disrespectful of nature in those hideous plastic pipelines, crude tarpaulin hot spring tubs, and four-wheel drive convoys that invade some of Taiwan's remote mountain areas each weekend. We need to start being more sensitive in our interactions with nature. In a perfect world, we wouldn't put our own desires first, at the expense of the natural world, but perhaps a little compromise is in order.
A perfectly good hot spring pool can be made with a bit of effort by heaping rocks and gravel to keep the cold stream water out, with minimal damage to the environment. Some of Taiwan's finest untouched hot springs can be easily reached on foot during a camping weekend without all the diesel fumes and noise of vehicles.
Taiwan in the Eyes of a Foreigner author Nick Kembel says that in theory he's against the privatization of just about any natural sight or attraction for financial gain.
"But... as a parent of two toddlers, it is either difficult or impossible for me to visit most wild hot springs with my family. Therefore, the plethora of easily accessible developed hot spring resorts within short driving distance of the city is one of the things I love about Taipei," Kembel says.
Kembel says that the nation's remote hot springs should be left as is and current establishments should fix up their own, often run-down facilities, and make them blend in more harmoniously with their natural surroundings.
"A freeze on further development of presently untouched springs [should also be enforced]," he says.
Comments will be moderated. Keep comments relevant to the article. Remarks containing abusive and obscene language, personal attacks of any kind or promotion will be removed and the user banned. Final decision will be at the discretion of the Taipei Times.