Ideas, intrigue and architecture
A Dutch rendering of Ayn Rand's 'The Fountainhead' by Belgian director Ivo van Hove casts a fresh look at a controversial philosophy while telling a powerful story
Dutch national theater company Toneelgroep Amsterdam (TGA) is returning to Taipei this weekend after a two-year hiatus to close the Taipei International Arts Festival.
The troupe, led by its avant-garde artistic director Ivo van Hove, is to perform its thought-provoking, four-hour-long production adapted by Koen Tachelet from the novel The Fountainhead by controversial American author and philosopher Ayn Rand.
A play containing grand ideas about society and the relationship between the individual and the collective, the story follows Howard Roark, played by poet, actor and former Dutch "poet of the fatherland" Ramsey Nasr, who for this production learned to sketch architectural designs in the style of US architect Frank Lloyd Wright.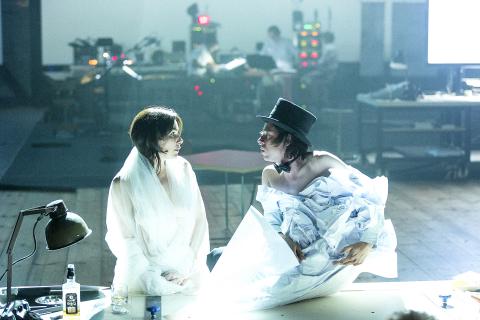 Halina Reijn, left, as Dominique Francon and Aus Greidanus, right, as Peter Keating in Dutch national theater company Toneelgroep Amsterdam's production of Ayn Rand's The Fountainhead, which opens Friday night at Taipei's National Theater.
Photo courtesy of Jan Versweyveld and TGA
An ambitious and virtuous architect, Roark is willing to bear the ultimate sacrifice for his ideas: To forgo friendship and love, to be rejected by society and, ultimately, to destroy his own creation for the integrity of his architectural ideal.
This lonely process acquires another dimension when the protagonist meets Dominique Francon, powerfully played by lead actress Halina Reijn, who manifests herself as a kindred spirit as well as a formidable opponent in a relationship that is alternately creative and destructive — and which receives much attention in this stage rendering.
Since her breakthrough with The Fountainhead in 1943, Rand and her following have been a force to reckon with, where the author — who preached a philosophy of extreme rational self-interest dubbed Objectivism and reportedly features prominently on the reading shelves of US President Donald Trump and Speaker of the House of Representatives Paul Ryan — is in equal measures admired and reviled.
However, no such politically laden history of controversy exists in the Netherlands, where TGA staged the novel, which is not as widely read in Europe, but has inspired generations of architects and artists.
This has allowed the director to approach the material with fresh eyes, resulting in a play that conveys the full emotional depth of the story, but does not eschew giving Rand's ideas full stage, whether through archetypal characters that personify the ideas at war in the story or a powerfully rendered double monologue that receives full stage, a flourish that, contrary to the novelist's original, gives equal voice to both sides of the ethical dilemma facing the architect.
Dutch daily NRC Handelsblad said Van Hove has managed to keep a precariously balanced perspective, "cautiously guiding Rand past the abyss of her own ideology."
The production is designed by Jan Versweyveld, who has cooperated with Van Hove on a series of high profile plays in recent years. While grand-scale designs do not always benefit a play's intimacy, Versweyveld's visually rich multimedia approach and spectacular stage are ideally suited to a story that combines ideas, intrigue and architectural design.
Live music is performed onstage and scenes are projected on a large screen, allowing the audience to follow the process of architectural creation.
The play is performed in Dutch, with English and Chinese surtitles, runs for four hours with an intermission and includes "adult content" — nudity, smoking and blood scenes.
Pre-talks are held 30 minutes before every performance in the theater's lobby, with a post-show talk after the matinee on Sunday.
Publication Notes
Performance Notes
What: The Fountainhead When: Friday at 7pm, Saturday and Sunday at 2pm Where: National Theater (國家戲劇院), 21-1 Zhongshan S Rd, Taipei City (台北市中山南路21-1號) Tickets: Seats selling out fast; tickets in the NT$1,600 to NT$3,000 range are still available through NTCH box offices, online at www.artsticket.com.tw and at convenience store ticketing kiosks
Comments will be moderated. Keep comments relevant to the article. Remarks containing abusive and obscene language, personal attacks of any kind or promotion will be removed and the user banned. Final decision will be at the discretion of the Taipei Times.