Taiwan in Time: A fishy venture
Tilapia, known locally as 'wuguoyu,' is named after the two soldiers who smuggled several fry out of Singapore on their way home after the end of World War II
May 1 to May 6
The day before they were to be sent back to Taiwan, Wu Chen-hui (吳振輝) and Kuo Chi-chang (郭啟彰) scaled three wire fences and snuck into a fishery set up during the Japanese occupation of Singapore in their internment camp.
Using their undershirts as fishing nets, they managed to snatch hundreds of five-day old tilapia fry, putting them in an empty pineapple can and running as fast as they could back to their bunks. Kuo carefully transferred them to a bucket and placed it by the camp entrance so he could breed them once back in Taiwan.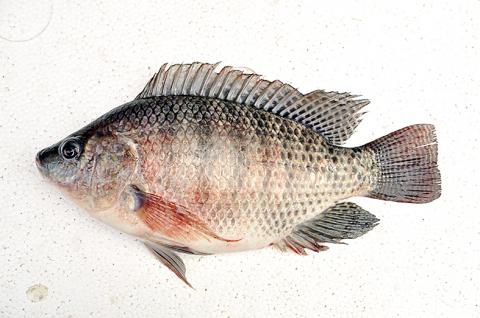 A species of tilapia found in Taiwan.
Photo: Tang Chia-lin, Taipei Times
While today's commercially lucrative Taiwan tilapia belongs to a different species, all local tilapia are still generally referred to as wuguoyu (吳郭魚), a name that then-Kaohsiung County commissioner Mao Chen-huan (毛振寰) coined in 1948 by combining the surnames of the men who brought the first tilapia to Taiwan.
A DARING PLAN
It was late April of 1946. World War II had ended half a year ago, but the two men who served in the Imperial Japanese Army were still awaiting repatriation. Kuo came from a fishing family in Kaohsiung and studied aquaculture in Japan. During the war, he was assigned to Singapore and put in charge of breeding tilapia, which the Japanese called teishi.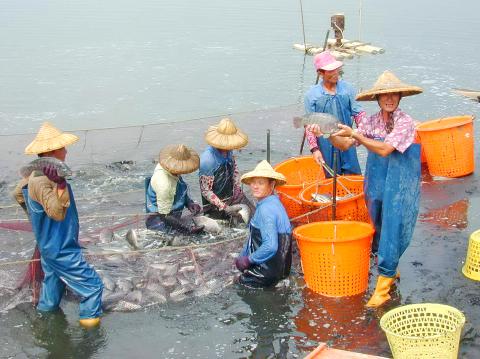 Fishermen in Yunlin County harvest tilapia.
Photo: Huang Shu-li, Taipei Times
According to an article in Fisheries Extension magazine (漁業推廣), Kuo noticed that tilapia was well suited for breeding in Taiwan, and soon started making plans to introduce them.
After surrendering to the Allies, Kuo met Wu, who served the Japanese in Sumatra and ended up in the same internment camp. Wu had raised tilapia before, and the pair became quick friends. They hatched their plan, which went smoothly until one of their campmates mistook the bucket's contents for wastewater and dumped it into a ditch.
Along with a group of campmates, the two men dug frantically in the ditch, managing to retrieve about 20 fry. During the 10-day ship ride back home, Kuo diligently changed the water using his own rations, but by the time the ship docked in Taiwan on May 2, 1946, only five males and eight females were still alive.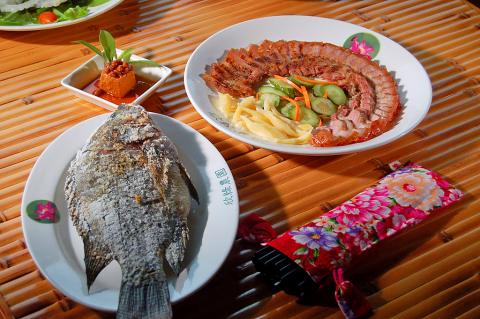 Tilapia grilled with salt is a common dish in Taiwan.
Photo: Hua Meng-ching, Taipei Times
Aside from his name, Wu's involvement ended at this point as he took a post at National Taiwan University's Department of Agriculture. Meanwhile, Kuo returned home to Kaohsiung and turned eight fish into more than 1,500 in just three months. By the fall of 1946, he had millions of fish that he kept in various locales in the south. A flood in 1947 caused many of his fish to escape, and they ended up in other people's farms — who started raising them too.
For the first few years, these fish were dubbed South Pacific crucian carp (南洋鯽仔). In 1948, Mao wanted to thank Wu and Kuo due to the success of the fish in his county. Since Wu was older, Mao decided to place his surname first. The next year, the government officially recognized the new name.
CREATING NEW SPECIES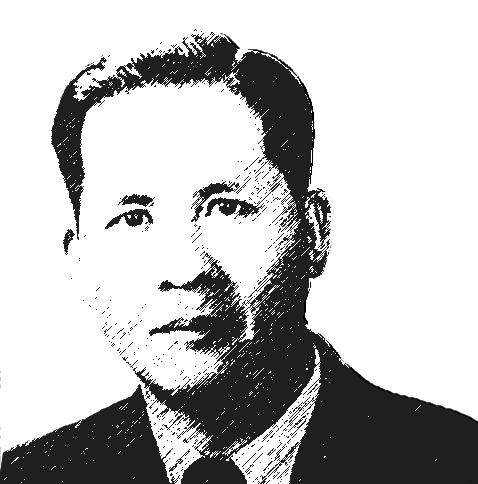 Wu Chen-hui.
Starting in 1951, the government began to promote the breeding of tilapia in rice paddies because they ate pests and helped reduce fertilizer use.
Tilapia soon replaced other types of fish in the rice fields, and became an important source of protein in farming communities around Taiwan. In 1952, Wu and Kuo received plaques from then-Taiwan Provincial Governor K.C. Wu (吳國楨) for their contributions.
However, as a commercial product, these fish still had their limitations. They had low tolerance to the cold, were rather small and their black color was not commercially attractive. Over the years, several more species were introduced to Taiwan from all around the world — all referred to as wuguoyu.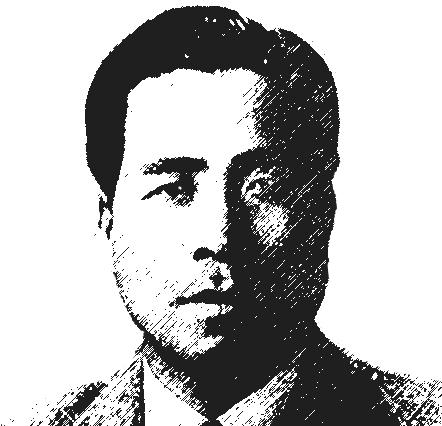 Kuo Chi-chang.
The first breakthrough came in 1969, when the Fisheries Research Institute crossed Wu and Kuo's species with another type, creating what was commonly known as fushouyu (福壽魚). This replaced the original tilapia as a major protein source for lower-income families in the 1970s.
Today's Taiwan tilapia, of which 70,000 tonnes are produced each year, is a unique species developed by breeders over the years and bears no relation to Wu and Kuo's original tilapia. It even lost its original name in a rebranding effort in 2002 and is now known as taiwandiao (台灣鯛).
Despite his name being forever attached to tilapia, Kuo did not profit from his vision. According to a 1986 Min Sheng Daily article, Kuo's fish farms were wiped out several times due to natural disaster, costing him hundreds of thousands of dollars. After several failed ventures, he was destitute and jobless by 1968. In the article, he spoke enthusiastically about his new ideas about aquaculture — but did not have the funds to carry them out.
He reportedly died an unhappy man in 2000.
Taiwan in Time, a column about Taiwan's history that is published every Sunday, spotlights important or interesting events around the nation that have anniversaries this week.
Comments will be moderated. Keep comments relevant to the article. Remarks containing abusive and obscene language, personal attacks of any kind or promotion will be removed and the user banned. Final decision will be at the discretion of the Taipei Times.