Movie review: Small Talk
After a lifetime of silence, making this documentary was Huang Hui-chen's only means of connecting with her lesbian mother — and she takes the audience along on her arduous and deeply personal journey
As its title suggests, Small Talk (日常對話) is driven by conversation, specifically director Huang Hui-chen's (黃惠偵) efforts to get her lesbian mother, A-nu (阿女), to open up about her past. She also speaks with other relatives and A-nu's former lovers, asking very direct questions that clearly make some of them uncomfortable.
But what makes the film compelling is the lack of small talk. Huang reveals that even though they live under the same roof, she and her mother barely interact. A-nu cooks lunch and leaves for the day to hang out with her friends, and in one scene doesn't even acknowledge Huang when she returns home.
With a painful past involving an arranged marriage with an abusive man, A-nu prefers to keep everything to herself. Huang admits in the film that she wouldn't know how to approach the subject if she hadn't picked up the camera, and through her lens she attempts to understand A-nu and release them both from the shackles of the past.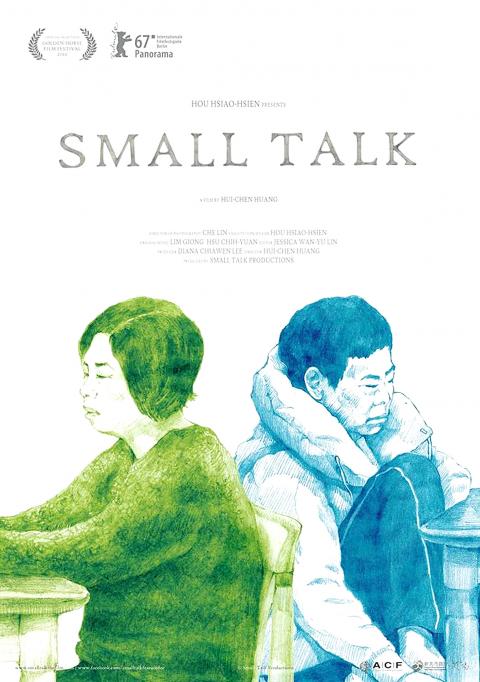 Movie poster for Small Talk.
Photo courtesy of Mirror Stage Films
When they do start talking, the back-and-forth is terse, often ending up with long shots of silent weeping. There's a suffocating tension whenever Huang appears onscreen, a stark contrast to A-nu's carefree demeanor when she is on her own.
As such, even though the focus is A-nu, it is Huang who drives the film as the audience follows her personal journey to understand and connect with her mother. We are introduced to the story through Huang's childhood, and we wait with her, somewhat impatiently, wondering if A-nu will reveal anything.
Huang is so much of the film. During one interview between daughter and mother, A-nu abruptly stops talking and leaves the room. The camera zooms out to reveal Huang dabbing her eyes with a tissue. With A-nu's continued resistance to open up or talk at length, Huang's involvement is essential for the film to be coherent.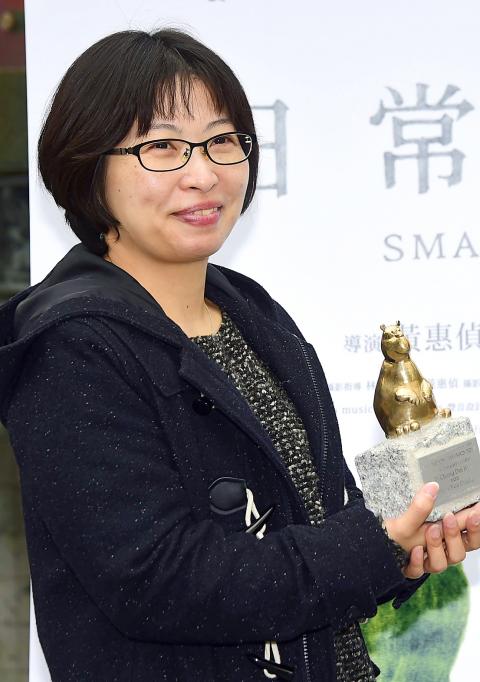 Huang Hui-chen displays her Teddy award trophy for best documentary during a press conference in February.
Photo: Pan Shao-tang, Taipei Times
The documentary also gives the viewer a sense of what it was like to be a lesbian in rural Taiwan decades ago. Although homosexuality was not openly discussed, it is intimated that society was more open at the time, as A-nu brought female lovers home (who helped to care for Huang and her sister). A-nu states that she was more ashamed that her ex-husband beat her.
"There's a lot of people like me," she says. Instead, it is Huang who says that society made her feel for a long time that she should be ashamed of A-nu.
Small Talk is essentially the full-length cut of Huang's short film, The Priestess Walks Alone (我和我的T媽媽), which won several local awards. Small Talk fared even better overseas, winning best documentary at the Teddy Awards, which are presented to lesbian, gay, bisexual and transgender (LGBT) productions at the Berlin International Film Festival. It was also nominated for best documentary and best editing at the Golden Horse Awards.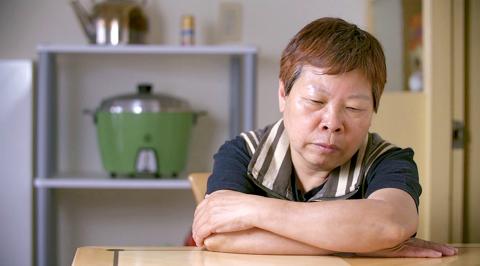 A-nu refuses to speak during an interview in the documentary Small Talk.
Photo courtesy of Mirror Stage Films
It's unclear how long Huang had been planning this film, as there is plenty of old grainy footage. One would think that if A-nu had been unwilling to talk for that many years, she would be even more reluctant with a camera pointed at her. At one point, A-nu gets angry that Huang didn't ask her permission before filming. But then we also have plenty of scenes from her daily life, including an intimate scene where she receives a massage from a girlfriend, that she must have agreed to be followed around.
Media interviews with Huang reveal that she started filming her mother in 1998. But it was only after Huang gave birth to her daughter in 2012 that she started pondering what it meant to be a mother, prompting her to finally breach the longstanding silence.
That's when Huang became part of the story, though what we know about her is strictly in relation to her mother. There are enough pieces of Huang's life mentioned that one may be left with a slew of questions after leaving the theater. She reveals a few personal secrets, but we don't see anything from her daily life, other than taking care of her daughter. Why does she continue to live with A-nu after she got married and had a child? How did she go from not finishing elementary school and working since the age of 6 to making documentaries?
On second thought, we should applaud Huang's courage in already revealing so much. It's difficult enough to display something so deeply personal, and not everything needs to be laid bare.
Publication Notes
Production notes:
Small Talk 日常對話 DIRECTED BY: Huang Hui-chen (黃惠偵) LANGUAGE: Taiwanese and Mandarin with Chinese and English subtitles RUNNING TIME: 89 minutes TAIWAN RELEASE: In theaters
Comments will be moderated. Keep comments relevant to the article. Remarks containing abusive and obscene language, personal attacks of any kind or promotion will be removed and the user banned. Final decision will be at the discretion of the Taipei Times.