Movie review: The Silent Teacher
Revolving around a woman who has donated her body for medical school dissection, this tear-jerking documentary provides a tender and sensitive look into life, death and humanity
Don't be put off by the dead body in the opening scene of Silent Teacher — you'll likely be moved to tears later. No exaggerating here, there was much sobbing heard during the screening. Director Maso Chen (陳志漢) tackles a potentially morbid subject with sensitivity, crafting a tender and informative documentary on "silent teachers" (大體老師), or people who have donated their body to medical schools for dissection.
Due to the traditional belief in keeping one's corpse whole, medical schools in Taiwan often have difficulty finding cadavers for their students to dissect in anatomy classes. As a result, the cadaver-to-medical student ratio in Taiwan is five times lower than that of Western countries. Here, these bodies are literally treated as "teachers," with the students bowing and thanking them after each session.
It could be argued that the film's protagonist is Hsu Yu-e (徐玉娥), a Chiayi woman whose body is being prepared for dissection at Fu Jen Catholic University's medical school (the process takes about a year), but the narrative is primarily told through Lin Hui-tsung (林惠宗), her husband of 23 years, who travels to Taipei every month to update his wife's body on how the family is doing. Both of them had signed up to donate their bodies for education.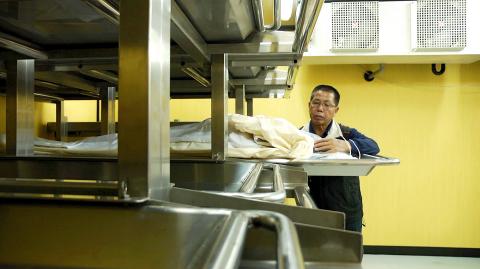 Lin Hui-tsung visits his wife's body, which is being prepared for dissection at Fu-jen Catholic University's medical school.
Photo courtesy of The Classic Vision
The film also places much attention on the medical students and staff, especially as they have to interact with their designated corpse's family members, who are pretty much involved in every step of the process (except for watching the dissection, which they can't bear to do).
The professor repeatedly stresses that the cadaver is more than just a body to dissect — it is a lesson in respecting life. And like the class, the scope of the film reaches way beyond the subject matter, which is clearly and cohesively presented — the director also explores deeper themes on life, death and humanity.
We hear their daughter discussing what she has learned about life from this experience, while the anatomy class professor ponders whether she can handle her students dissecting her own mother, who has volunteered to be a silent teacher when she dies. There's also discussion of religion through how a Catholic university handles bodies from people with Buddhist or Taoist backgrounds. The cause of Hsu's death is revealed indirectly as the students dissect her body.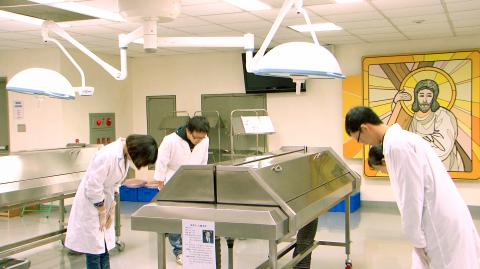 Students bow to their "silent teacher" after a dissection during anatomy class.
Photo courtesy of The Classic Vision
Through masterful editing, much of the story is told through conversations and slice-of-life scenes — and there is much material to choose from as the director spent a year documenting Lin's life, after Hsu's body arrived at Fu Ren. For example, we only learn that he visits his wife's body often through his casual banter with the medical staff. Lin is an ideal candidate for this type of story — he appears optimistic most of the time as we watch him try to carry on with his life — even posing for selfies in a karaoke bar. His positive attitude makes the film less heavy, but his grief is still there, and our hearts break when he breaks down.
Since there are essentially two timelines going on with the family and the medical school — which only converge every now and then — it makes for some interesting juxtaposition scenes that the director fully makes use of. And while the cadaver is frequently shown in the film, it is treated delicately but not too conservatively. We see just enough to realize that this is without a doubt reality, but not too much that we would feel uncomfortable.
Running just 73 minutes, there's a lot packed into this film, but it doesn't seem rushed — in fact it's probably just long enough. When a viewer leaves the theater full of emotions, thoughts and new information without any hints of boredom — that's all the signs of a good documentary.
Publication Notes
Film Notes
The Silent Teacher
那個靜默的陽光午後
DIRECTED BY: Maso Chen (陳志漢)
RUNNING TIME: 73 MINUTES
Language: Mandarin and Taiwanese
with Chinese and English subtitles
TAIWAN RELEASE: In theaters
Comments will be moderated. Keep comments relevant to the article. Remarks containing abusive and obscene language, personal attacks of any kind or promotion will be removed and the user banned. Final decision will be at the discretion of the Taipei Times.