Every fiber matters
Suho Paper Memorial Museum provides many educational workshops, including one where people make paper out of edible ingredients such as tangerines, wheat and mugwort
Onions, tangerines and mugwort are not what usually comes to mind when one thinks about making paper, but they are among the many ingredients that visitors can experiment with at Taipei's Suho Paper Memorial Museum (樹火紀念紙博物館), which hosts regular workshops to let people see paper as more than just something used to write or draw on.
These ingredients are among the stars of this year's "Paper Seasoning" workshops, where participants use various edible materials in the papermaking process. The material is chosen according to both seasonal and cultural factors — Saturday's class will feature tangerines because they are in season, while mugwort is the ingredient for June due to Dragon Boat Festival, when the herb is hung over doors to ward off evil spirits.
Museum education planner Suzi Hsu (許書慈) says that one can often gain more out of making something than simply using it as a tool.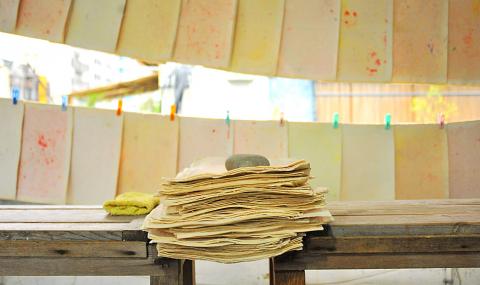 These thick papers are used to soak up water during the process of making paper.
Photo: Han Cheung, Taipei Times
"We are used to simply purchasing paper as an end product, but we don't understand the value of it," she says. "Paper can also be perceptual and conceptual."
Hsu used lots of paper as a former art student, but she never saw it as more than just a canvas for her creations. Now she appreciates the beauty of paper — down to the tiniest fiber.
"Most people see paper as a surface," she says. "But when you rip a piece of paper apart, you will see the individual fibers. That's the smallest, most captivating unit."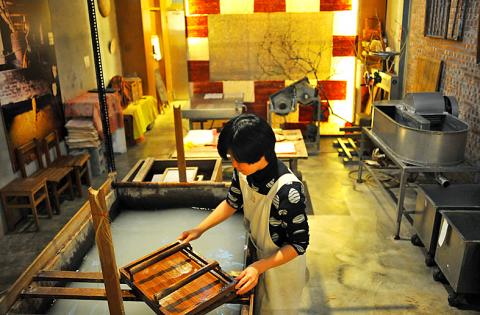 Visitors can watch a papermaking demonstration at the Suho Paper Memorial Museum.
Photo: Han Cheung, Taipei Times
She adds that even though these fibers bond together strongly, they are quite tolerant to additional materials. For example, while not fibrous enough to make paper alone, tangerine pulp, peels and leaves can be added to the paper mix to form different textures and patterns, and even aroma and color.
"We don't want everyone to make the same piece of paper," Hsu says. "We'll teach techniques that allow a certain degree of flexibility, so the end product is more like a small painting."
GOING LOCAL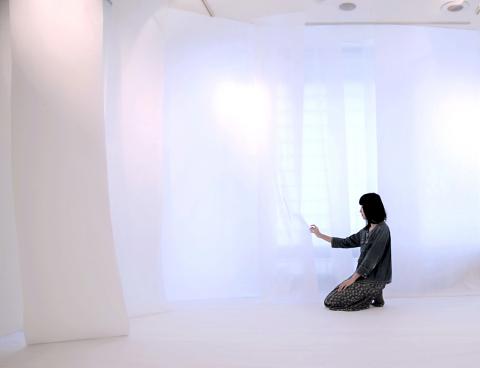 The museum's special exhibit is Blank Texture, which is a space made with five types of white paper.
Photo courtesy of Suho Paper Memorial Museum
The museum has also placed a focus on local products this year. April and May's workshops will focus on wheat, a crop that has experienced a revival in the past few years.
Hsu says they have made paper with wheat grains and mash received from breweries, and they are looking at even more applications for the upcoming workshops.
While the Paper Seasoning workshop is suitable for all ages, Hsu says they also hold classes that are geared toward different groups — such as an interactive "Yoga Art for Parent and Child" class and also a more introspective tea and calligraphy session for adults, where the main goal is to relax the mind. There will also be a fan dyeing session in the summer.
Aside from the workshops, regular visitors can purchase an activity package (NT$200) where they can experience silk screening, ink rubbing and crafting a notebook from selected papers (including ones made from pineapple leaves). For an additional NT$80, they can make their own paper.
The museum's regular exhibit takes visitors through the history of papermaking and its many appearances and applications — from audio speakers to electric insulation to cleaning up after using the toilet. The special exhibit, which runs through June 3, is Blank Texture, consisting of a space created with five different types of white paper. Visitors are encouraged to leave their phones behind and look within. Pamphlets that profess to teach calmness, known as "Meditation Guides," are also provided as part of the exhibit.
Publication Notes
Event Notes:
What: Paper Seasoning
Where: Suho Paper Memorial Museum (樹火紀念紙博物館), 68, Changan E Rd Sec 2, Taipei City (台北市長安東路二段68號)
Admission: NT$550 per person
When: 3pm to 4:30pm, tangerine on Saturday (one space remaining as of press time); onion on March 25 and April 8; wheat on April 22 and May 6; mugwort on June 10 and June 24
On the Net: www.suhopaper.org.tw
Comments will be moderated. Keep comments relevant to the article. Remarks containing abusive and obscene language, personal attacks of any kind or promotion will be removed and the user banned. Final decision will be at the discretion of the Taipei Times.