Cultivating Taiwan's artisanal teas
Meet the tea producers who are promoting tea grown in Taiwan as a specialty product abroad
A 20-minute drive from Taipei's Muzha MRT station (木柵) into the mountains, Chang Fu-chin's (張福欽) tea farm looks nothing like the vast and manicured plantations in Nantou (南投) or Alishan (阿里山) — Taiwan's "Tea Country."
Lesser-known to some, the low-lying Wenshan District (文山) is steeped in tea-growing traditions, too. Tieguanyin — a type of Oolong — was transported to the area in the late 18th century from China's Fujian Province. It is still grown today in Wenshan by small, independent farmers like Chang.
"They didn't distinguish between different types of tea back then like Tieguanyin or green tea," Chang says, gesturing to the small tea farm that once belonged to his grandfather. "Tea was just something to be enjoyed with family."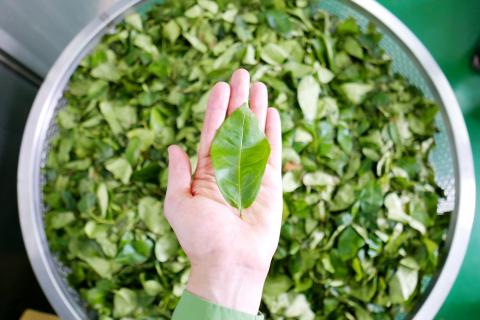 Te Company in Manhattan's West Village sells different varieties of Oolong tea grown in Taiwan.
Photos courtesy of Te Company
HIGH MOUNTAIN MYTH
It's a common perception that the best quality teas are the high mountain teas (高山茶) found in Nantou and Alishan. Grown at an altitude of 1,600m or higher, the colder weather, cleaner water and constant mist are said to provide optimal growing conditions for plants.
But high mountain teas also raise the question of unethical farming methods. Following the commercialization of tea in the '70s, the next two decades saw over-development in high mountain areas. Foliage was chopped down and roads built to reach rural places, and slash and burn methods were used to clear the land in order to produce tea bulk to boost profit.
Te Company in Manhattan's West Village sells different varieties of Oolong tea grown in Taiwan.
Photos courtesy of Te Company
The plot of land that Hansheh Tea House (寒舍茶坊) sits on has been in Chang's family for generations. He remembers his grandfather growing tea (though not commercially), and says that the type of tea he specializes in growing, Zhengchong Tieguanyin (正欉鐵觀音), employs cultivation methods that have remained essentially the same for generations. The result is a drier, toastier brand of the normally fruity Tieguanyin.
Brushing aside branches and examining a few dark green and wrinkled Tieguanyin leaves, Chang muses: "I'm lazy. I don't keep my farm as neat as other tea farmers."
He's being modest. Being able to pick a tea leaf and tell if it's ready to be harvested takes a lifetime of experience to master. Plus, it's reassuring to see where my tea is coming from — in all its untamed glory.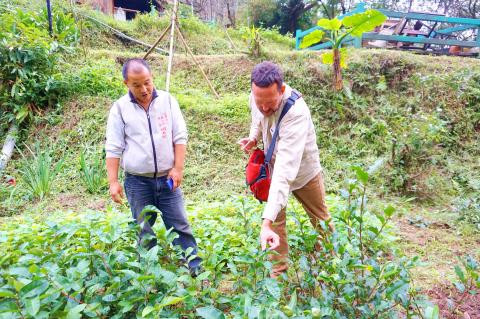 Chang Fu-chin, left, watches as founder of Eco-Cha, Andy Kincart, picks tea leaves in Chang's tea farm in Taipei's Wenshan District.
Photo: Dana Ter, Taipei Times
BOUTIQUE TEAS
If it weren't for Andy Kincart, I probably wouldn't have found the farm. Hansheh Tea House has no social media presence (it has three check-ins on Instagram and one of them is mine), but I can see how it's characters like Chang that drew Kincart to the tea industry. The American expat fell in love with the beverage while studying Chinese in Taiwan in the early '90s and now runs Eco-Cha (一口茶), a company which exports small batches of handmade artisanal tea sourced from small, family-run farms around Taiwan to connoisseurs around the world.
While the environmental situation is improving, Kincart is not interested in working with big tea factories and companies if he thinks they are in the industry solely to make money.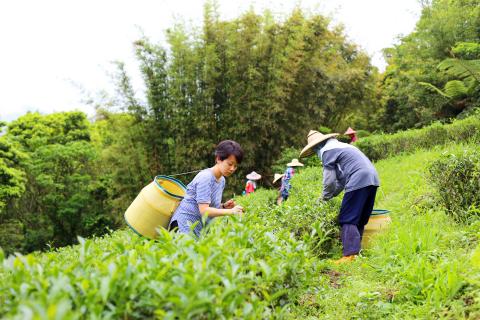 Elena Liao of Te Company picks tea leaves at an organic tea farm in Pinglin. The Taipei native travels to Taiwan twice a year to source tea for her tea shop in Manhattan.
Photo courtesy of Te Company
"High elevation farms are generally for one purpose only," he says. "High volume and high profit."
On the other side of the globe, a tea shop in Manhattan's West Village sells different varieties of Taiwanese Oolong. The owner, Taipei native Elena Liao (廖梓君), doesn't tell her customers about how high mountain teas are held in high regard in Taiwan.
"I don't want to encourage development or the building of roads to reach these remote areas," Liao tells me over the phone from New York.
She adds that part of the beauty of bringing Taiwanese tea into an American market is that consumers are not imbued with ideas of what "high quality" teas should taste like.
"They just go where their palates take them," Liao says.
QUALITATIVE METHODS
The most obvious stance against over-development and harming the environment would be to promote and support organic farming, and organizations such as Tse-Xin Organic Agriculture Foundation (慈心有機農業發展基金會) have been at the forefront of this change. The Buddhist NGO's latest efforts have been in Pinglin (坪林), where they assist farmers switching from conventional farming methods to organic.
"Many second generations who used to work in the cities see the opportunities in organic tea and come back to their hometowns to join the organic tea business with their families," says Tse-Xin's CEO, Su Mun-rong (蘇慕容).
While this describes a couple of the tea farmers that Liao sources from, she says there are other ways of growing tea that are also responsible. For example, farmers making use of the land they already have to grow smaller batches of tea rather than clearing new land to grow tea for mass production.
Liao admits she did not come from a "tea family," though her grandfather had friends who owned small tea farms in Yilan, which she would visit. Liao says she is drawn to "small town" teas because of their distinctive flavors.
One of their regular suppliers is a young, third-generation tea farmer from Yilan who recently switched to organic farming. His specialty, which Liao calls "#2028" is a light oxidized Oolong which is slightly reminiscent of green tea.
"Their methods are very much qualitative," says Liao of small tea farmers. "They feel and smell the tea leaves and they can look at the color of a leaf and tell you if anything went wrong during the growing process."
Liao and her husband Frederico Ribeiro travel to Taiwan twice a year, normally during the April and November harvest seasons, to source tea and bring it back to New York.
It's an exciting though laborious time, Liao says. The first thing she asks a tea farmer during harvest season is: "How many days have you not slept?"
LIKE WINE, LIKE TEA
Kincart isn't buying the organic argument either. While "organic is justifiable in its own right," he says that more important to him is the idea of sustainability. Like Liao, "sustainable" for Kincart means sourcing from farms where the land has already been used to grow tea for decades rather than land that has been cleared for the purpose of growing tea.
It also means helping to preserve tea-making traditions by letting independent farmers like Chang know that what they are doing is highly valuable.
"I am interested in farmers using their knowledge and skill to make a product that represents a unique, local culture," Kincart says.
He prefers to see tea as a specialty product, like wine or craft beer, where consumers are aware of the product's origin and how it is made.
Liao has a similar outlook. If you visit her shop in Manhattan, she'll take the time to explain to you all about tea production and how it's made on a molecular level — should you be interested. It's one of her nerdy hobbies, she says, reading about the history and properties of tea.
"It's very much like the history of wine, in terms of tea regions and varieties," Liao says. "These are living artifacts of history that tell us much about the societies that consume them."
'ARTISTIC APPROACH'
Back in Muzha, Chang brings me and Kincart to see the different plots where he grows various types of Oolongs. Chang plucks a leaf from one of the plants and explains to us that it is called Buddha's Hand (佛手). Its size is noticeably bigger than a Tieguanyin leaf, its shape resembling a palm.
We head back to the tea house where Chang lays out a pitcher of boiling water, tiny tea cups and a small tea pot filled with Buddha's Hand tea leaves. A highly-oxidized Oolong, the Buddha's Hand has a slightly roasted but sweet flavor akin to brown sugar.
As we sip our teas, Kincart tells me that he admires Chang's "artistic approach" to business.
"He's not following consumer demands but setting the standard and trusting the value of his product. Customers come to him instead."
We have our first customer of the day — a family of four. Chang's middle-school-aged son helps to seat them at an outdoor table.
I ask Chang if he thinks his son will continue the family business.
Chang sighs.
"Kids these days venture out more and they know how the outside world is like."
He takes a sip of tea.
"It's hard to say."
Comments will be moderated. Keep comments relevant to the article. Remarks containing abusive and obscene language, personal attacks of any kind or promotion will be removed and the user banned. Final decision will be at the discretion of the Taipei Times.