In search of authenticity
Author Shawna Yang Ryan, who is in Taiwan to promote her book 'Green Island,' discusses the educative role of literature and using fiction to tell the truth
Taiwanese-American author Shawna Yang Ryan ascribes to the notion that effective fiction must come from "a place of authentic human behavior."
When I meet with Ryan over the weekend, she is soft-spoken but sharp-witted, reserved but passionate about the things she cares about. The California native was in Taipei to promote her second novel Green Island and its recent Chinese-language release.
Ryan elaborates on this notion of authenticity using modern cinema as an analogy. While characters in romantic comedies behave in idealized ways that are "funny, cute and not real," indie films tend to show people's behavior as is.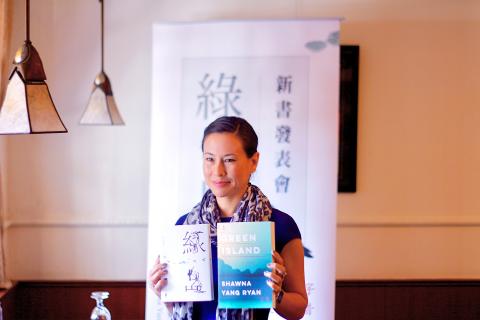 Shawna Yang Ryan at Astoria Cafe in Taipei last week. The author is in Taiwan to promote her second novel Green Island and its recent Chinese-language release.
Photo courtesy of Hugh Sutton-Gee
Fiction was a great escape for Ryan growing up. Her parents did not let her watch much TV, so she turned to books, transporting herself with each new book to a different time and place.
"It's one of the few opportunities you have to inhabit someone else's consciousness," says Ryan. "It was like having a superpower, being able to read a book."
POLITICS IN THE TAIWANESE PSYCHE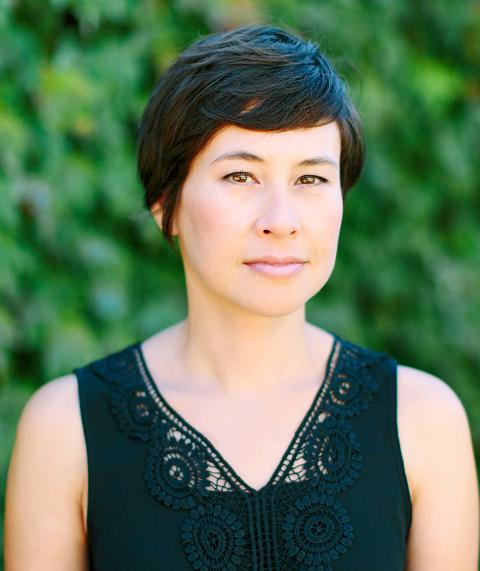 Shawna Yang Ryan.
Photo courtesy of Anna Wu
Despite her propensity to float away in her thoughts, Ryan set out writing Green Island 14 years ago with concrete objectives in mind.
"I wanted the book to be authentic for Taiwanese and also educative for non-Taiwanese readers," Ryan tells the Taipei Times.
The novel traces the tumultuous life of an unnamed protagonist from her birth on February 28, 1947 — also the date of the anti-government uprising in Taiwan later known as the 228 Incident — to her emigration to America decades later. The protagonist bears the scars of her family's tortured past stemming from the violent aftermath of the incident and the following White Terror era — a past which she cannot seem to extricate herself from even as she settles into her new life.
Violence is interspersed throughout the book, a decision, Ryan explains, that was hard to thread, as she did not want to "make it too gratuitous or too beautiful or to fetishize it."
Rather, her intention was to be respectful of the victims of that period and their families who suffered as a result.
"Understatement, in this case, was important," says Ryan. "I wanted to tell the story in a way that Taiwanese would approve."
As she dug into archives, film reels, blogs by former foreign servicemen to Taiwan and old books, the more she came to realize that politics forms a large part of the Taiwanese psyche.
"If [former president] Chiang Kai-shek (蔣介石) sends out a telegram to put down a protester, it has real repercussions not only on the person himself, but also his family, and future generations."
The process of forging a distinct Taiwanese identity is still ongoing today, Ryan insists, and as Taiwan enters a long process of truth and reconciliation, she hopes that her translated book can be a part of the national conversation.
REWRITING THE TAIWAN NARRATIVE
Ryan says the second part of her goal of educating non-Taiwanese readers about Taiwan has been largely successful. She's had readers come up to her at events to share stories of studying abroad in Taiwan and readers who had never been to the country draw connections between the democracy movement in Taiwan with similar events in Latin America or the African-American struggle for equality.
"I think they were looking for an opportunity to share with someone who understands," she says.
It is important for Ryan to correct the misrepresentations that Americans might have about Taiwan, and in particular, the narrative that Taiwan had a "bloodless" transition to democracy.
"It's like an urban legend that keeps getting retold," she says.
While older generations of Americans might have a more nuanced understanding of Taiwanese history and politics, those who came of age after 1978 (when US President Richard Nixon broke ties with Taiwan) tend to have a different view — usually that of Taiwan and China being inextricably linked.
We can easily conceive of Taiwan in other terms, Ryan says, including Taiwan as a Pacific Islander nation, given that it has a sizeable Aboriginal population with a rich cultural heritage and history.
She hopes that the new generation of writers, especially Taiwanese-Americans, will write more books that counter mainstream narratives. These include Julie Wu's The Third Son and Jennifer Chow's 228 Legacy, both of which deal with the period Ryan wrote about.
"Arts and literature are at the forefront of imagining the future," Ryan says. She adds that the voice of minorities matters now more than ever, especially with conservatism brimming in America.
Her message to young writers? "You can write fiction, but you can also tell the truth."
■ Shawna Yang Ryan's last Taipei event is tomorrow from 7:30pm to 9pm at Kingstone Xinyi Store (金石堂信義店), 5F, 196 Xinyi Rd Sec 2, Taipei City (台北市信義路二段196號). She will be discussing the process of researching and writing Green Island. Admission is free and the talk will be translated into Chinese. For more information, visit: www.facebook.com/events/1798988633693489
Comments will be moderated. Keep comments relevant to the article. Remarks containing abusive and obscene language, personal attacks of any kind or promotion will be removed and the user banned. Final decision will be at the discretion of the Taipei Times.