Food & Drink: From bathroom to kitchen
The loofa might be best known as a bath sponge, but it is a nutrition-packed vegetable that benefits from simple preparation
Loofa (絲瓜) goes by many names and is probably best known in the west as the source of a natural sponge for use in bathing. In this incarnation it is commonly marketed as the "loofah," the additional silent "h" in this context being added for reasons unknown. In Asia, it is widely appreciated as a highly nutritious vegetable that thrives during the hot summer months, but its lack of versatility in the kitchen has limited its appeal.
The loofa comes in two forms, one often called the ridged or angled gourd, a reference to the distinctive 10 ridges along its length. In Taiwan, this version is often regarded as a specialty of the Penghu archipelago, and while they are not exclusively grown there, they are most often simply called Penghu loofa (澎湖絲瓜). The more ubiquitous version has a tube-like appearance and is often called sponge gourd. It has a wider body than the ridged loofa and is the typed most often used in the manufacture of the bath sponge.
The Penghu loofa is prized for its firmer flesh, and this quality can really shine when used in a properly composed stir fry. Both ridged and smooth loofa can quickly be reduced to a horrendous-looking mush if not handled correctly. As this really does not go much beyond a careful eye on heat and cooking time, it is surprising how often loofa gets served up as unappealing slop even at quite good restaurants.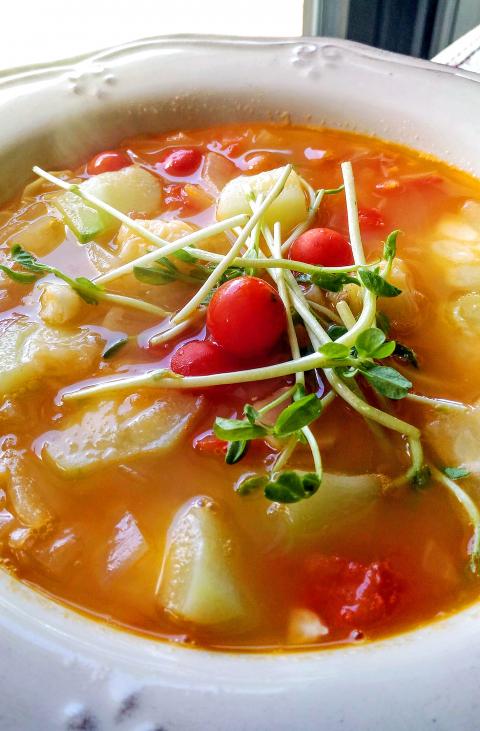 This loofa soup is much more substantial than you might expect from looking at the ingredients list.
Photo: Ian Bartholomew
The flavor of the loofa is very delicate and is not at all easy to describe, balancing along a knife edge of bland sweetness with a hint of acrid sliminess that is best appreciated in loofa juice, a concoction to which Chinese medical lore attributes huge medical benefits, but in my view is a strong contender for the most vile vegetable health drink yet conceived — right up there with asparagus juice and Chinese mesona (仙草).
When cooked, its flavor can be quite pleasant, and in Taiwan it is often served together with clams, a combination that works remarkably well. The clams get to show off their full flavor with minimal interference from the accompanying vegetable, and the loofa enriches the broth with its sweetness.
In Southeast Asia, a common combination is to fry loofa together with egg, a dish which achieves a similar quality to that of Taiwan's home cooking standard of fried egg and tomato (番茄炒蛋). Dishes such as this pack a huge nutritional punch, make a tasty meal with nothing more than the addition of white rice and have the advantage of being quick to make with cheap and easily available ingredients.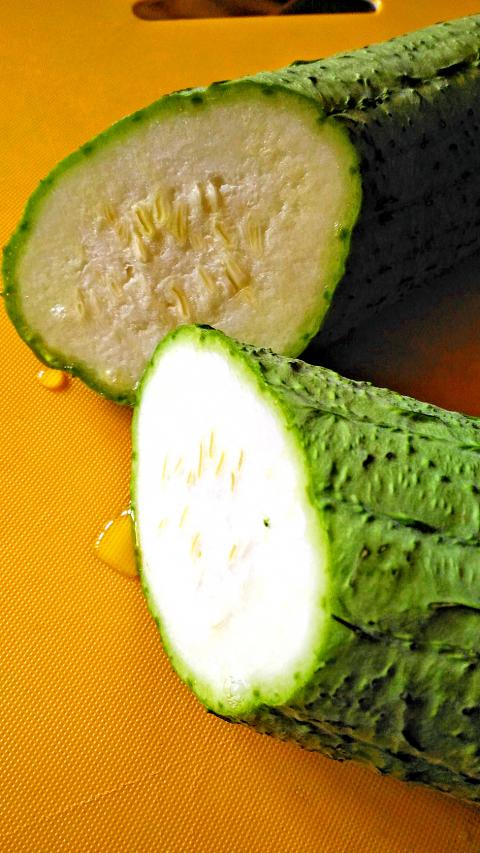 A loofa or sponge gourd is cheap and easy to prepare. Its clear juice is much sought after for its dermatological applications.
Photo: Ian Bartholomew
Loofa is widely used in India, but outside the subcontinent, all that is left after the stir fry is its incorporation into a quick loofa soup (see below). That said, its use within folk medicine is extensive. Primarily, it is widely lauded for its skin cleansing properties, with loofa sap earning the moniker of "water of beauty" (美人水). As a member of the cucurbits family and a relative of the cucumber and watermelon, it is no surprise that the loofa is also lauded as a "cooling" food, soothing the effects of Taiwan's torrid summer and mitigating all manner of heat rashes and itchy fungal growth. Mitigating menstrual tension and facilitating lactation are also among its many benefits. Loofa is an excellent anti-inflammatory, so inevitably it is also said to be effective with everything from sore throats to cancer.
As with so many of these hardy vegetables, the list of health benefits goes on and on, and the only problem with loofa is finding ways to make it sufficiently varied to eat on a regular basis.
The loofa that we eat is the immature plant, and allowed to mature and dry out, what emerges is a network of xylem fibers that are a wonderful natural sponge. While they are marketed primarily for bathing and skin care in fancy skincare shops, their wide availability and relatively low cost in Taiwan means that they can be used in the kitchen as well. I have found them more effective even than expensive brand-name dish cleaning sponges and scourers, staying grease-free even when handling messy washing up. Just cut off a section from the long loofa and get washing.
So enjoy the plentiful supply of loofa at the moment, and if you get tired of eating them, you can always wait a bit until the plant matures and then use them to exfoliate in a completely natural way. What more could you ask of a vegetable?
Loofa soup
(Serves 2)
Loofa benefits from quick preparation and this one-pot wonder couldn't be faster to throw together for a quick and remarkably satisfying light meal. You don't even need stock for this soup, with water providing a more neutral canvas for the flavors of the loofa and tomatoes, which in turn give the liquid a creamy thickness. Use a light touch with the ginger and other seasonings and let the two main ingredients speak for themselves.
Ingredients:
1 large loofa
Handful of cherry tomatoes, halved
Half an onion, finely chopped
A tiny nub of ginger, sliced thinly
1 clove garlic, mashed
1tsp sesame oil
1tsp olive oil
300ml of water
Pinch of white pepper
Pinch of salt
Pea seedlings (豌豆苗), optional
Preparation:
1. Cut away the skin of the loofa with a sharp knife then cut the flesh into equal bite-sized pieces.
2. Add the sesame oil and olive oil to a pot and warm. Add the onion and cook over medium heat until translucent.
3. Add the garlic and cherry tomatoes. Cook for a further 1 minute.
4. Add the thinly sliced ginger and loofa. Mix and cook for 1 minute then add water.
5. Bring to a boil and cook for a couple of minutes. The loofa should still retain its shape.
6. Serve immediately with a topping of pea seedlings.
Ian Bartholomew runs Ian's Table, a small guesthouse in Hualien. He has lived in Taiwan for many years writing about the food scene and has decided that until you look at farming, you know nothing about the food you eat. He can be contacted at Hualien202@gmail.com.
Comments will be moderated. Keep comments relevant to the article. Remarks containing abusive and obscene language, personal attacks of any kind or promotion will be removed and the user banned. Final decision will be at the discretion of the Taipei Times.