The Vinyl Word
Last Saturday night's Jazzy Jeff show was a lesson in deejaying. Starting off with Major Lazer's Lean On, going through a catalogue of modern twerk, trap and old school music for 90 captivating minutes, then ending with a snazzy beat juggle of AC/DC's Back in Black, Jazzy Jeff once again exceeded expectations. The best part of the show was that he didn't drop any of the same songs he played when he was here two winters ago.
The night's only disappointment was the fact that Myst was barely full and had an EDM DJ on before Jazzy Jeff and an EDM DJ on right after, which didn't help build the vibe or let the vibe come down naturally.
THE ACADEMY ALUMNI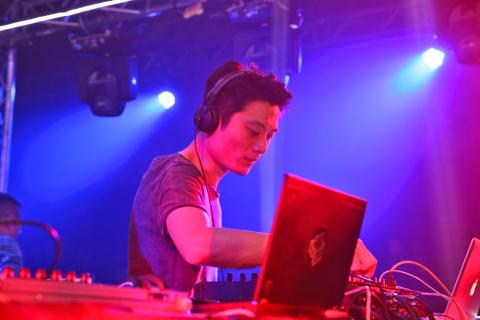 Zephec is ready to play some of his own tunes tonight at Frank Taipei.
Photo courtesy of Zephec and Red Bull Content Pool
Thirty-four-year old Zephec (Hsu Sheng-hsi, 徐聖羲) has been involved in bands since before he was a teenager, and has been making music with computers since he was twenty. Zephec and New Zealand's Mara TK will play tonight at Frank Taipei for the Red Bull Music Academy Club Night.
In 2007, Zephec applied for and was accepted into the Red Bull Music Academy. He spent two action-packed weeks in Toronto with 61 other up-and-coming musicians, beat makers, songwriters, producers and DJs. Every day was filled with surprises such as lectures from people like jazz great Tony Allen and hip-hop legend DJ Premier. At night, Zephec jammed with fellow attendees and took in performances by legends like DJ A-Trak and seminal songstress M.I.A.
"It was an awesome two weeks and we all learned many things from lectures and the other participants. We got to hang out, make music together and party like there was no end," Zephec said.
"The best part is that I made a lot of new friends and we shared everything we did with each other," he added.
Zephec is the first — and only — DJ or producer from Taiwan to have been accepted into the Red Bull Music Academy. That goes to show how difficult the screening process is and how far Taiwan needs to go before it can reach the cutting edge of the global music scene.
Zephec will be joined by multi-instrumentalist Mara TK, another Red Bull Music Academy alumni, as part of the underground sensation Electric Wire Hustle. Zephec says he can't wait for people in Taiwan to hear Mara TK's deep and moody music, and hopes they get to spend some time in the studio while he's here.
"We haven't talked about making any music yet, but I'm sure we can make some sick tunes together."
■ Red Bull Music Academy Club Night featuring Zephec and Mara TK is tonight from 11:30pm to 4am at Frank Taipei, 10F, 12, Songshou Rd, Taipei City (台北市松壽路12號10F). Admission is free.
Comments will be moderated. Keep comments relevant to the article. Remarks containing abusive and obscene language, personal attacks of any kind or promotion will be removed and the user banned. Final decision will be at the discretion of the Taipei Times.