The first anti-communist heroes
Many Chinese soldiers captured by the Allies during the Korean War decided not to be repatriated to China, instead heading to Taiwan to serve the KMT
Taiwan in Time: Jan. 18 to Jan. 24
After more than two years in an Allied prisoner of war camp on what is now South Korea's Jeju Island, Lee Mao-jen (李茂仁) recalls the moment he was set free. His group of 30 fellow Chinese Communist soldiers stepped out of the barbed wire fences and posed for a photo.
"They told us to head right if we wanted to go to Taiwan, and left if we wanted to go elsewhere," Lee says in an oral history book published by Academia Historica.
Chinese prisoners of war in an Allied prisoner of war camp in Korea waiting to be transported to Taiwan.
Photo courtesy of Wikimedia Commons
It wasn't a difficult decision. A former KMT soldier, Lee was captured by the communists at the end of the Chinese Civil War and forced to serve in the enemy's army. Just a year later, he was ordered to aid the Korean communists in the Korean War, where he became one of about 21,300 Chinese soldiers placed in Allied prisoner of war camps. He thought about what would happen to him if he chose China.
Between Jan. 23 and Jan. 27, 1954, about 14,000 Chinese prisoners, including Lee, landed at Keelung harbor. Jan. 23 has been observed in Taiwan and South Korea as World Freedom Day (世界自由日) ever since.
Much of the peace talks after the ceasefire focused on prisoners of war, as the Allies had captured far more than their enemies. The Americans wanted to give the prisoners a choice where to go for "respecting personal choice, increasing the military force of the Republic of China and preventing these people from becoming victims of the Chinese Communist Party after they return," writes historian Chou Hsiu-huan (周秀環) in a study. They also believed that this tactic would serve as incentive for future enemies to surrender.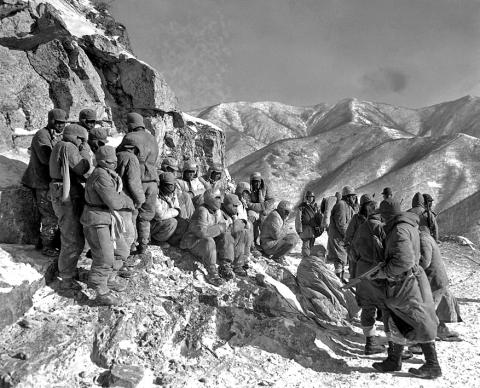 Chinese soldiers surrender to US troops during the Korean War.
Photo courtesy of Wikimedia Commons
After two years of negotiation, the US got its way. About 7,000 prisoners decided to return to China, while the rest decided on Taiwan.
Chou writes that about two-thirds of the arrivals were originally KMT soldiers left behind in China, and that conflicts often erupted in the camps between pro-communist and anti-communist soldiers.
The reason so many decided on Taiwan isn't an easy question to answer and depends on who you talk to. The official KMT version follows the rhetoric in those days of resisting the evil communists and running toward freedom. Some say they were unhappy about their treatment by the Chinese army and believed that Taiwan offered a better life. Some say that many who decided to return to China were either volunteer soldiers who never fought for the KMT, or teenagers who wanted to return to their families.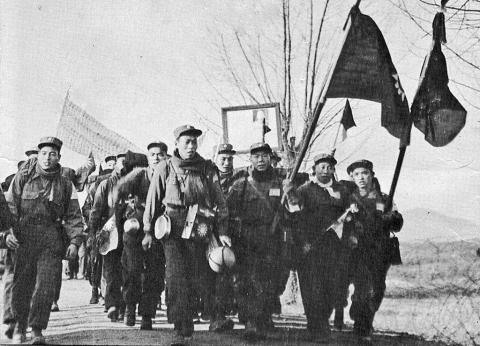 Chinese soldiers captured by the Allies during the Korean War arrive in Taiwan waving Republic of China flags.
Photo courtesy of Wikimedia Commons
Most prisoners had anti-communist tattoos on their body to show their loyalty to their new government, but reports also show that some of them were forcefully tattooed by anti-communist prisoners during their conflicts and had no choice but to choose Taiwan.
Of course, the Chinese side attributed it to the Allies "re-educating" the prisoners with anti-communism propaganda — which is not an empty accusation. Chang Pu-ting (張步庭), a former prisoner, recalls having to attend "political education classes" (政治教育) taught by instructors from Taiwan, along with mandatory Bible studies.
On Aug. 6, 1953, the KMT announced that citizens should refer to these prisoners as "respectable anti-communist martyrs," "anti-communist warriors" and "our dear compatriots."
The first term stuck, and later would be applied to Chinese soldiers who defected to Taiwan.
Tung Hsiang-lung (董翔龍), minister of the Veterans Affairs Council and former navy admiral, sums up the significance of these "martyrs" to the government back then in a 60th anniversary commemorative publication.
"They were like a boost to the heart during the country's unstable early 1950s," Tung writes. "They gave us confidence, hope and a chance for the international community to re-understand and accept us. Their spirit of choosing democracy over dictatorship and death over freedom is still a guiding force in human society today, and we should not forget about these people."
Their story was made into a movie in 1961, and the soldiers were widely praised as heroes and examples of righteous citizens. A book of essays by the soldiers was published in 1986, mostly detailing their new lives and their love of freedom.
Most of them continued on as soldiers in Taiwan until they retired.
Taiwan in Time, a column about Taiwan's history that is published every Sunday, spotlights important or interesting events around the nation that have anniversaries this week.
Comments will be moderated. Keep comments relevant to the article. Remarks containing abusive and obscene language, personal attacks of any kind or promotion will be removed and the user banned. Final decision will be at the discretion of the Taipei Times.