The last holdout of Morotai
An Aboriginal member of the Japanese Imperial Army survived alone in the jungles of Indonesia for 30 years before returning to an unfamiliar homeland
Taiwan in Time: Jan. 4 to Jan. 10
On Jan. 8, 1975, nearly 30 years after the end of World War II, former Imperial Japanese Army soldier Nakamura Teruo finally returned home.
It was a different place from what he had known. His native land was no longer part of Japan. His son, who was an infant when he left, was now a father of four children, and his wife had remarried. Everyone was calling him Lee Kuang-hui (李光輝) — a name he had never even heard of when he departed for Indonesia with the Takasago Volunteer Unit in 1944.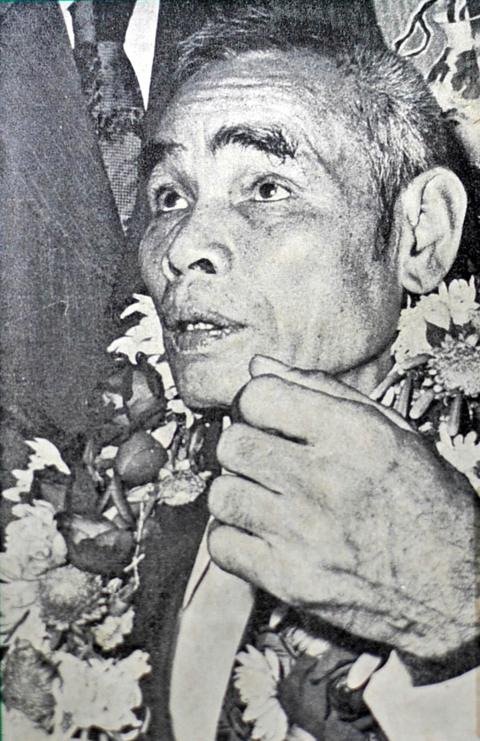 Suniuo after returning to Taiwan.
Photo: Wikimedia Commons
A member of the Amis people, Western reports have his Aboriginal name as Attun Palalin, while local sources call him Suniuo, which is what this article will go with.
Even though the Takasago were a volunteer army in name, Suniuo says he was forced to enlist. Shortly after he landed on Morotai Island in Indonesia, the Allies arrived and secured it as a base. Suniuo lost contact with his group during this time.
Armed with an assault rifle, a helmet, knife, cooking pot and a mirror, Suniuo built a hut and remained in the jungle alone, surviving by hunting and farming. He did not know that the war had already ended, as the Japanese army declared him dead on Nov. 13, 1944.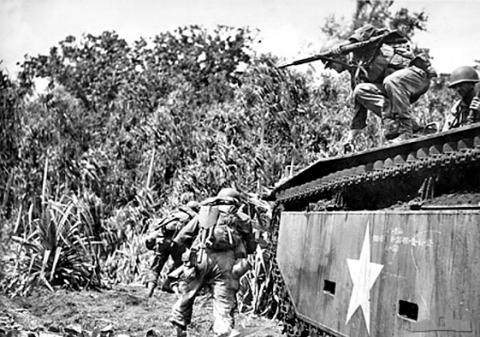 Allied troops launched an offensive in the jungles of Morotai, Indonesia in September 1944, during which Suniuo lost contact with his troop.
Photo: Wikimedia Commons
Unsure of the situation outside of the jungle, Suniuo stayed hidden at all costs, cooking only in the dark so people wouldn't see the smoke. In a first-hand account published shortly after his return titled Struggle in the Jungle for 30 Years (叢林掙扎三 十年), Suniuo recalls counting the days by the moon and recording each cycle by tying a knot in a rope. He says his upbringing in the mountains in relative poverty provided him the will and ability to survive for so long.
"I calmly stayed alive there," he says. "Although I didn't have anybody to talk to, buried deep in my heart seemed to be a glimmer of hope and expectation. The only trace of happiness during this time came from the fact that I was still alive and I hadn't lost my sense of existence yet."
As Suniuo's only clothes deteriorated over time, he says he became used to being naked most of the time, only using a US Army jacket he found to cover himself at night.
Most of his time was devoted to finding food, he says. He grew sweet potatoes, beans, bananas and sugar cane in his garden, gathered roots and fruits and trapped boar, pheasant and other birds.
"Not to lose my life became my only goal, and that exhausted almost all of my time," he says.
The only two forms of entertainment he had was fishing and fiddling with a home-made abacus. In order to keep himself from thinking of his family at home, he stayed busy exploring his surroundings and undertaking various improvement projects around his hut.
Suniuo says he made a grave error in assuming that war wasn't over from the planes that flew by above him each day, only later to find out that it was because the jungle was near an Indonesian air force base. As aviation technology improved over time, planes became faster and sleeker, and Suniuo thought it was the result of an arms race between the two warring sides.
"I made one simple wrong judgment, and it cost me 30 years," he says.
In November 1974, local reports surfaced of a "naked wild man" in the mountains, prompting the Indonesian army to send an expedition force, which, after 30 hours, found Suniuo chopping wood outside his hut.
This brought up the question of whether he should be repatriated to Japan or Taiwan. Suniuo was given the choice, and he chose his homeland.
According to this biography, his back pay as a soldier over 30 years only amounted to about NT$7,000. But after some commotion in the media, the Japanese government decided to give him over NT$380,000 instead. He later received various donations from Japanese, Indonesian and local sources.
Yet, a return after so long has to be bittersweet. His parents were dead, and only two siblings survived — all going by Chinese names now. Suniuo's wife's new husband (of more than 10 years) was originally willing to move out and let the couple reunite, but Suniuo decided not to disturb their life and bought an apartment nearby. Just four years after his return, he died of lung cancer.
Taiwan in Time, a column about Taiwan's history that is published every Sunday, spotlights important or interesting events around the nation that have anniversaries this week.
Comments will be moderated. Keep comments relevant to the article. Remarks containing abusive and obscene language, personal attacks of any kind or promotion will be removed and the user banned. Final decision will be at the discretion of the Taipei Times.