Restaurant Review: Mianto 米愛多
"If you can't tell the difference between a vegan chocolate cake and a normal chocolate cake, just eat vegan ones in the future — they're supposed to be healthier." Words of wisdom from my mother.
A few hours earlier, my friend and I had planned to stuff our faces with juicy hamburgers after dining at Mianto (米愛多), a vegan restaurant on Xinsheng South Road (新生南路). I've had my share of vegan meals — all for the sake of food writing. But for someone raised on a steady diet of skewered pork and chicken curries, it was all bland and forgettable. Not to mention the pint-sized portions — hence the need for post-meal burger binges. The fact that Mianto was one of the two restaurants in Asia to make it on this year's Vegans Are Cool outstanding restaurants list did make it more appealing. But the mere mention of chocolate cake made me concede.
Opened by South African expat Michel Cason and interior designer Antonio Chen (陳豐秀) over a year ago, the restaurant is a compact space with floor-to-ceiling glass windows looking out onto Lianyun Park (連雲公園). A bakery area occupies the entrance, where dark wood-paneled walls are covered with black-and-white portraits, evoking the vibe of a lower Manhattan cupcake joint. A raised platform where patrons must take off their shoes leads to the main dining area, which consists of communal tables, and a smaller seating area by the window for parties of two.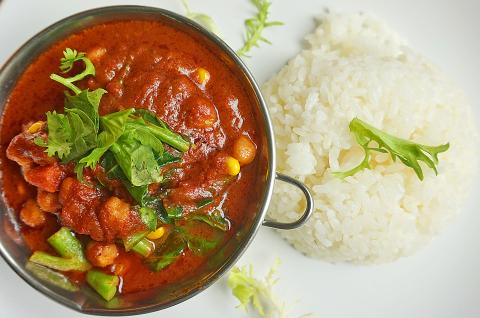 The chana ma soul la (chickpea curry) features an appealing assortment of Indian herbs in a mildly spicy tomato-based.
Photo: Dana Ter, Taipei Times
With burgers still on our minds, we place our orders — the highly recommended spaghetti al funghi (NT$250), chana ma soul la or chickpea curry (NT$250), a ciabatta plate (NT$150) and, of course, the vegan chocolate cake (NT$65).
I was pleasantly surprised to find that it wasn't only the desserts that were delectable. The crunchy mix of shiitake mushrooms, spinach and shredded carrots in the spaghetti al funghi, pan-fried with onions, garlic and black pepper, was enough to convince me that it was possible for vegan food to be not just edible, but palatable as well. Smoky and slightly charred on the edges, the shiitake mushrooms — which are sourced from the misty mountains of Fuhsing District (復興) in Taoyuan — are the best component. I was grateful for the peppery kick combined with the natural sweetness of the carrots, both of which provided much flavor and texture to the spaghetti.
The chana ma soul la is a good choice for those who fear eating salads when dining with vegan friends. There's not too much of a heavy curry taste in the dish. Rather, the assortment of Indian herbs soaked in a mildly spicy tomato-based curry tastes more like a sauce. The chickpeas — probably one of the blandest legumes imaginable — are enlivened by the minty, aromatic curry. Like the spaghetti al funghi, the ingredients in the chana ma soul la are crunchy and fragrant, but not overwhelmingly so. Though the dish is served with a scoop of white rice, I found myself scooping every last drop of the curry as if it were a bowl of rich, creamy soup.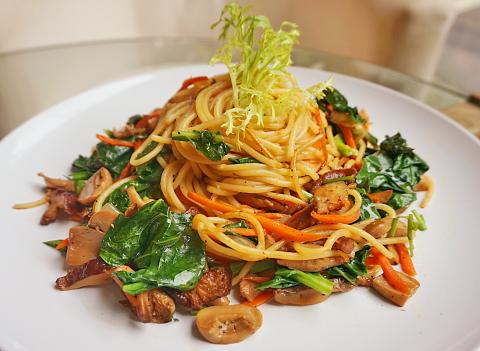 The spaghetti al funghi is a crunchy and flavorful mix of shiitake mushrooms, spinach and shredded carrots pan-fried with onions, garlic and black pepper.
Photo: Dana Ter, Taipei Times
While technically an appetizer, we treated the ciabatta plate as a side dish to nibble on in between main courses. It pairs well with the olive oil, balsamic vinegar and olives, although I preferred to use it to mop up the last drops of curry. The homemade bread is served fresh from the oven with no added sugar or preservatives. The bread is soft and fluffy on the inside with a crust that crumbled delicately.
Finally, the vegan chocolate cake lived up to my expectations — for the most part. While the sponge layers were a little dry, the runny top layer of melted chocolate more than made up for it. There was only a sliver of cream, which I appreciated as I'm not a big fan of over-the-top indulgence.
Chocolate cake aside, it will still take a lot of convincing to convert me to veganism, but Mianto manages to make vegan dining enjoyable and tasty with subtle but memorable flavors.
After we combed up the last crumb, my friend looked up from his empty plate and asked, "Burgers?"
There was no need. We walked away with full, satisfied stomachs.
Publication Notes
Mianto 米愛多
Address: 7, Ln 146, Xinsheng S Rd Sec 1, Taipei City (台北市新生南路一段146巷7號) Telephone: (02) 2321-9749 Open: Tuesdays to Sundays from 11am to 9pm Average meal: NT$250 to NT$350 Details: Menu in Chinese and English On the net: www.facebook.com/ mianto.tw
Comments will be moderated. Keep comments relevant to the article. Remarks containing abusive and obscene language, personal attacks of any kind or promotion will be removed and the user banned. Final decision will be at the discretion of the Taipei Times.