Sixty-six years and counting
Lee Tian-pei, a longtime resident of Losheng (Happy Life) Sanatorium, has led the fight to preserve and restore the compound's buildings, but time is running out as residents enter their 80s
Although he considers himself lucky to have been able to marry and raise two daughters, Lee Tien-pei (李添培) says he has lost so much since being forcefully relocated to Losheng (Happy Life) Sanatorium (樂生療養院) 66 years ago after contracting leprosy, or Hansen's disease, as a teenager.
Not only was he unable to continue his education, his father's businesses also went bankrupt because of the stigma surrounding the disease during that time.
"I lost my freedom and dignity," he says. "But I can never get all those things back. What we can do now is to try to preserve and rebuild Losheng so that our stories can be told and that people won't forget this part of history."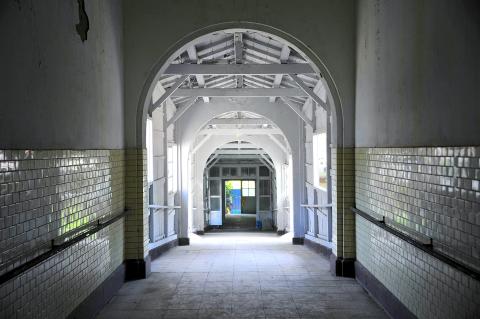 Inside one of the abandoned hospital buildings at Losheng (Happy Life) Sanatorium.
Photo: Han Cheung, Taipei Times
FORCED EVICTIONS
For the past decade, Lee has been a key figure in the much publicized struggle against the demolition of the sanatorium and eviction of its residents to make way for an MRT maintenance depot in New Taipei City's Sinjhuang District (新莊).
Things appear calmer of late with no more scheduled demolitions or evictions, but the elderly residents of the Losheng Self-Help Association (樂生保留自救會) and activists from Youth Alliance for Losheng (樂生青年聯盟) say that the fight isn't over, as the remaining structures slowly fall apart as MRT construction continues.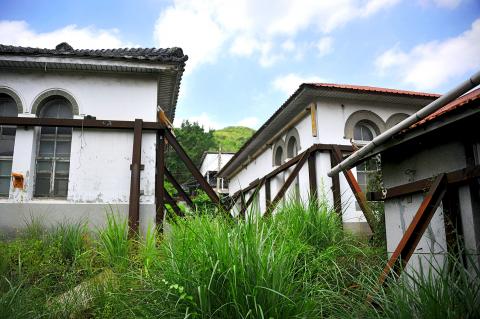 The exterior of some of the abandoned buildings at Losheng (Happy Life) Sanatorium are held up by steel trusses.
Photo: Han Cheung, Taipei Times
There hasn't been a major protest since January, and the two groups are instead busy putting on a series of workshops and activities continuing their three major objectives: site preservation and restoration, collecting oral history and artifacts to create a museum and ensuring the resident's medical and care needs are met.
Lee, who is the Self-help Association's honorary president, says he was reluctant to join the association at first, as he was busy dealing with family matters. But the first time he joined protesters at the Executive Yuan, he recalls an official saying that Losheng residents need to make a sacrifice for the six million residents of New Taipei City and Taipei.
"I immediately told him he was wrong," Lee says. "We are a developed country. We have rights. We lepers are not something that can be sacrificed. [The official] was speechless."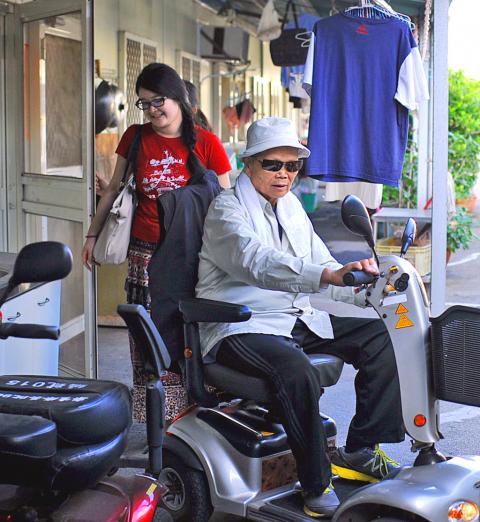 Lee Tien-pei rides his mobility scooter to attend a Losheng Self-Help Association meeting. Behind him is Huang Lu, longtime Youth Alliance for Losheng member.
Photo: Han Cheung, Taipei Times
Since then, Lee has attended numerous meetings and protests and has even traveled to Japan, Malaysia and South Korea to attend Hansen's disease conferences and see how patients and sanatoriums are being managed in other countries.
Lee is one of 10 residents living in a drab row of prefabricated sheds where he was relocated to about 10 years ago, while another 80-odd former residents live in the new nine-story hospital building — a place he doesn't like because it's sterile and noisy due to its proximity to the construction site.
He is able to hang out with neighbors in the courtyard, grow vegetables and raise chickens. Old Taiwanese songs can be heard blaring out of one of the residences, and it feels like a community despite its shabby appearance. Many residents have little to no mobility in their fingers and toes, and once a day, a caregiver comes by to help them with activities such as cooking and cleaning.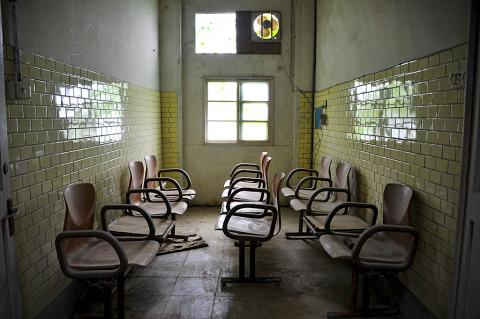 Inside one of the abandoned hospital buildings at Losheng (Happy Life) Sanatorium.
Photo: Han Cheung, Taipei Times
Lee says that younger residents used to care for the older ones, but there are no more new arrivals. Forced sterilization also sentenced many to the fate of dying alone. There has been much contention regarding the resident-to-caregiver ratio, another area that the activists have been working on.
Lee married his wife, a fellow leper, when he was 36. The couple first adopted his wife's niece, and later had a daughter of their own. Lee says sanatorium officials asked his wife to leave and cut off her rations until he agreed to get a vasectomy.
Lee was able to leave the sanatorium and find work while concealing his identity and put his daughters through college. He said many children of lepers face discrimination in society and eventually resent their parents, and he's glad that his daughters understand and accept him.
RUNNING OUT OF TIME
On a whiteboard in Lee's residence is a copy of the Human Rights Protection and Compensation Act for People with Hansen's Disease (漢生病病患人權保障及補償條例), passed in 2008.
Article 8 mandates that the government should, within a reasonable scope, create a memorial park on sanatorium grounds to educate the public on health issues.
In September, the alliance held a workshop where students organized artifacts and interviewed residents, putting together a preliminary exhibition that they plan to turn into a museum.
Having a park and museum is Lee's biggest wish, but this project — which has been proposed but not yet approved by the government — cannot start until MRT construction is finished because of safety issues and uncertainty about the future.
The activists have been able to win some concessions over the years to slow the deterioration process, but Lee says time is running out as residents are now entering their 80s.
There were more than 400 residents when the self-help association started, but now only about 150 remain. Lee says that he often feels lonely and a bit helpless, as about one-third of the more proactive members have died.
"There will be more generations of student activists joining the cause, but there will be nobody to replace us," he says.
Lee says the completion deadline has been delayed again and again and he's worried that they'll never see the day come when the government fulfills the requirements of Article 8.
"Some residents say that they cannot die in peace until they see the place restored," Lee says.
When asked about how he felt, he gets a bit emotional.
"Of course I think that way too."
Comments will be moderated. Keep comments relevant to the article. Remarks containing abusive and obscene language, personal attacks of any kind or promotion will be removed and the user banned. Final decision will be at the discretion of the Taipei Times.