Book review: Cataloging, more than clarifying Gore Vidal
Jay Parini, in his authorized biography, wants to give us the real Gore, but he keeps on falling for the pose
By virtually any metric, Gore Vidal was a difficult man. He had a skyscraping ego. On a clear day, you could see his grudges forever. He had an almost fathomless capacity for envy; he could be gratuitously cruel even to friends; a vein of paranoia pulsed through his politics.
Yet as Christopher Hitchens noted — in an essay that praised him before burying him — Vidal was as close a figure to Oscar Wilde as America has ever had. He spoke in perfect epigrams, devoting his versatile intellect to matters high and low, and he lived his life in defiance of bourgeois sexual norms. For decades, he was one of the country's most visible liberal intellectuals, although he and his partner, Howard Austen, spent years living abroad.
You have to pity Jay Parini, author of the dutiful Empire of Self: A Life of Gore Vidal who was no doubt besieged with questions about why on earth he was bothering to chronicle the life of a man who spoke so ably for himself. Vidal wrote not just one but two autobiographies, ran twice for public office, and practically took up residence on television for a while, in settings both relaxed and fraught. (Johnny Carson adored him; William F Buckley Jr. famously threatened to slug him.) Then again, Parini, himself an accomplished poet, novelist and biographer, was a longtime friend of Vidal's, and to sustain such a relationship must have required a high threshold for suffering. Once, Parini writes, he asked Vidal whether it would be okay for two characters in his novel-in-progress to spend 20 or 30 pages discussing Kierkegaard. Vidal winced. "Of course you can do that," he said. "Even 40 pages. But only if your characters are sitting in a railway car, and the reader knows there's a bomb under the seat."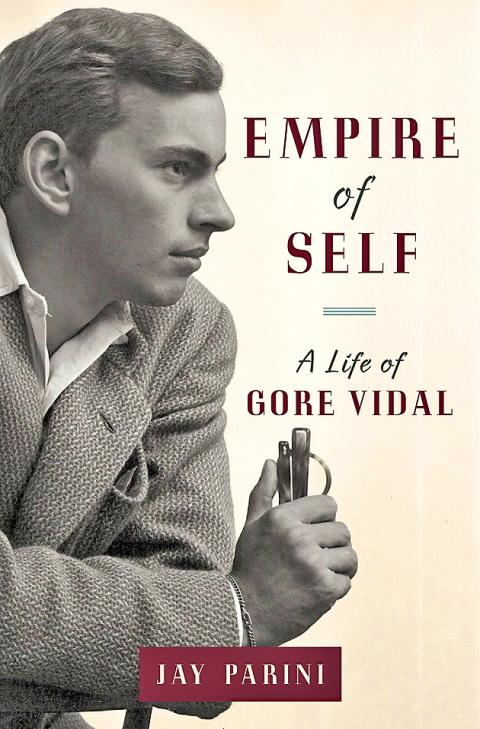 Empire of Self: A Life of Gore VidaL (Illustrated), by Jay Parini
Parini assures his readers that his book is not a memoir of friendship, but a straight up biography, "the story of Gore Vidal's extraordinary life and writing." Had this book only been longer on his life and shorter on his writing. Vidal was stunningly — his critics would argue incontinently — prolific, writing more than two dozen novels, as well as dramas, screenplays and television scripts. Some were pathbreaking for their radical sexual politics, like Myra Breckinridge and The City and the Pillar; some of his Narratives of Empire, like Burr and Lincoln, have withstood the test of time.
But much of his fiction has faded from view. Even when Vidal was alive — he died in 2012 at 86 — he complained that he never got the literary credit he deserved, and his peers were keenly aware of it. "I guess Gore left the country because he felt under-appreciated here," Truman Capote said of Vidal, whom he visited in Rome. "I have news for him: People who actually read his books will under-appreciate him everywhere." (When Capote died, Vidal had this to say in return: "It was a wise career move.")
In Empire of Self, Vidal finally gets what he wished for: To be taken seriously as a novelist. Unfortunately, what this means for the reader is that Parini fills page after page with plot summaries of Vidal's work — even the pulp he penned under the names of Edgar Box and Katherine Everard, even the novels available only on Amazon Marketplace. Any literary biography runs this risk — you can't see the artist for the precis — but here, this tic is especially pronounced, to the point that the biography feels like an exercise in slaloming through SparkNotes.
If your subjects are William Faulkner or Robert Frost, two writers Parini has tackled, you could make a case for interpretive digressions. But Vidal is not Frost. And he's no Faulkner. When Parini writes "reviewers missed the anarchic energy of Duluth," he does not, alas, make a compelling case for Duluth. Whether Vidal liked it or not, his most interesting literary legacy was his critical essays (of which he wrote scores), and his most interesting creation, his own self. But only in the last quarter of this biography, when there are fewer works to summarize and trans-Atlantic trips to report, does an unobstructed portrait of this charismatic, complicated narcissist start to emerge.
Until then, the book reads like a catalog: of works written, of real estate bought and sold, of parties attended and company kept (Princess Margaret, Jacqueline Kennedy, Paul Newman, Tennessee Williams, Christopher Isherwood, Claire Bloom, Clive James, Federico Fellini, Anais Nin…the list is endless). Which is strange, frankly. You don't need a great deal of descriptive power to bring Vidal or his world to life. Yet Parini has awfully tin eardrums, especially for a novelist, often quoting Vidal to staggeringly bland effect. "I liked to walk around in New York and try to imagine what would be there in earlier decades, even centuries," he has him saying about his book 1876.
Parini is plainly too awed by his friend. He may also be too gracious to give Vidal the interrogation he deserves; Parini is as humble as his subject is bombastic. And this generosity has payoffs. He shows great empathy for Vidal's inability to come fully to terms with his homosexuality, for which he was forever finding linguistic sleights of hand to explain. He conveys what a toll it took on Vidal to have such a self-involved, alcoholic mother — two traits her son would recapitulate, sadly — and makes clear that Vidal, in some basic sense, was a puppet of his own aggression, sublimated not just in sex and literary feuds, but in an almost frenetic careerism, a desperation to be in "the Swirl" at all times. His description of Vidal in decline is beautiful and unbearably sad: The scene of an imperious Vidal breaking down as he listens to a recording of Howard Austen, now dead, singing Hello Young Lovers is one I will not forget.
Though Parini says he didn't want to write a memoir of his friendship with Vidal, it's when he does so that Empire of Self is at its finest. This is what Michael Mewshaw did in Sympathy for the Devil: Four Decades of Friendship With Gore Vidal, published in January, and readers had a savory sense of Vidal within 20 pages. In this latest book, it takes far longer, and it's only on the penultimate page that you find a clue as to why: Vidal had at one point asked Parini to be his literary executor. When Vidal died, Parini says he was relieved to discover that this burdensome task had not been left to him. "The problem," he writes, "was that nobody assumed this role." But in this book he essentially did.
Publication Notes
Publication Notes
Empire of Self: A Life of Gore VidaL (Illustrated)
By Jay Parini
464 Pages
Doubleday
Hardback: US
Comments will be moderated. Keep comments relevant to the article. Remarks containing abusive and obscene language, personal attacks of any kind or promotion will be removed and the user banned. Final decision will be at the discretion of the Taipei Times.