Taipei Watcher: LGBT clubs should be allowed to come out of the closet
Universities in Taiwan continue to use silly technicalities to block the open formation of LGBT clubs
Having a romance, joining a school club and getting a part-time job are said to be three required courses for all Taiwanese university students. Since the academic year has just begun, it is time again for students to choose a club to join. For lesbian, gay, bisexual and transgender (LGBT) students, however, universities continue to use technicalities to block the establishment of LGBT student clubs.
As the Gender Equity Education Act (性別平等教育法) states: "Schools shall provide a gender-fair learning environment, respect and give due consideration to students, faculty, and staff with different gender, gender temperaments, gender identity, and sexual orientation."
The fact that the government and schools fail to ensure a fair learning environment for all has clearly highlighted the necessity of such clubs.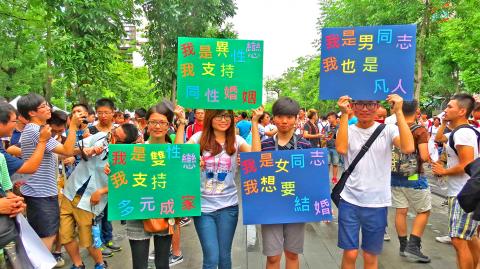 LGBT student clubs in central Taiwan take part in the Taichung LGBT Pride parade on June 8 last year.
Photo: Su Ching-feng, Taipei Times
BUILDING FRIENDLY CAMPUSES
The nation's first gay student club, NTU GayChat (台大男同性戀社), was established by National Taiwan University (NTU) students in 1993. Although the school approved their application, it forced them to name it "gay issues study club" (男同性戀問題研究社) at first, so as to spin it as an academic group to reduce controversy.
Two years later, students established NTU Lambda (台大浪達社), the nation's first lesbian student club. To avoid drawing too much attention at school, the club was named after the Greek letter "λ" (lambda) — an international symbol for LGBT rights. By doing so, faculty and students would not know instantly that it is a lesbian group.
Members of LGBT student clubs stage a protest on Dec. 26, 2013 at Fu Jen Catholic University against the school's discrimination of homosexuals.
Photo: Lai Hsiao-tung, Taipei Times
"The club is meant to build a friendly environment for gay students, whether members or not," said GayChat secretary Little Jie (小杰), a pseudonym, during a television interview, adding that straight students are welcome too.
The club provides lectures on various LGBT issues every Friday and some leisure activities at the beginning and end of each semester. It also holds birthday parties for members regularly to create a friendly atmosphere.
In June 1995, GayChat and Lambda jointly launched the first Gay and Lesbian Awakening Day (GLAD, 校園同志甦醒日) campaign to raise awareness on campuses across Taiwan. In recent years, many LGBT student clubs at different universities have taken turns organizing the annual GLAD party in May or June, along with LGBT forums, film festivals and other activities, while forming a student non-governmental organization.
Meanwhile, the Internet has allowed more LGBT students to create online gay and lesbian boards on the Bulletin Board Systems (BBS) of their universities, which could then be transformed into LGBT student clubs.
Over the past 20 years, club members have worked hard to protect equal rights, eliminate discrimination, oppression and bullying, push for gay-friendly legislation, promote safe sex and develop educational materials through their groups. Also, they have actively participated in and contributed to the LGBT rights movement in Taiwan outside the campus.
CHALLENGES REMAIN
Today, many universities and some senior high schools have their own LGBT student clubs, both official and unofficial. However, operating these clubs is not easy, even at more liberal schools like NTU.
Chen Ling (陳凌), a former Lambda president, says that many gay and lesbian students fear coming out due to family, school and social pressure.
"A member once asked me to keep my voice down during our conversation at school, worrying that teachers and schoolmates would find out that she is lesbian," Chen says.
And some school officials are against LGBT students and clubs. When National Chengchi Universty (NCCU) students established the NCCU Lu Ren Jia LGBTQQIA Club (政大陸仁賈) in 1997, they would occasionally hold on-campus activities using the name of another club to avoid school interference. Although the situation has gradually improved, members complain that some school employees refuse to help them promote club affairs.
The unfavorable situation facing LGBT students can be worse at universities funded by religious groups. In 2013, almost 100 LGBT students staged a protest at Fu Jen Catholic University (FJU) after Taiwan's 17 Catholic and Christian universities issued an open letter opposing same-sex marriage. They also accused the school of denying their application for establishing gay and lesbian student clubs, which have operated underground for years.
Last year, FJU's "unofficial" lesbian student club planned to hold a speech. But school officials quickly tore down the posters before the event because they were worried that the speaker would "teach the audience how to become homosexual."
At a time when student clubs recruit new blood, university officials are violating the Gender Equity Education Act if they continue to harass or ban LGBT student clubs. The Ministry of Education could improve the situation by including this in their school evaluations.
A more effective way would be for members of LGBT student clubs to actively join gender equality committees and students' associations so as to make their voices heard, while pushing for reform within the school system. Hopefully that would speed up the creation of a fair learning environment for all.
Comments will be moderated. Keep comments relevant to the article. Remarks containing abusive and obscene language, personal attacks of any kind or promotion will be removed and the user banned. Final decision will be at the discretion of the Taipei Times.