Coveted tea, never to be brewed
From the fields of Kyoto to the mountains of Yunnan, Kathy Chan travels the world in search of the best teas
A year ago, a member of a private tea society in Shanghai presented Kathy YL Chan with a small box as slender as a cigarette case. Inside were four tiles of highly prized pu-erh tea, conjoined like a chocolate bar and almost black, twined with green and ocher.
Chan, 29, who writes about tea and advises restaurants, hotels and companies on tea offerings, had mostly encountered pu-erh in the form of dense, mulchy rounds (bing cha in Mandarin), each with a crater at the center, like flattened volcanoes. The delicate box seemed a secret missive from "a darker, cooler world," she said — what she calls, only half jokingly, the "underbelly" of tea.
The pu-erh within, from Menghai in China's southwestern Yunnan province, near the Burmese border, was too precious to drink, Chan decided. And so she safeguards it in the kitchen of her East Village apartment, amid her considerable arsenal of teaware, including fine-spined whisks; long, skinny bamboo scoops and short, hand-hammered brass ones curved like thumbnails; a Korean teapot with a straight side handle; a ceramic bowl, or chawan, for frothing matcha, a Japanese green tea; and a paring-size knife for breaking off pieces of pu-erh, should she one day feel that she can wait no longer.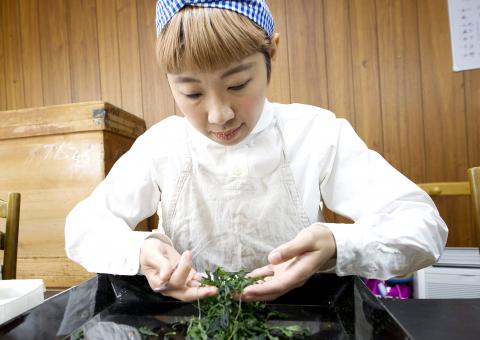 A tea worker separates freshly harvested high quality green tea leaves from inferior leaves and bitter stems at the Magouemon tea farm in Joyo city, Kyoto prefecture, Japan, last May.
Photos: EPA
When Chan was growing up in Honolulu, tea was "not a big deal," she said — just something that everyone in her family drank "all day, all night." Her parents heeded the traditional Chinese belief that cold water is bad for the body and always kept an electric thermos of hot water on hand. Chan dutifully has one, too.
From her family she learned to drink tea "grandpa style:" loose leaves in a glass, into which you keep pouring water. "Your teeth are the filter," she said. Now she supplies tea to restaurants like Eleven Madison Park, where one of her finds, 'A'a black tea from the Big Island of Hawaii, is priced at US$65 for a rarefied, ritual Chinese tableside preparation. (This was the most expensive tea on the menu until it was recently outstripped by a vintage 1960s pu-erh.)
Sometimes Chan slips the box of pu-erh into her suitcase as a good-luck charm when she travels. The last year has taken her from the hillsides of Haleakala on Maui to the tea fields of Uji outside Kyoto, Japan. In the winter, she braved a landslide to ascend Kunlu Mountain in Yunnan, paying homage to wild pu-erh trees, some nearly a millennium old.
Like Champagne, pu-erh is a protected geographical designation; the Chinese government has mandated that only tea grown in Yunnan can be labeled pu-erh. Like Bordeaux, the longer it ages, the more coveted it is, eliciting up to tens of thousands of dollars at auction. Chan once met a collector who stood his tea cakes upright, unbrewed and undrunk, in a china cabinet, like Delft china.
Of her own untouched pu-erh, Chan admitted, "I want to drink it." She smiled. "But I'd rather keep it as a reminder of how deep the world of tea is."
Comments will be moderated. Keep comments relevant to the article. Remarks containing abusive and obscene language, personal attacks of any kind or promotion will be removed and the user banned. Final decision will be at the discretion of the Taipei Times.