Dance trifecta a winner for Taipei audiences
Three very different shows by Lin Hsiang-hsiu, Lee Ming-cheng and Chang Ting-ting left audiences feeling happy to have seen them. All three are worth restaging
Taipei hit the trifecta with dance productions over the past two weekends, with shows that both raised the bar for the companies performing them and for others in the "small troupe" league.
The only downside was that someone screwed up in not listing Taiwanese dancer/choreographer Lin Hsiang-hsiu's (林向秀) Hungry Heart production with California-based sjDANCEco for the Taipei Arts Festival as a separate item under dance on the nation's main tickeing Web site, as well as part of the festival, meaning that a lot of dance fans did not know it was occurring at Zhongshan Hall — and that was a big loss, both to potential audiences and to the performers who were part of an outstanding show.
Neither Lee Ming-cheng (李名正) nor Chang Ting-ting (張婷婷) lacked for bodies at their shows at the Experimental Theater — Mr.R2.0-Utopia (Mr.R2.0-烏托邦) and Body Platform: Persistence of Memory (肢‧色系列2:時空抽屜) respectively — they more than filled that black-box space with their sets and seating.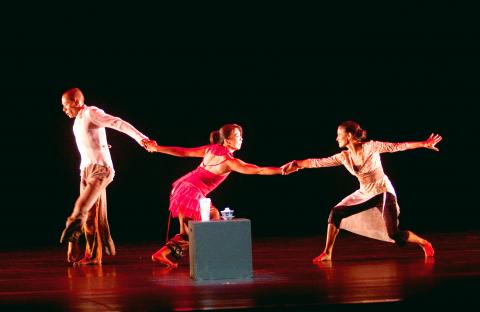 From left, Robert Regela, Lin Hsiang-hsiu and Maria Basile performed Lin's Mix & Match II as part of the Lin HH Dance and sjDANCEco "Hungry Heart" production at Taipei's Zhongshan Hall earlier this month.
Photo courtesy of Bob Shomle
However, it was wonderful to be among those fortunate enough to catch Lin's show, a rarity now that she is California-based. The evening opened with the enjoyableMix&Match II — her 2009 reworking of a quartet piece made in Taipei in 2005 as East & West/Mix & Match (混東西) — performed by Lin, Robert Regela, who was also in the original, and sjDANCEco co-artistic director Maria Basile.
Basile's choreographic chops were on display next with an excerpt from her Tango Fatal that simply sizzled.
The award-winning restaging of Jose Limon's famed Moor's Pavane was everything a Limon fan could hope for and more. Performed by Lin, Regala, Raphael Boumalia (a Jose Limon Company principal) and Heather Cooper, the dancing was wonderful — a potent reminder of the elongated torso and majesty inherent in Limon's choreography. The costumes were beautiful and the lighting, with its pools of darkness and contrasting brights, made the piece look like a Renaissance painting brought to life.
Keyed, a 2012 duet by Lin and Boumalia was terrific, but there was nothing soft or romantic about this pairing, despite the beauty of the dancing — a miasma of violence and despair cloaked the work as Boumalia manipulated and tossed Lin around, ending with Lin spot-lit in a silent scream.
The program finished with a restaging of Lin's 2013's Shards (碎玻璃), expanded to include several local dancers and dance students. It is a paean to young people the world over who are willing to take to the streets to stand up for what they believe in, whatever the costs.
Lee and Chang, on successive weekends, showed it is worth revisiting territory explored in previous productions by expanding those ideas into whole new dimensions.
Lee's Body Expression Dance Theater (BodyEDT, 體相舞蹈劇場) first explored the world of a faceless rabbit, Mr.R, in 2012. The rabbit returned in Mr.R2.0-Utopia (Mr.R 2.0-烏托邦), but with a fabulously huge geometric set by designer Hsieh Chun-an (謝均安) that featured a large arch, elongated legs that tapered to points — like the dancers themselves in their frequent spider-influenced creeping about on their hands and feet, bums elevated off the ground — and a glowing red pyramid that hung suspended on one side in the center of the set.
The white ripcord-laced jumpsuits worn by the dancers helped give an otherworldly feel to the piece — although they quickly dispensed of the clear plastic appendages — as did the score, the eeriness only enhanced by Mr.R's silent screaming and a mini-me Mr.R who didn't dance, but was carried and manipulated by one of the adult performers.
It was a fascinating show, but Lee left Mr.R trapped in a dystopian universe of his own making, as far from utopia as ever.
T.T.C. Dance's (張婷婷獨立製作) Body Platform: Persistence of Memory (肢‧色系列2:時空抽屜) also had an expansive set to allow for 3D projections, so much so that the first two rows of the theaters' seats, as well as all the chairs, were removed. The audience sat on small foam squares on the bleachers.
The set design also meant that the sight lines were not great if you were seated close to the side walls — and some people appeared to find the paper 3D glasses more distracting than they were worth. It didn't matter in the end, though, because the choreography and dancing were great.
Chang has her six dancers, clad in flesh-colored two-pieces or leotards for the five women and briefs for the one man, make full use of the floor space, both behind and in front of the large slanted acrylic glass screen for the projections.
The 3D projections began with simple constructs, and it seemed at first that they would be an unnecessary distraction, but as the piece progressed so did the intricacies of the designs and their meshing with Chang's choreography, for which full credit should go to designer Chen Wei-kuang (陳威光), artist Lin Jin-yao (林經堯) and lighting designer Boon Ann Goh (吳文安).
Dancers Wu Pei-yen (吳伂妍), Wu Ping-cheng (吳秉錚), Lin Po-shen (林博紳), Hsu Tung (許彤), Huang Man-jyun (黃曼鈞) and Aki Saito earned their applause, but Hsu and Saito were standouts.
Body Platform: Persistence of Memory is intriguing enough to warrant a second look. It would be great to see the piece in a larger setting that would allow for more space between the set and the audience.
This story has been corrected since it was first published to amend one of the Chinese characters in designer Hsieh Chun-an's name.
Comments will be moderated. Keep comments relevant to the article. Remarks containing abusive and obscene language, personal attacks of any kind or promotion will be removed and the user banned. Final decision will be at the discretion of the Taipei Times.