The Vinyl Word
Most Westerners who come to Taiwan spend a year teaching, save some money and then move on. Sometimes, however, something magical happens in that first year. Because Taiwanese are extremely welcoming and those passing through Taiwan are stimulating, deep bonds are made in a short time, and soon that first year inexplicably becomes three, and then five and then 10.
This story is true for Fratzuki (real name Dominick Fresnia), who deejays and emcees at Elektro four times a week. He arrived in Taiwan after traveling the world and was in need of a financial windfall. In the decade since, he has been a party promoter, worked as a magician, started his own booth that sold deep fried oreos at the Raohe night market, made a hip-hop album in Mandarin, and has been an all around hustler since he has stepped off the plane.
The people that have a hard time in Taiwan usually get sick of teaching snotty-nosed kids rather quickly and are frustrated that there are not a ton of other opportunities out there. Fratzuki's advice to them is to find something to do that you are passionate about.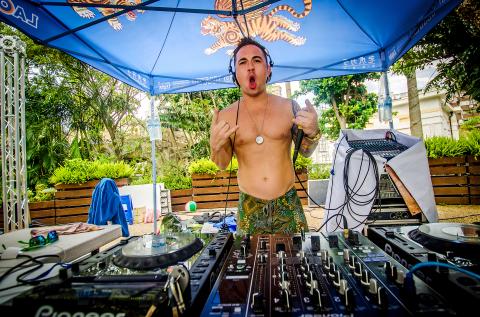 Fratzuki, pictured here at last week's Havana Pool Party, will open for Moti tonight at Elektro.
Photo courtesy of Jason Matthew Peters
"I've had friends start English-language exercise classes, English-language guitar classes, outdoor adventure trips and small restaurants. [They] had great success because they loved doing it. The great thing about starting businesses in Taiwan is it is very cheap in the beginning, so stop being scared of failure and try to make one of your hobbies a new career," said Fratzuki.
Big dreams
The thing about Fratzuki is that he always dreams big, but when he comes up with these ideas, he follows through and makes them successful. Music has always been a big passion and right now, he calls being an MC and DJ at Elektro the best job he's ever had.
The owner of the club, DJ Junior, is getting a pretty big name for himself around Asia. When Fratzuki goes to big shows with him at Club Grid or the Ultra Music Festival in Korea to emcee, they play in front of thousands of people and share the same stage with the likes of hip-hop superstars Lil' Jon and Snoop Dogg.
The future looks quite bright for Fratzuki as he has a big gig with DJ Junior opening up for Skrillex in the beginning of October at Fulong Beach and then some DJ gigs in Japan after that. He is also in the middle of a music production course and hoping to have some original tunes out soon.
"I'm at the point where I need original music that I'm releasing to keep forward progress," Fratzuki said. "For the rest of this year and next year, I'll just be focused on producing more, and releasing super hot fire tracks!"
■ Fratzuki will be the opening DJ for international superstar Moti tonight starting 10pm at Elektro, 6F, 12 Songshou Rd, Taipei City (台北市松壽路12號6樓). Admission is NT$900 and includes a drink.
Comments will be moderated. Keep comments relevant to the article. Remarks containing abusive and obscene language, personal attacks of any kind or promotion will be removed and the user banned. Final decision will be at the discretion of the Taipei Times.