Searching for serenity in Siem Reap
Once synonymous with Angkor Wat, the historic Cambodian city now offers travelers numerous Khmer fine dining options, locally-brewed infused rice wine and a world-class circus troupe
"It would mean so much to us if you could write us a review on TripAdvisor," says Rayou, our personal assistant at The Privilege Floor. "We are currently number three for best hotels in Siem Reap but with your help, we could make it to number one."
I glance at Rayou, at his toothy smile and sincere eyes, then at my partner, and we exchange a shared pang of guilt. When planning our trip to Cambodia, we could not decide on one hotel since there were dozens of amazing ones beckoning us on booking sites like Expedia.com and Booking.com. So we eventually came up with a grand plan — why not stay at two hotels? Genius.
But now it felt like we were betraying our first hotel after everything they had done for us — a free upgrade to the royal suite with three balconies overlooking the swimming pool, calling us by name whenever they saw us leaving our room and providing us with a pillow menu with detailed descriptions of feather counts and health benefits. Not to mention hunting down a Panadol when I suffered from a splitting headache at four o'clock in the morning.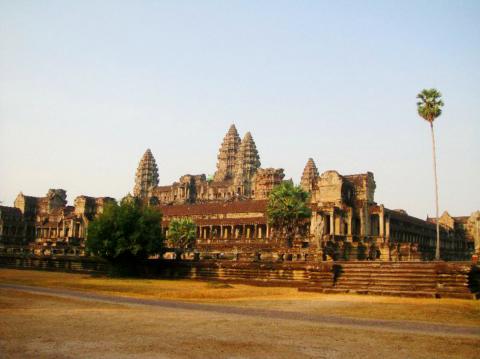 Angkor Wat welcomes travelers with its centuries-old majestic temples and intricate stone carvings.
Photo: Dana Ter, Taipei Times
It used to be the case that travelers came to Siem Reap to explore Angkor Wat and chug beers at boozy bars along Pub Street, the city's backpackers' row. Five-star hotels were only for the rich and the snooty — namely, elderly French tourists. But much has changed in the nearly five years since I last visited. More resorts have opened, along with fine dining options and other forms of entertainment that did not revolve around drinking Angkor Beer.
Everywhere we went, shop owners and restaurateurs implored us to write favorable reviews for them on TripAdvisor. We didn't mind it too much — to say that Khmer hospitality is top-notch would be an understatement. Nearly every establishment is on TripAdvisor and apparently, competition is stiff. Forget Phuket or Bali if you're searching for serenity. Luxury is affordable in Siem Reap — at least for now.
ROYAL TREATMENT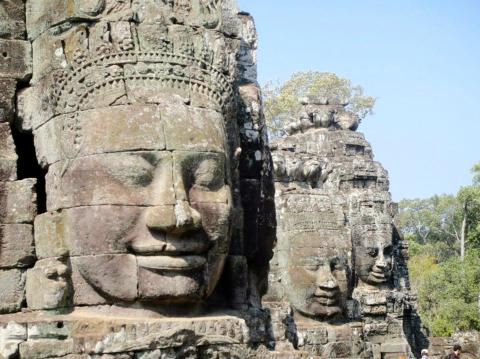 Carved stoned faces at the Bayon Temple in Angkor Thom welcomes visitors.
Photo: Dana Ter, Taipei Times
"How do you like your Mai Tai, Miss Dana?" my waiter asks me.
"It's perfect," I reply.
"Good, good," the waiter says, before breaking into a fit of laughter that sounds like Muttley the dog on LSD.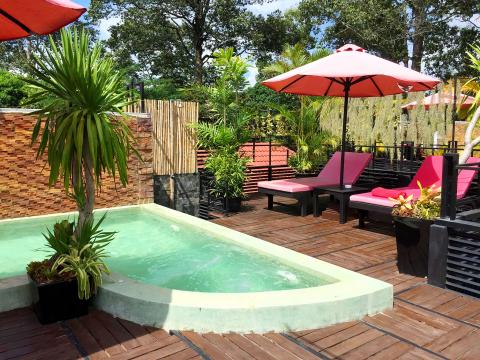 Private rooftop pools at De Sarann Villa provides guests with a quiet, exclusive feel.
Photo: Dana Ter, Taipei Times
He is without a doubt the life of happy hour at the Damnak Lounge on The Privilege Floor, happily giving out free-flowing cocktails and finger food to amused-looking couples dressed in Bermuda shorts and sundresses.
Siem Reap is dotted with resorts that are all a five to 10-minute drive from each other. The Sofitel, Park Hyatt and Shinta Mani are all top contenders. As is the Raffles Grand Hotel D'Angkor, the hotel I stayed at during my last visit. Opened in 1932 and featuring a wrought iron cage elevator which is still in use today, the Raffles is Siem Reap's oldest hotel.
This trip, we stayed at one of the city's newest resorts. The Privilege Floor consists of the fourth floor of the Borei Angkor Resort & Spa. Guests staying in any of these 19 rooms and suites are given a private chauffeur, personal assistant and mobile phone. The best part (besides happy hour), however, is the all-day complimentary breakfast. This is a novelty as most hotels stop serving breakfast before 10am, expecting guests to commence their sightseeing in the wee hours of the morning.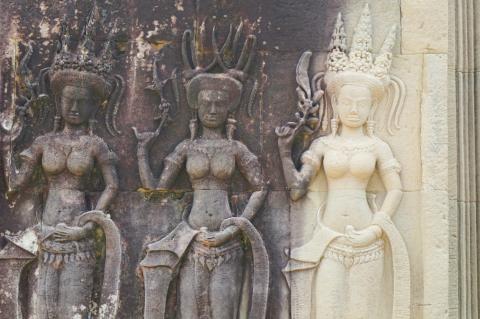 Angkor Wat welcomes travelers with its centuries-old majestic temples and intricate stone carvings.
Photo: Dana Ter, Taipei Times
The royal suite is complete with a living/dining, master bedroom, kitchen, Jacuzzi bathtub and a powder room. The silk table runners and regal yellow curtain drapes add an extra touch of warmth, while a bottle of sparkling wine greets us upon arrival. The free refill at the minibar helps quench our thirst throughout our stay.
"I feel like we don't deserve the upgrade," my partner says. "We're just kids."
Whether or not we looked like children masquerading as 20-somethings, we still received the royal treatment. Thus it was with heavy hearts that we bid Rayou and our driver Sygold goodbye when we departed The Privilege Floor for our next hotel.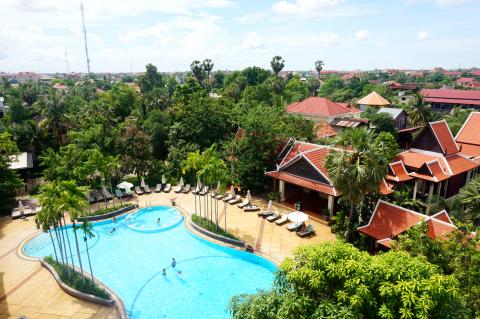 The balcony of the Royal Suite at The Privilege Floor overlooks the hotel's swimming pool.
Photo: Dana Ter, Taipei Times
VILLA VIBE
A different vibe than The Privilege Floor, De Sarann Villa is merely four guest houses lined up one after another and tucked away in a narrow plot of land in the middle of a typical Siem Reap village — dirt roads, chickens roaming about and stilt houses made out of shoddy wooden planks. It's hard not to notice the disparity in wealth as our new chauffeur steers our clunky jeep into the compound.
The private rooftop pool was what drew our attention to De Sarann Villa while searching for hotels on Booking.com and it did not disappoint. A little dipping pool shielded off by some vertical gardening, it is resoundingly exclusive. Breakfast is served at whatever time you please (just before 2pm) either to your room or rooftop — of course we chose the latter. The interior of the villa boasts a plush, tropical theme, with painstakingly-carved bamboo thickets lining the bath and an L-shaped sofa surrounding the living/dining, peeking into the perfectly potted trees outside.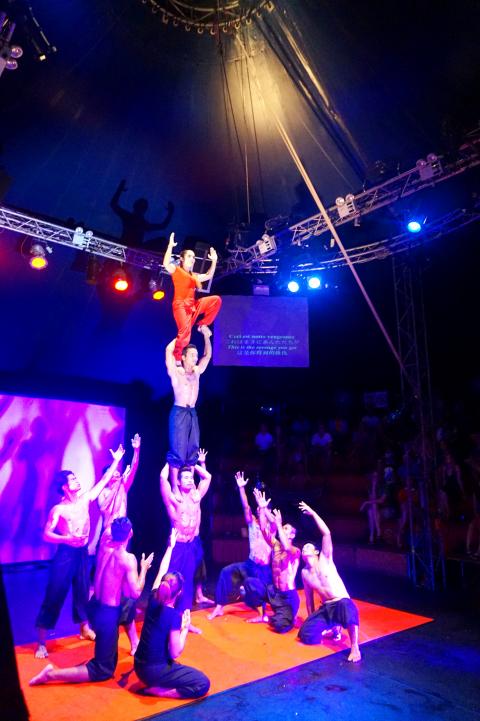 Featuring an all-human troupe, performances at Phare Cambodian Circus rotate around different themes centering on Khmer history and culture.
Photo: Dana Ter, Taipei Times
The service is four stars out of five. There was mis-communication due to the language barrier, which is expected — they thought we were checking out at 8am instead of 5pm. Or perhaps we were too spoiled at The Privilege Floor.
CURRY AND KORKO SOUP
"Are you going to order something alcoholic?" I ask my partner.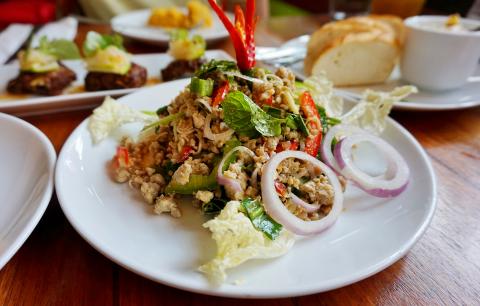 Minced pork with spices is served at Marum Restaurant, an establishment run by a non-profit that helps to employ disadvantaged youth in the restaurant industry.
Photo: Dana Ter, Taipei Times
"No, just a beer," he replies.
We are at Viroth's Restaurant, a breezy open-air establishment, as most Cambodian fine dining restaurants are. Transparent red drapes billow in the wind and at the table next to us, about 20 tourists from southern China cackle over how tasty the curries are.
When we weren't drinking, we were eating. Evidently, the wave of new resorts had also ushered in an array of fine dining options that aren't just satays at the Foreign Correspondents Club or a fruity cocktail at Miss Wong's, a 1930s Shanghai pin-up-girl-themed bar on Pub Street.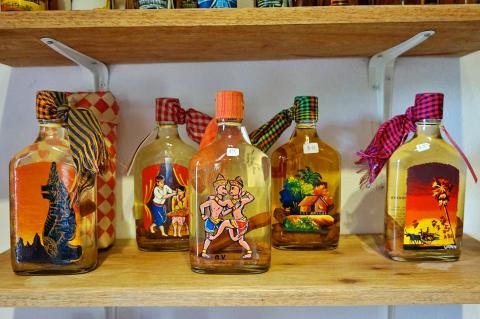 Rice wines at Sombai are infused with fruit and herbs and packaged in hand-painted bottles.
Photo: Dana Ter, Taipei Times
Cambodia is known for its fish amok — steamed fish coated with coconut milk served in a banana leaf — but ordering anything soup or curry-based is usually a safe bet. Khmer cuisine is herbal and spicy, utilizing lots of edible flowers and garnishing, which means that soups and curries are immensely flavorful.
While the crispy spring rolls at Viroth's won my culinary appraise, the korko soup at Chanrey Tree had me almost drooling. In addition to thinly-shredded chicken, it also contained mushrooms and fresh greens, all simmering in a mild herbal, coconut-tinged soup. This I enjoyed alongside a classic mojito adorned with mint leaves.
At Marum Restaurant, the minced pork with spices and spare ribs with sliced apples does marvels to my taste buds. It's a pleasant surprise because the restaurant's decor is rather unassuming — lime green walls decorated with children's paintings. Marum is run by Friends-International, a non-profit that helps disadvantaged youth by training and employing them in the food and beverage industry.
However, if you're looking for Khmer cuisine with frills, you can't get frillier than Kroya Restaurant at the Shinta Mani hotel. Kroya's distinguishing feature in terms of decor is their sofa swings on the verandah which also double as seating for diners. Most patrons opt for the seven-course Khmer tasting menu which includes a beef soup with tamarind-scented morning glory and wok-fried prawns with mixed fresh herbs — all of which I relished slowly.
FRUITY ELIXIR
The infused rice wines at Sombai are also worth relishing. Opened by a husband-wife duo in 2012, the bright red bungalow where they conduct tasting tours is hard to miss. The husband, Lionel Maitrepierre is French, while his wife, Joelle Jean Louis hails from Mauritius. They speak of their tropical concoctions with much zeal.
"The rice wine we make is not the type of alcohol that you have to force down your throat to get drunk," Jean Louis says. "It actually tastes good."
She relates her boozy anecdotes to me — brewing new recipes and testing them on her husband until he's hammered, a Japanese customer marveling over how he didn't suffer from a hangover the next morning despite downing bottles of Sombai the night before.
As any devoted thirsty traveler will know, rice wine in its pure form burns your throat. It's the infusion of fruit and herbal ingredients that makes Sombai's concoctions not just tolerable, but also tantalizingly tasty. The infusion room on the upper level is where the magic happens. Huge containers of rice wine mixed with various fruits and herbs are stored and meticulously labeled on wooden shelves. When the fruit sinks to the bottom, it means the rice wine is ready. Normally, it takes up to eight weeks to infuse.
Downstairs is where the tipsiness takes place. The standard tasting tour is eight flavors and includes green tea-orange, which whiskey drinkers tend to love, and ginger-red chili, which provides a good base for cooking. My favorite is the banana-cinnamon, a festive sweet-spicy blend. If you're not big on boozing, Sombai's hand-painted bottles are also for sale. Painted by young local artists, each bottle depicts a quintessentially Cambodian scene — a temple or a lush village — with bright colors and warm hues. Each bottle top also wears a miniature checkered Cambodian scarf.
Six bottles of Sombai in hand, we bid au revoir to our gracious host and hostess.
TEMPLES, FLAMETHROWERS AND A HOLE IN ONE
Hotels and Web sites recommend visiting Angkor Wat before 6am to catch the sunrise and beat the crowds. We visited during the day which, despite the heat, was quite pleasant as most visitors and tour groups were probably there at the crack of dawn. Built entirely of stone in the 12th century, Angkor Wat took about 40 years to complete, which is impressive considering the degree of intricacy in the bas-relief carvings. It was also one of the few Buddhist structures to remain relatively unharmed during the Khmer Rouge genocide from 1975 to 1979.
The first time I visited was during the dry season. As such, the landscape was more arid and the earth was a glowing red. This time, during the rainy season, vast stretches of green grass greeted us near the huge lake outside the entrance to the temple and weeds peeked out from between stone slabs. Hotels can arrange for a private tour guide, but Rayou recommended that for travelers like us — "couples who like to relax a lot" — it was best to wander the compounds ourselves.
Nearby is the Bayon Temple at Angkor Thom. We gave this site a miss, but it's definitely worth a visit for travelers who are still new at touring Southeast Asia's temples. Built in the second half of the 12th century, the stone carvings tell the stories of ordinary Khmer people who lived during the time — apparently, riding elephants, rowing boats and playing instruments were popular pastimes and modes of transportation.
You can also brush up on your temple history by teeing off at Angkor Wat Putt, a 14-hole miniature golf course modeled after Siem Reap's temples. Opened in 2012, it takes about an hour to complete and is surprisingly addictive. A free beer for every hole-in-one helps to motivate golfers.
We topped off our trip with front row seats at Phare Cambodian Circus, which opened its curtains in early 2013 and offers nightly shows. The all-human troupe, all from underprivileged backgrounds, undergo years of training in Battambang province before graduating to Siem Reap's Big Top. Utilizing contortion, flame-throwing and aerial flips, performances revolve around themes centering on Khmer history and culture. The show we watched, Eclipse, told the tale of a disfigured young man who was bullied in his village. While the flamethrowers had me gripping my seat, the plot still managed to be witty and humorous.
Siem Reap may not be the top choice for travelers seeking a relaxing getaway, but it did just that without breaking the bank — although as I get older, I also find myself preferring to spend money on a nice hotel and good food rather than sharing a dorm with five strangers and haggling for trinkets that I know I'll discard later.
My only regret? Not taking home more bottles of infused rice wine.
Publication Notes
PACK YOUR BAGS
GETTING THERE ■Round-trip flights from Taipei to Siem Reap via Bangkok on Bangkok Airways or via Kuala Lumpur on Air Asia cost around NT$15,000 per person Stay ■The Privilege Floor at Borei Angkor (privilegefloor.com/borei) ■De Sarann Villa (www.desarannvilla.com) ■Raffles Grand Hotel D'Angkor (www.raffles.com/siem-reap) ■Most hotels will provide a private chauffeur and free mobile phone for guests, so getting around Siem Reap is convenient Eat and Drink ■Viroth's (www.viroth-hotel.com/dinning.html) ■Chanrey Tree (www.chanreytree.com) ■Marum (www.facebook.com/MarumRestaurant) ■Kroya at Shinta Mani (shintamani.com/club/food-and-beverage) ■Rice wine tasting at Sombai (www.sombai.com, reservation required) Visit ■Angkor Wat ■Bayon Temple ■Miniature golf (www.angkorwatputt.com) ■Phare Cambodian Circus (www.pharecambodiancircus.org/circus, US$35 for reserved front-row ticket, US$15 for regular ticket)
Comments will be moderated. Keep comments relevant to the article. Remarks containing abusive and obscene language, personal attacks of any kind or promotion will be removed and the user banned. Final decision will be at the discretion of the Taipei Times.