Movie Review: Murmur of the Hearts
Sylvia Chang's new film takes a thoughtful look into love and longing
Seven years after her fatherhood comedy-drama Run Papa Run (一個好爸爸) , Sylvia Chang (張艾嘉) returns to the director's chair with Murmur of the Hearts (念念), her most accomplished film to date. Emotionally resonant and quietly introspective, it revolves around three psychologically scarred characters struggling to make peace with their past. The mix of dreams, reality, magical realism and disjointed narrative is as messy as it is ambitious, and it is firmly anchored by top-notch performances by actors from Taiwan and Hong Kong.
The film centers on Mei (Isabella Leong, 梁洛施), a painter who has a troubled relationship with her boxer boyfriend, Hsiang (Joseph Chang, 張孝全). Gruff and reticent, Hsiang is not a particularly talented fighter, and channels most of his energy into training. The couple's lustful rendezvous, which are against the coach's orders, accentuate their solitude and alienation.
Mei's occasional emotional outbursts don't make things better. "I was seeing a man with no shadow walking past me," she says over a payphone to her lover, who is preoccupied with his own thoughts.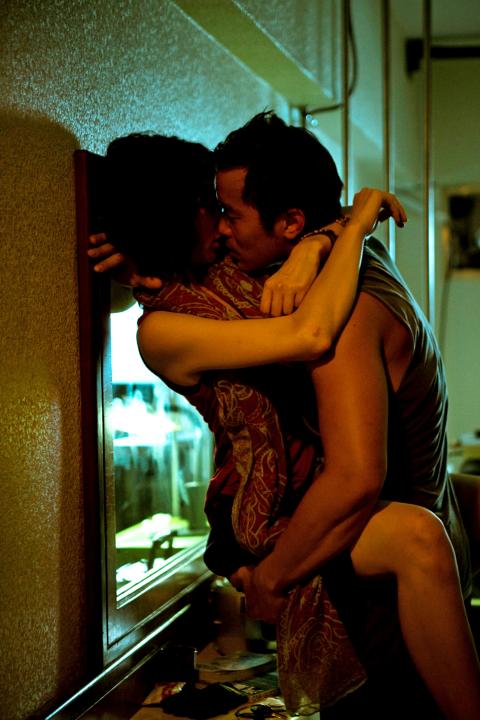 Isabella Leong and Joseph Chang hand in subtle performances as a troubled couple in Murmur of the Hearts.
Photo courtesy of Applause entertainment
The scene, occurring early in the movie, heralds the supernatural incidents that follow.
In Mei's recurrent childhood memories on Green Island (綠島), her loving mother Jen (Lee Sinje, 李心潔) tells her and her older brother Nan (Lawrence Ko, 柯宇綸) a fairy tale about a mermaid every night. During the day, the children catch beached fish and throw them back into the sea as if they are "angels," as the mother gently calls them.
Now living in Taipei, Mei is beset by unresolved feelings toward her dead mother, who left her boorish husband and took the little girl with her to Taiwan proper.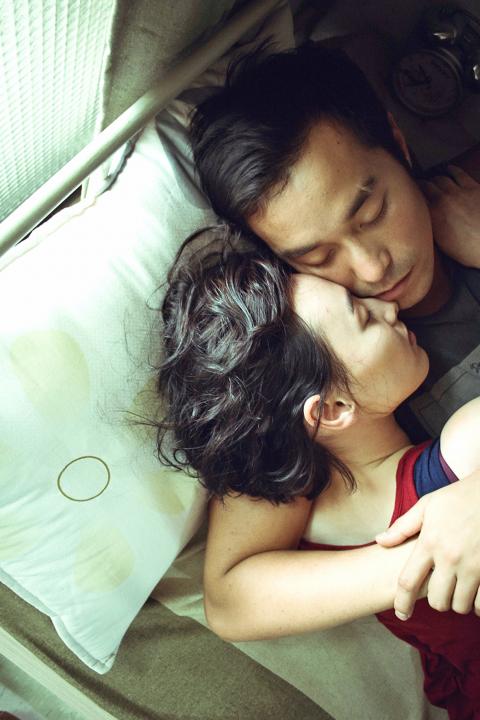 Isabella Leong and Joseph Chang hand in subtle performances as a troubled couple in Murmur of the Hearts.
Photo courtesy of Applause entertainment
Nan, who was left behind, grows up to become a tour guide on Green Island, a place where political prisoners were held during the Martial Law era, and cannot resolve whether or not to look for his sister and mother, whose death remains unknown to him.
Hsiang, too, has his own ghosts from the past. The childhood memory of his long-dead father, a sailor who was rarely home and eventually drowned at sea, pushes Hsiang to pursue the boxing — a career he believes his father wanted him to pursue.
Crippled by their anger, confusion and remorse, the three take their different paths to come to terms with the past, leading to a somewhat predictable reconciliation, though one that is genuinely moving.
The script by Sylvia Chang and Taiwan-based Japanese actor Yukihiko Kageyama moves between symbolism, melodrama and fantasy. At times, scenes are heavily laced with expository dialogue, leaving little to the imagination and leading to sequences that drag on and emotions that are repetitive and tedious. But when the director does it right, the film sparkles with poetry.
It's no exaggeration to say that Murmur of the Hearts belongs to the actors as much as, if not more than, the director. Making a comeback to the silver screen, Hong Kong actress Leong imbues her role as a damaged, slightly neurotic woman with a subtle sensibility. Taiwan's Joseph Chang dives into the dark side, gathering enough sensitivity to create an entirely believable man fighting his demons.
Jen, like many of Sylvia Chang's most sympathetic heroines, yearns to be free from a stifling relationship. While the fragmented flashbacks of a love affair reveal little of her inner world, Lee has an ethereal presence, as if she exists only in the memories of her children.
At the most poignantly tender moments of the film, the mother returns in Nan's dream. In his childhood home, the son, all grown up, meets his youthful mother. They talk, feeling the quiet, aching longing in every word they utter. It is a moment that transcends reality and lingers long after the credits.
Publication Notes
Film Notes
Murmur of the Hearts
念念
DIRECTED BY:Sylvia Chang (張艾嘉)
STARRING:Lee Sinje (李心潔) as Jen, Isabella Leong (梁洛施) as Mei, Joseph Chang (張孝全) as Hsiang, Lawrence Ko (柯宇綸) as Nan
LANGUAGES:Mandarin with Chinese and English subtitles
RUNNING TIME:119 MINUTES
TAIWAN RELEASE:TODAY
Comments will be moderated. Keep comments relevant to the article. Remarks containing abusive and obscene language, personal attacks of any kind or promotion will be removed and the user banned. Final decision will be at the discretion of the Taipei Times.