The respect of Rocky Lee
This weekend, Rocky Lee will become the first fighter from Taiwan to compete in the Ultimate Fighting Championship, the world's largest mixed martial arts fighting organization
The training mats of innumerable gyms are filled with years of blood, sweat and tears from tenacious men and women who dare to dream of one day stepping into the octagon of the Ultimate Fighting Championship (UFC), the world's unrivaled mixed martial arts (MMA) fighting organization. Taiwan's Rocky Lee (李俊翰) will get to see that fantasy come true on Saturday night (Sunday morning Taiwan time) in Krakow, Poland, when he fights Taylor Lapilus on the undercard of UFC Fight Night: Gonzaga vs Cro Cop 2.
FROM THUG TO FIGHTER
From a young age, most mixed martial artists get their kicks by knuckling up with other knuckleheads on the street. Lee's journey was no different. "I used to get bullied and beat up when I was younger, and I started fighting to stand up for myself," Lee said in an email interview with the Taipei Times. "Then I found out that I liked fighting and thought it was fun. I ended up in a bad crowd and would go looking for fights. I fought all the time and got in a lot of trouble."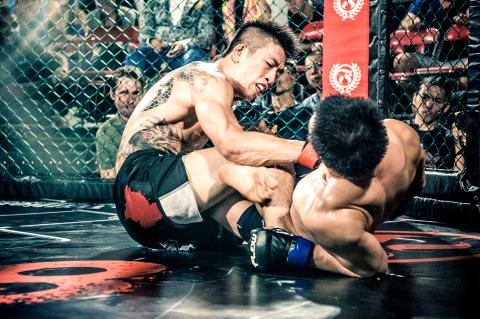 Rocky Lee, left, competes in a ProFC 8 event in Taiwan.
Photo courtesy of ProFC and Danny Chu
However, being a thug on the streets eventually lost its luster, and, six years ago, Lee started training Sanda and Brazilian jiu jitsu and quickly transitioned to MMA. "I wanted to try and give my life some focus, so using martial arts was actually how I got myself out of that life and out of trouble," Lee said.
MMA ARRIVES IN TAIWAN
MMA is new to Taiwan and still has a long way to go before it becomes as popular as it is in places like Japan, the US and Brazil. For Lee, this meant having to train at a few different gyms in order to get the guidance he desired.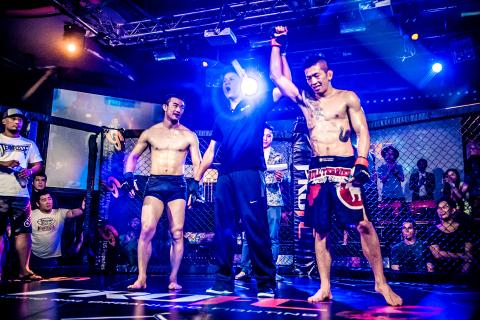 Rocky Lee, right, wins a victory in a ProFC 8 event in Taiwan.
Photo courtesy of ProFC and Danny Chu
"The boxing gym I go to is a great place for me to learn and train with coaches who push me, and training partners who are always teaching me new things."
Lee's first professional bout was in ProFC, Taiwan's premier MMA company. Lee was very nervous before the fight but stuck to his game plan and ended up winning. He believes that ProFC will help develop Taiwan's MMA scene, mainly by providing opportunities for fighters to get a professional start.
UFC COMES CALLING
With his reputation growing within the Asian MMA circuit, last year, Lee was selected to be a contestant on The Ultimate Fighter: China, the UFC's reality show where fighters live together in the same house and train with professional coaches to fight each other. For weeks, Lee was sequestered in this very serious atmosphere.
There were were no phones, Internet, books, TV, music or anything that might distract them from training.
"Everyone had to be friends and live together, but you were all also competing for the same thing," he said. "The environment was stressful because you didn't know when you were going to fight or who you were going to fight, [but] we learned something new all the time because we had great fighters like Cung Le and Benson Henderson to come in and work with us."
"I learned so many new techniques and perspectives that this was absolutely beneficial to my career," Lee added. "It really gave me my shot in the UFC. Because of the show, I was able to show the UFC that I deserve this fight."
VICTORY WITHIN REACH
Even though Lee is the first Taiwanese mixed martial artist to fight for the UFC, he does not feel like he is carrying the weight of the nation on his shoulders.
"I know that I can't think that way," he said. "I have to work hard and focus on this fight and this fight only. I just have to focus and compete in this bout the same as I would if I were the first Taiwanese fighter in the UFC, or the 100th," Lee said.
Lee believes he has the upper hand against Lapilus in many ways. "I have been studying his past fights and also his record on Sherdog (MMA Web site). Most of his wins are from submissions, so we have similar strengths, which means this will be a good match up and we will put on a good show," Lee said.
"I also think that I have the advantages of better boxing, better jiu jitsu and better wrestling. I am excited to put these to work in the octagon against him."
Comments will be moderated. Keep comments relevant to the article. Remarks containing abusive and obscene language, personal attacks of any kind or promotion will be removed and the user banned. Final decision will be at the discretion of the Taipei Times.