Book Review: The Bling Dynasty
'The Bling Dynasty' presents two clear perspectives on the future of bling and luxury spending in China
'Bling is dead? Long live Bling!" With these enticing words, Erwan Rambourg introduces the major theme of his book, The Bling Dynasty: Why the Reign of Chinese Luxury Shoppers Has Only Just Begun. An engrossing and easy read, this book presents two clear perspectives on the future of bling and luxury spending. The first deftly informs readers that despite recessions and/or economic slowdowns, luxury brands and their market are not only alive and well but that the Chinese have become the newest and main driver of this market. The second analyzes this Chinese luxury market, what it is, what is needed to compete in it and what directions it may take. In both, Rambourg, as managing director at HSBC in Hong Kong and co-head of Global Consumer & Retail Equity Research, brings his 20 plus years of experience in marketing and luxury brands to the task.
Who is the Chinese luxury consumer? Using avatars Rambourg portrays five distinct subsets of China's nouveau riche. With these five, we not only see the wide range of Chinese luxury shoppers, but we also get a sense of their desires, background, goals and the means they have at their disposal. The statistics and analysis presented here primarily sell the argument and convince readers that this new phenomenon has not only just begun but is here to stay.
For example, in the coming year, 2015, Chinese will represent 20 per cent of the luxury consumers in the world and account for 35 per cent of the sales. By 2025, that number should triple, making Chinese responsible for 50 per cent of worldwide luxury sales. The breadth of that developing market is a factor that brand name manufacturers cannot afford to ignore.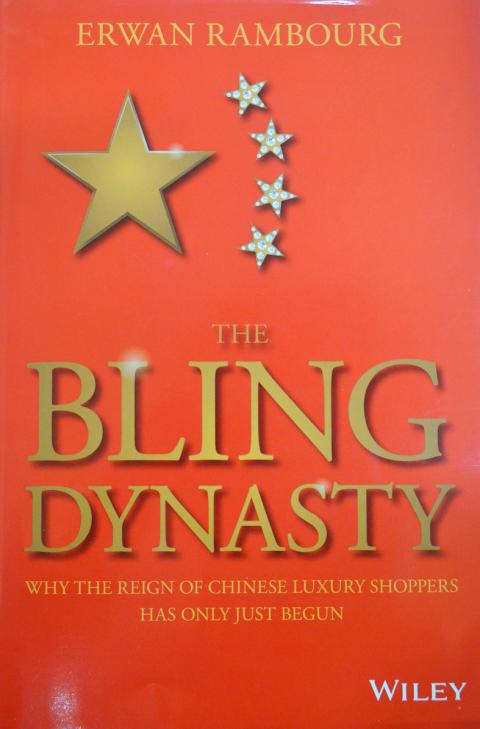 The Bling Dynasty: Why the Reign of Chinese Luxury Shoppers Has Only Just Begun, by Erwan Rambourg
Where do these "new shoppers" currently shop? Instead of in China, the majority prefer to buy abroad for a variety of reasons, including the resultant travel leisure time, cheaper prices, less chance of knock-offs and the demonstrated status that one has been abroad from a country where passports for travel are hard to come by.
The Special Administrative Region of Hong Kong, where Rambourg now resides, fits this category of "going abroad" and gets special attention as the prime location most accessible to Chinese luxury shoppers. Seventy-five percent of Hong Kong's inbound travel is from China. Macau rates second and has its own interesting statistics. Gambling is its chief attraction — its growing gaming revenues there outdid those of Las Vegas by seven times in 2013. Gamblers who are lucky of course will also spend big and well, and Macau's 18 million repeat visits by 6 million Chinese in that year point to a great, untapped potential.
The year 2013 was a booming year. Despite the fact that only 4 per cent of China's 1.3 billion people have passports, China's outbound trips totaled 97 million that year. Tour travelers and more savvy individual travelers went to South Korea, Japan, Europe and the US as favorite locations. Further, projections indicate that this number of outbound trips will be a staggering 200 million by 2020; that figure dwarfs the total population of most countries. Europe has been the core destination of these outbound travelers, but Rambourg suggests that the US may offer more as the next primary location. In support of this, outside factors point that Arcadia, a suburb of Los Angeles, California, has recently gotten the name Chinese Beverly Hills as more and more Chinese buy homes there at prices that begin at US$2 million.
On the luxury marketing side, Rambourg provides chapters with a different range of specifics: we have a list of luxury terms, who the major brand names and players are, how location figures in a mall, storytelling and so on. Basically, these are pitfalls and sign posts for any company contemplating joining in the race. For China's untapped females, Korean and Japanese brands compete; Chinese brands are not yet in vogue. Almost all chapters end with a summary and interviews from people and sources well placed in luxury sales.
Politics? It is near impossible to talk about China without politics coming up, but Rambourg discreetly stays clear of this and makes a distinction between China and Chinese shoppers. Nonetheless questions arise. The playful but ironic name of Bling Dynasty rhymes with Ming and Qing, China's last two dynasties; is the author suggesting a different developing reality from China's one-party socialist state? Chinese President Xi Jinping's (習近平) current anti-corruption campaign is there, but any lasting impact on luxury shopping remains to be seen. Hong Kong's surprise protests broke out in September, the month this book came out, so Rambourg cannot be faulted for avoiding what lay behind them.
Even philosophical questions appear. What is true luxury? To compete in luxury sales one needs to know more than just the "how and what" of marketing, one needs to answer the very why — why one is in the luxury business. This is a different why from the question of why do we need luxury items if the ultimate goal for Maslow is self-actualization? Is this "why" the reason it is hard to find people willing to totally dedicate themselves to succeed in this market?
Bling is not going to go away; neither is China. That message remains clear from this provocative book.
Publication Notes
Publication Notes
The Bling Dynasty: Why the Reign of Chinese Luxury Shoppers Has Only Just Begun By Erwan Rambourg 241 pages John Wiley & Sons Hardback: Singapore
Comments will be moderated. Keep comments relevant to the article. Remarks containing abusive and obscene language, personal attacks of any kind or promotion will be removed and the user banned. Final decision will be at the discretion of the Taipei Times.