Classical CD reviews
Dvorak's string quartets are a joy from beginning to end. It's not a question of the later ones being better than the earlier ones either — even the first, the composer's Opus 2, is a rich and sensuous delight.
Yet they're far less well-known than those of Haydn, Mozart, Beethoven, Bartok or Shostakovich. For me, though, only Mozart's last ten are incomparably superior. As for the others, it's a matter of temperament which you prefer, and my temperament lands me in the hands of Dvorak over and over again.
Dvorak wrote 14 string quartets, plus several piano quartets, quintets and sextets. His work in these other chamber music genres will be treated at a later date. Today we will consider just the string quartets, remembering that this has long been considered the purest of all musical forms.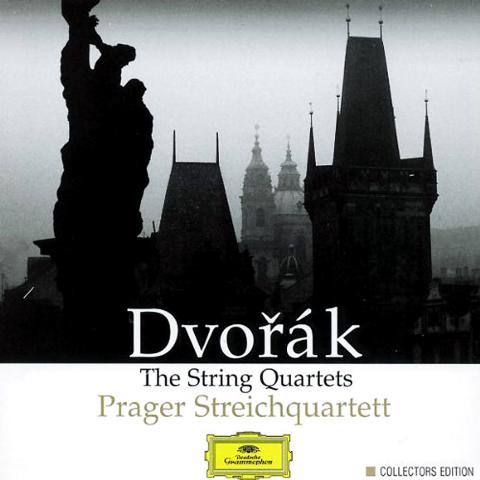 DVORAK: THE STRING QUARTETS, by Prague Quartet.
The question of which recordings to buy used to be a relatively simple one, but the development of YouTube has thrown everything into confusion. Today it only takes one enthusiast to put a vast mass of recorded material online, making it easy to go for the free option, and listen to these versions without even considering the others. Despite this, we will consider the CD versions in their own right, while noting which are available on YouTube as we go.
Thirty years ago the routine choice for a complete set of these quartets was the one from the Prague Quartet on Deutsche Grammophon. (You might sometimes see the group called the "Prager Streichquartett," but that's just the Prague String Quartet in German). This is still available as a nine-CD boxed-set and, now at a near-bargain price, highly recommendable. The playing is intensely beautiful and the sound quality very fine. It's currently most easily available from Amazon.co.uk at £28.49 (NT$1,358).
The Vlach Quartet never issued a complete set but, again in past years, their recordings of single quartets were treasured as of incomparable quality. Today they're collectors' items, but a few can thankfully be heard on YouTube, or bought from the UK Amazon site.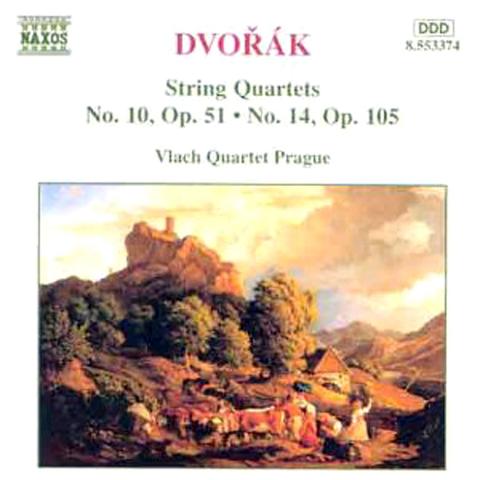 DVORAK String Quartets Volume 4, Quartets 10 and 14, by Vlach Quartet Prague.
The old Vlach Quartet ceased operation in 1975, but then was re-launched, albeit with a totally different line-up, in 1982 as the Vlach Quartet of Prague. All critics seem to agree that the quality is still extremely high, and they're in the process of recording all Dvorak's quartets for the Naxos label.
This project is nearly complete, with only Quartets Nos: 2 and 4 still to appear. I approached Naxos last week and was told that the missing quartets were too long to fit onto one CD, but needed some extra items to go onto two CDs, and that Naxos was discussing possible recording dates with the artists.
The current eight CDs are numbered Naxos 8553371 to 8553378 and are widely available. (Some are also, in whole or in part, on YouTube.)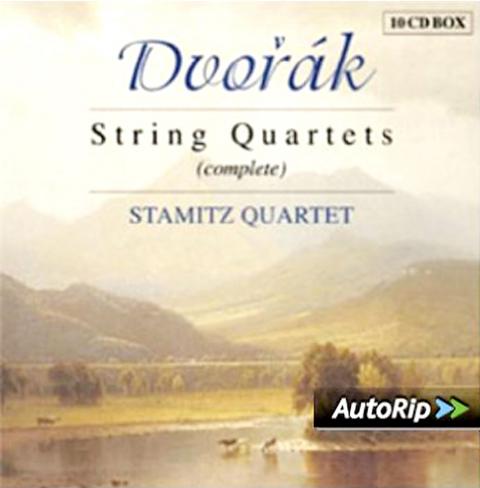 DVORAK: String Quartets Nos. 1-14 (complete), by Stamitz Quartet.
The entire cycle was recorded in 2008 by the Stamitz Quartet and is available as a budget-priced 10-CD boxed-set for a mere US$38 (NT$1,140). It's what some people spend on a meal, but this is a feast for a lifetime. They're gorgeously warm and evocative recordings, and no one could possibly go wrong in choosing them.
The problem is that this entire set from Stamitz has been copied onto YouTube — all Dvorak's quartets, in other words, each one complete (audio only). How is it possible, then, to recommend the CDs themselves? Well, some people perhaps still prefer that format, and the price certainly means that this remains an astonishing bargain. The catalogue number is Brilliant Classics 99949.
You can even go one better and opt for a collection by Stamitz of the complete quartets of the most celebrated Czech composers on 15 CDs. This gives you all of Dvorak's, Janacek's two, Smetana's two and Martinu's seven, all in versions that have been praised for their clarity and intelligence. The catalogue number here is Brilliant Classics 9410.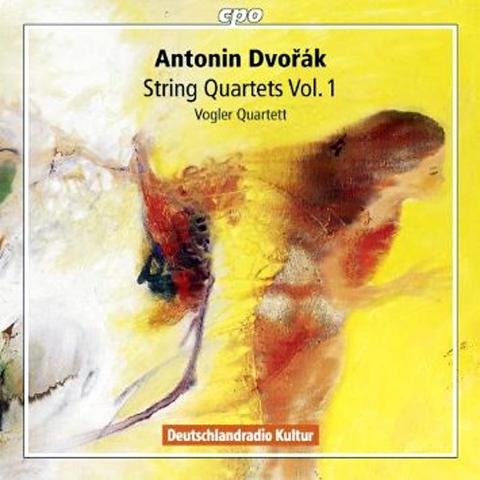 DVORAK: STRING QUARTETS Vol. 1, by Vogler Quartet.
A newcomer is the Vogler Quartet's project of issuing the whole Dvorak set. They opened with a two-CD item containing Quartets 9, 10 and 12 ("American"), plus Cypresses and the Bagatelles, popular items also for string quartet, plus harmonium in the latter case. This won the Editor's Choice award for February 2013 in Gramophone magazine.
Lastly, the youthful Pavel Haas Quartet won the top accolade from Gramophone, its Record of the Year award in 2011, for their CD of Nos: 12 ("American") and 13 on the Supraphon label (SU 40382). It was an astonishing achievement.
A word about the "American" quartet. This is by far the best-known of these works but, though attractive, it's by no means the best. It won this title because it was composed in Spillville, Iowa. I personally prefer several of the others, notably the neglected but marvelous 5th and the wonderful 10th. A knowledgeable friend also prefers the final two, the 13th and 14th.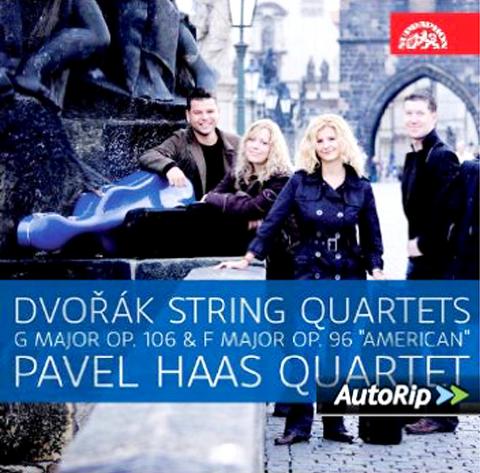 DVORAK: String Quartets Nos: 12 and 13, by Pavel Haas Quartet, Supraphon.
The very early quartets are also worth investigating. Critics say the influence of Liszt and Wagner is still strong in these works, but why shouldn't this be viewed as an advantage?
So, if you're unfamiliar with this music, sample a single CD. Try Quartets 10 and 14 on Naxos 8.553374, or (if you must have the "American") Quartets 12 and 13 on Naxos 8.553371. Alternatively, listen to any of the quartets played by the Stamitz Quartet on YouTube. I simply can't believe that anyone would be disappointed.
Comments will be moderated. Keep comments relevant to the article. Remarks containing abusive and obscene language, personal attacks of any kind or promotion will be removed and the user banned. Final decision will be at the discretion of the Taipei Times.