Enter Taipei and its quiet craft cocktail revolution
Taipei is polishing up its bars and drinking cocktails differently as imbibers politely decline cosmopolitans in favor of bitters, bourbons and craft cocktails
Taipei bars have typically taken a generic approach to cocktail-making — weekends only, gin and tonic, lowball glass and, if you're lucky, a maraschino cherry from a jar. But change is on the horizon and the drinking landscape is moving from clubs to clandestine locations. Hidden behind unmarked doors, bracingly strong craft cocktails have quietly come back to life and, thanks to the renaissance of the speakeasy concept, retro hideaways that focus on technique and creativity are creating queues in Taipei — even on Monday nights.
In lieu of advertising, these bijou drinking dens rely mostly on word of mouth, as they prefer to cater to cultivated imbibers, rather than big crowds. Kitchens are instead being used to muddle fresh ingredients, distill in-house additives like bitters, generate unique flavors and experiment with eclectic pairings, which are all blended over the bar with infused seasonal offerings and quality aged spirits. The atmosphere is dark, the music quiet and the focus is on the drink, the company and the conversation. Here is an adult guide to drinking in Taipei.
ALCHEMY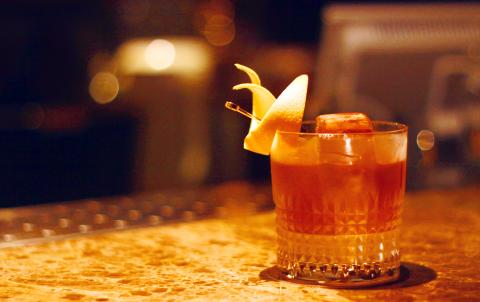 Order off the vintage cocktail menu, recommends Alchemy owner and head bartender Angus Zou, which is where you will find an Old Fashioned.(Warning: Excessive consumption of alcohol can damage your health.)
Photo: Olivia Wycech
Step through a secret door that doubles as a bookcase into the prohibition era at Alchemy. The quintessential dark wood and leather accenting has created a 1920s haven for nostalgic liquor lovers who enjoy a touch of jazz while sipping on an Old Fashioned (NT$450). The drink can be ordered off the vintage menu and is also what owner Angus Zou (鄒斯傑) recommends, despite Alchemy's extensive selection of cocktails. He says it possesses the four elements that are dear to a cocktail — sugar, water, spirits and bitters. Bourbon, sugar cane and bitters are served elegantly in a Waterford-style crystal tumbler and the drink is redolent of Christmas thanks to a twist of orange rind.
The Chrysanthemum Fizz (NT$450) is a drink that'll probably appeal more to women. The gin-based cocktail is light on the liquor, and subtle floral hints are emulsified into a tart and tangy grapefruit concoction. A stronger yet still introductory drink would be the Beginning of Prohibition (NT$450), as it starts to get into edgy bitters. Angostura 1919 rum, maraschino, lime juice, sugar and bitters are served over crushed ice in a tall water carafe.
As with Alchemy's decor, much attention has gone into both the presentation of cocktails and how they are made. The Misu-Tini (NT$500), for example, captures Japan's signature sweet and salty flavors in a single sake cup, and gets the job done with the delicate addition of gin.
Ginger lovers should relish in Wootp's homemade ginger beer by indulging in a Moscow Mule.(Warning: Excessive consumption of alcohol can damage your health.)
Photo: Olivia Wycech
Address: 2F, 16-1 Xinyi Rd, Sec 5, Taipei City (台北市信義路五段16-1號2樓)
Telephone: 0953-585-759
Open: Mondays to Saturdays from 9pm to 2am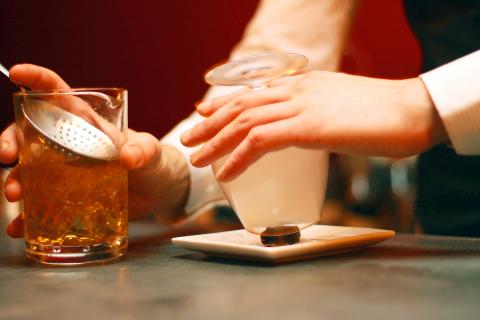 Charring a piece of aged oak inside a glass releases aromas like vanilla in the Third Day in Taipei at Ounce.(Warning: Excessive consumption of alcohol can damage your health.)
Photo: Olivia Wycech
Average drink: NT$350 to NT$1,000
Details: Service available in Mandarin and English, cash and credit cards accepted
On the net: www.facebook.com/BarAlchemy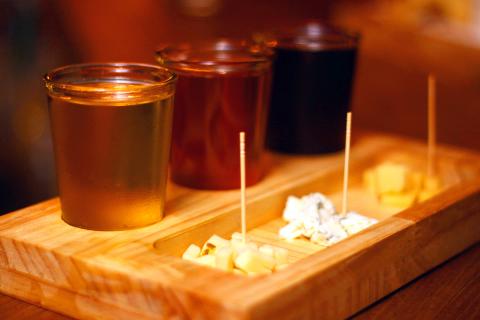 Beer and cheese pairings at Beer & Cheese are on constant rotation to let you dabble in a little bit of both worlds.(Warning: Excessive consumption of alcohol can damage your health.)
Photo: Olivia Wycech
How to get in: Make a reservation 1-2 days in advance as neither walk-ins nor standing are accepted and seating is limited to 50 people. Live jazz and blues on Wednesdays and Thursdays. Enter through Marquee at the hostess stand.
OUNCE
There is no menu at Ounce. Instead, earnest bartenders whose heads are filled with an encyclopedic knowledge of booze combinations, will sit down and discuss with you what flavors would best suit your palate before returning with an arcane concoction. The back bar will impress even Hemmingway-style drinkers, but still welcomes and encourages novices.
Though your drink decision is best left in the hands of the Ounce-tenders, the Thai-tini (NT$450) is the best cocktail I've ever had. It encompasses all the dimensions present in Thai cuisine — sweet, spicy, sour and fresh. Shaken with ice and cilantro, the chili-infused vodka elixir packs a serious zing and is perfect for those after a fierce flavor. A good choice on the lighter side is a Honey Badger (NT$450). Rosemary-infused bourbon, lemon, honey, ginger and yellow chartreuse are blended to create an ambrosial libation.
Scotch lovers should indulge in the Third Day in Taipei (NT$500), which plays with malt and orange flavors and is served in a glass first smoked with charred aged oak. It's reminiscent of cottages, comfort and quiet. The Ramos Gin Fizz (NT$550) has a grandiloquent story to tell. It changed the game in New Orleans in 1888, as it required the hiring of additional staff just to shake the drink for 12 minutes. The creamy fizz effect is created using soda water, cream and egg whites, and the end result is something similar to a liquid birthday cake.
Address: 40, Ln 63, Dunhua S Rd, Sec 2, Taipei City (敦化南路二段63巷40號)
Telephone: (02) 2708-6885
Open: Mondays to Saturdays from 7pm to 2am
Average drink: NT$400 to NT$550
Details: Service available in Mandarin and English, cash and credit cards accepted
On the net: www.ouncetaipei.com
How to get in: Press the button on the wall at the back of Relax cafe and wait for the door to open. Expect a wait during peak hours, as seating is limited to 30 people. Ounce does not accept reservations.
WOOTP (窩台北)
There is nothing new about Wootp (窩台北). It's been open for six years and is very popular among hipsters. It boasts world-class bartenders making craft cocktails with a local twist. House-made special touches liven up classic cocktails like the Smoky Bloody Mary (NT$400), which is made using a kungpao (that's right, as in the spicy dish) and dried fish infused vodka. It blends the regulars, too — Worcestershire sauce, sea salt, lime juice, celery bitters and tomato juice — but the infused vodka lends it its defining and must-try flavor.
Ginger beer is not often found or served in Taipei, but they make it in-house at Wootp and use it to concoct a mean Moscow Mule (NT350), which is served as it should be in an antique-style copper mug. It's a simple drink that is easy on the alcohol, minimal in ingredients, but heavy on its key ingredients: lime and ginger.
Other classics include Sazerac (NT$400), which is considered America's first cocktail, but made here with an Asian twist (it's called Zen Sazerac on the menu). The drink is masculine and made for sipping as it's made with Japanese Yamazaki whiskey, sandalwood infused vodka, orange bitters, elderflower syrup and a lemon and grapefruit twist.
Address: 39, Lane 205, Zhongxiao E Rd, Sec 4, Taipei City (台北市大安區忠孝東路四段205巷39號)
Telephone: (02) 8771-9813
Open: Sundays to Thursdays from 2pm to 2am, Fridays and Saturdays from 2pm to 3am
Average Drink: NT$200 to NT$500
Details: Service available in Mandarin and English, cash and credit cards accepted
On the net: www.woo-life.com
How to get in: Walk-in, but reservations are recommended for weekends.
BEER & CHEESE SOCIAL HOUSE
Though not a cocktail bar, when your fridge stocks over 100 beers from around the world, many of them obscure, and you've got Taipei's first craft beer bar. Beer & Cheese wants you to forget everything you know about wine and cheese, and try their flights instead. Beer and cheese pairings vary daily and explore a range of tastes from bitter beers to sharp cheeses.
It can at first be intimidating to not recognize a single beer in the fridge, but the bartenders all well versed about their stock and speak fluent English. Interesting beers not to miss include one called Breakfast (NT$330), which is brewed in Denmark by Mikkeller. It's a thick beer that does indeed taste like breakfast by blending the flavors of coffee and chocolate, and with a 7.3% alcohol content it wakes you up fast.
Hardcore IPA lovers will relish in an extreme double IPA. Brewed by Scotland's BrewDog, it's called Hardcore (NT$390) and is beer that is very heavy on the hops. It's also quite bitter but is a cauldron of flavor and therefore a must-try for beer lovers. There are also eight taps regularly rotating craft beers, as well as over 40 stouts and porters in bottles, and 30 or so IPAs at any given time.
Address: 169 Jianguo S Rd, Sec 2, Taipei City (台北市大安區建國南路2段169號)
Telephone: 0916-549-373
Open: Mondays to Saturdays from 6pm to 1am, Fridays from 6pm to 3am, Saturdays from 12pm to 3am, Sundays from 12pm to 1am
Average Drink: NT$200 to NT$1,000
Details: Service available in Mandarin and English, cash only
On the net: www.beerandcheese.com.tw
How to get in: Walk-in
Comments will be moderated. Keep comments relevant to the article. Remarks containing abusive and obscene language, personal attacks of any kind or promotion will be removed and the user banned. Final decision will be at the discretion of the Taipei Times.