Two thumbs up
Two young Argentinians are on an extended road trip through Asia that relies on the kindness of strangers
The problem with two Argentinians hitchhiking across Asia, says 25-year-old Daniela Elias, is that the typical driver does not know what they want.
"Maybe some people have never seen a foreigner before, never seen him hitchhiking," Elias said in Taipei, the latest stop of her hitchhiking journey with boyfriend Juan Caldaroni.
Through trial and error, they have honed a few methods for hitchhiking in places without a hitchhiking culture. They seek rides at locations where cars must slow down, such as at toll stations or police checkpoints, where personnel are invariably helpful and even speak to drivers on their behalf.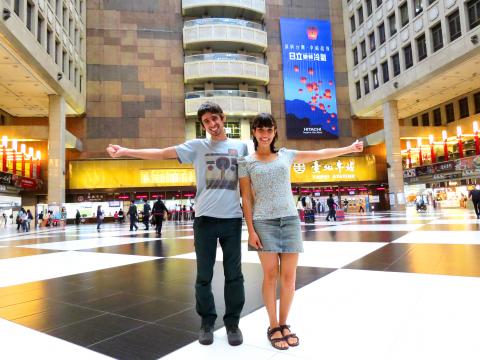 Juan Caldaroni, left, and Daniela Elias will hitchhike around Taiwan for two months.
Photo: Enru Lin, Taipei Times
To attract attention from vehicles, they raise an arm and gently wave the hand up and down, the way you would flag a taxi.
"We never use the thumb, because people who are driving think we are saying, 'Oh, good driving,' but that is not what we mean," says 27-year-old Caldaroni, referring to the typical gesture used.
HITCHHIKER'S GUIDE TO ASIA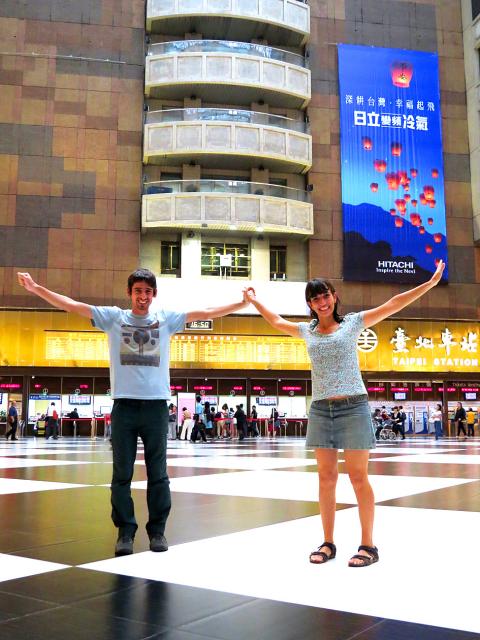 Juan Caldaroni, left, and Daniela Elias will hitchhike around Taiwan for two months.
Photo: Enru Lin, Taipei Times
The young Argentinian duo is doing a project they call Without Borders: a hitchhiking mission that relies on the kindness of strangers.
Since last year, they have traveled through 11 Asian countries, starting with the Philippines. They take boats over water. Over land, they hitchhike.
"Maybe if we took the bus, it [would be] faster, but people sleep on the bus and nothing happens. Every hitchhiking ride is full of stories," Elias says.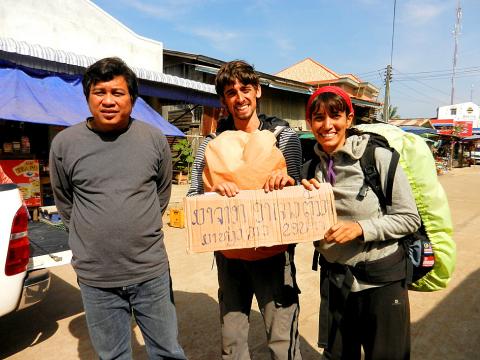 Juan Caldaroni, left, and Daniela Elias are shown in Laos, one of 11 countries they have visited for Without Borders since last year.
Photo courtesy of Without Borders
In Cambodia, drivers who stopped were usually able to speak English, Elias says. One woman, as they drove past a field, told them about her childhood under the Khmer Rouge.
"She was only 9 and she saw a big hole. People died there. If they didn't work hard enough, they were pushed into the big hole and covered with soil," Elias says.
"That was the main thing that surprised us about Cambodia. Not only she, but many people who stopped for us talked about what happened. It was very bad, but maybe the first part of understanding what happened is talking about it," she says.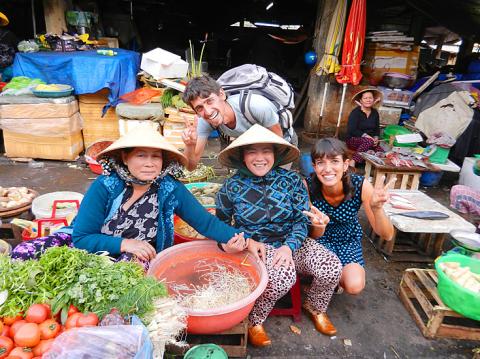 Daniela Elias, right, poses with vegetable vendors in Vietnam.
Photo courtesy of Without Borders
In other countries, Elias and Caldaroni received aid from locals who were not fluent in English. They asked halting questions prepared in the local language — "Where are you from?" "Do you have children?" — and received answers that they struggled to decode with a phrasebook.
In China, an English-speaking male driver interpreted their travel plans into Mandarin for his aged mother. Her face appeared to gradually darken, and the two Argentinians worked hard in the backseat to understand what she was saying to her son.
"Then he told us, 'I would really like to travel like you but my parents would never let me,'" Caldaroni says.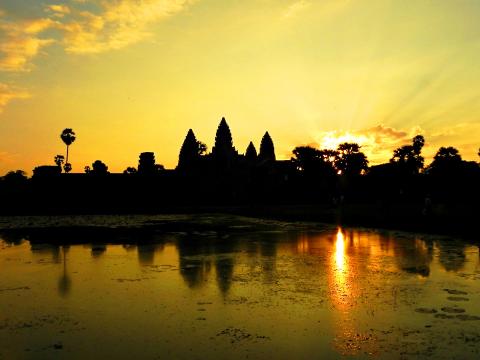 A view of Angkor Wat, Cambodia, one of 11 Asian countries that Juan Caldaroni and Daniela Elias have visited since last year.
Photo courtesy of Without Borders
"We said, 'But you're 32.' In China, it seems to be like this: The older generation, they are really worried about the future of their children, and about their own future, because their children are also their future," he says.
LITTLE SHELTERS EVERYWHERE
Elias and Caldaroni, college sweethearts who met in Argentina, plan to explore Taipei on foot until the middle of next month and then embark on two months of hitchhiking across Taiwan.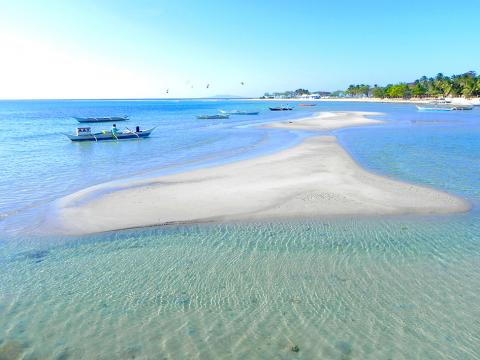 A view of Cuyo, Philippines, the first country that Juan Caldaroni and Daniela Elias visited for their project Without Borders.
Photo courtesy of Without Borders
In the summer, they head to Japan. After that, it's on to South Korea, back to China, into central Asia and finally to the Middle East.
Their goal is to visit all the countries of Asia — a mammoth undertaking with no corporate sponsors. They currently live on savings from their work-study in Australia and profits from selling postcards and teaching an online photography course, Elias says.
It's enough, because in day-to-day life they spend quite little. In Taipei, their daily expenses have averaged NT$150 per person.
"In our traveling so far, we don't spend much. If we want to stay for a longer time, like right now, we work at hostels in exchange for a room," Caldaroni says.
For shorter stays, they bring a tent. Yet nearly everywhere they go, they meet strangers who are effusively hospitable.
Some, contacted through the social networking Web site Couchsurfing, offer lodgings, escort them to local sights and pay for each meal. Others, encountered through happenstance in elevators and atop mountains, extend gifts of tea and dinner invitations.
So far, no driver has hurt them, and even drivers who can't comprehend their requests will offer help.
"Sometimes they take us off the road and to a bus station, and we say 'No, thank you,'" Elias says.
"But people will stop … Even if they don't speak the language and we can't communicate, they try to help us as much as they can," she says.
She and Caldaroni are maintaining a blog (www.marcandoelpolo.com) — notes in Spanish about the sights they see and the people they meet.
"In Latin America, they don't know much about Asia. There is very little about Asia in the news, and what we get is bad news," Elias says.
"What we want to show them is that things happen, but it's not only that. There are bad people everywhere, but most of the people are good," she says.
Comments will be moderated. Keep comments relevant to the article. Remarks containing abusive and obscene language, personal attacks of any kind or promotion will be removed and the user banned. Final decision will be at the discretion of the Taipei Times.