Interview with the Zombie
In an exclusive interview with 'Taipei Times' contributing reporter Joe Henley, Rob Zombie talks about his recent gig in Taipei, the crumminess of the music biz and his future film and album
A private party thrown to celebrate the opening of Taiwan's first GAP outlet drew more of a crowd than a performance by American shock rock veteran Rob Zombie in Taipei on March 7. The celebrity-strewn gala thrown on the street below ATT Showbox in the Xinyi District brought in the usual crowd of gawkers hoping to catch a fleeting glimpse of someone dubiously famous with the siren call of thumping house music. Meanwhile, Showbox had the curtain pulled, closing off half the premises so as not to subject Zombie, guitarist John 5, bassist Piggy D, and unearthly drummer Ginger Fish to the sight of a cavernous quarter-filled venue.
The ghoulish frontman, made up as always like an undead corpse, made numerous references to the fact that the show was the smallest the band had ever played during the course of his 16-year solo career following the implosion of White Zombie, the band that launched him to stardom. Toward the end of the show, he commented on the raucous, if sparse, crowd.
"This might be the smallest show we've ever played, but it just might be the most fun we've ever had."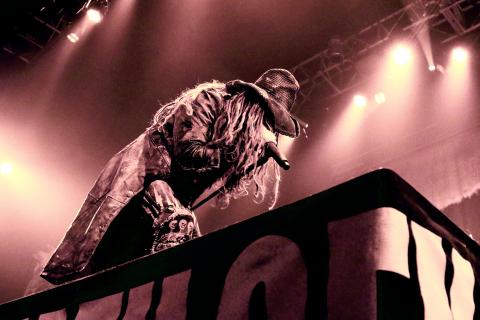 Rob Zombie and his corpsed-up cohorts electrified a small yet boisterous crowd at ATT Showbox on March 7.
Photo courtesy of Jill Su
Why the low turnout for the Alice Cooper of his generation? The golden age of shock rock is over. The Twin Terrors of Zombie and Marilyn Manson are both in the twilight of their respective music careers. Galactic immortals GWAR, though still going strong, are also getting on in years. One-time heir apparent Wednesday 13 mostly plays the club circuit, coming closest to achieving the arena rock level of his peers with the now-defunct Murderdolls. At least in Zombie's case he has film directing to fall back on.
The disappointing gate on March 7 certainly had nothing to do with the quality of the product. Nearing 50 years old, Zombie is still every bit the showman he has always been. Lithe, wiry and constantly mobile, he darted about under the watchful eyes of floor-to-ceiling horror camp backdrops, whirling, gyrating and stepping with all the swagger a man with 30 years in show business tucked into his fringed jacket pocket has earned. An ethical vegan for decades, his energy alone is enough to make you wonder if there might be something to this clean living thing.
Now touring in support of his fifth album, Venomous Rat Regeneration Vendor, Zombie knows how to play the demonic shaman to the crowd — how to inspire devotion with little more than a well-timed gesture or a grim shift of his deathly facial features — but when it comes to creating his music, it's not the crowd he considers, and certainly not the critics. In a pre-show interview with the Taipei Times, he recalled the last time he actually cared about the reviews of his albums.
Rob Zombie and his corpsed-up cohorts electrified a small yet boisterous crowd at ATT Showbox on March 7.
Photo courtesy of Jill Su
"It was very early on where I thought they meant something. And then I met the person who wrote the review, and I was like, 'Forget it. This is stupid.' You read it and you think, 'This guy must be so cool and bad ass,' and you meet some dweeby little writer. It's meant nothing since about 1985," Zombie said.
Tame days
For those of us who were too young during the time Zombie alludes to, there are the legendary if slightly apocryphal tales of the outright insanity that prevailed at shows during that era. Broken necks at a Cro-Mags video shoot. Wanton destruction of crowd barriers at Exodus gigs. It makes you wonder just where all that unchecked fury went when you go to a show nowadays. Things seem a lot tamer today by comparison.
"Fans seem like they're getting less crazy. I remember back in the day everyone seemed like they were insane. From the first show kids would be diving off the balcony, and you're like, 'What are you doing? That's concrete you're hitting!' Now, kids are a lot more mellow. You'd go backstage and there'd just be a row of kids with broken legs, bleeding. It's not like that anymore so much. People value their limbs more."
Nasty business
Though quick with the dry wit one detects the tone of a life-bred cynic in Zombie. But that inborn cynicism is exactly what has kept him alive in an industry that wants you dead before you hit 35. In the music business, trust is death. Trust is empty pockets and regret. Trust is a career cut short. From the outset, Zombie looked at the industry with a healthy dose of mistrust and contempt usually reserved for those who have already been screwed over by some unscrupulous fiend. That's how he's managed to survive.
"For some reason I never trusted anybody, and I would always pay attention to everything. And bands would always have this weird thing of trusting everybody, and that's why bands that should be multi-millionaires are flat broke and the managers have all the money. Now they just look back and laugh at the bands. Managers, there are some great ones, but it's a bunch of scumbags for the most part."
One of the many hypocrisies in music is that the mere mention of making a buck somehow makes you less of an artist. Money and art don't mix and musicians are all supposed to die damaged, broke and unknown with a bottle in their hand or a needle in their arm, only to be appreciated posthumously. There's truth in the oft-spun yarn "Art is suffering," but there's genuine suffering born of conspiratorial karma and tragic circumstance and there's plain, willful stupidity.
"I always say to bands, 'If you worked at McDonald's, you would look at your paycheck. You wouldn't just assume they were paying you properly every week.' But bands, they don't look at anything. It's the craziest thing. There's some weird thing in rock music like if you think about money ever you're a sellout. Nothing else in life is like that. Nothing. Only in rock music has this bizarre thing been created."
Cinematic venture
It's rare that you see this kind of awareness in a heavy metal artist, or hear one speak with any sort of business acumen whatsoever. But that's the way you have to be when you're catapulting back and forth between music and film the way Zombie has since making his directorial debut in 2003 with House of 1,000 Corpses. These days he's got another film in the pipeline which he's hoping to start shooting in September. He's coy about the theme, admitting only that it's in the horror realm. He's also got a TV mini-series on Charles Manson in the works. But right here right now, the focus is on the band. He's finally got something he never had in White Zombie, or even his early solo days. It's been a long road toward achieving that mythical thing called unity.
"You always try to achieve that. Nobody thinks, 'I want to get a bunch of guys I don't like being around and call it a band.' But it's hard to find people, so you put up with a lot of crap just to hold a band together. Because you figure you have to find somebody who's a great musician, who you love to be around more than you're ever going to be around your own family, and who's great on stage. It's been a long journey. I always had two but never three. But I think now I've found everybody."
New band
Once touring wraps around May, the band will get back to work on the next album, for which writing has already begun. At this point in his lengthy career, it would be easy for Zombie to write the record he knows the fans want. But that's yet another one-way ticket to the bone yard. Unless you're AC/DC, you either move forward or die. He's taken chances before, as evidenced on albums like Educated Horses. That record had the usual chugging, simplistic heavy metal riffs and evil synth-driven industrial hallmarks of his groove-laden signature sound. But it also delved into eerie acoustics, blues and glam rock. He's spent a lifetime looking for that combination of everyman punk ferocity and arena rock untouchable. It would be understandable if he chose to rest on his legacy and ride off into the Hollywood eve, but it's far more difficult and ultimately worthwhile to trust that the ledge you're about to throw yourself off of won't be the one that kills you.
"It's a tricky thing where you know what the audience wants, but you can't give them what they want. You have to give them the next thing because they can only base what they want on what you've already done. But if you give them what they want, then they'll get bored with you. So when we're writing songs basically it's just my gut reaction. It's the only thing I can go by."
Comments will be moderated. Keep comments relevant to the article. Remarks containing abusive and obscene language, personal attacks of any kind or promotion will be removed and the user banned. Final decision will be at the discretion of the Taipei Times.