Movie review: Kano
A group of scrappy young baseball players become celebrated athletes who win respect at a national championship in Wei Te-sheng's (魏德聖) Kano. But Wei's film, which is based on a true story, is more than just a movie about baseball.
As with his earlier Cape No. 7 (海角七號, 2008) and Warriors of the Rainbow: Seediq Bale (賽德克.巴萊, 2011), Wei's latest film presents a version of history not commonly taught in Taiwan's schools but remains an integral part of the nation's identity.
Whereas Cape No. 7 examined the relationship between Taiwan and Japan through parallel stories that span 60 years and Warriors of the Rainbow dramatized the 1930 Wushe Incident (霧社事件), Kano tells the story of a high-school baseball team from Chiayi that takes second-place in Japan's prestigious national high school baseball championship at Hanshin Koshien Stadium in 1931. It offers an uplifting perspective on Taiwan's history, culture and identity through the game of baseball, which was introduced by Japan.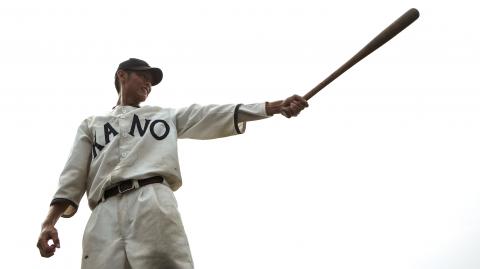 Kano has a strong cast made up of top-notch Japanese thespians and a group of well-cast, non-professional actors.
Photo courtesy of Vie Vision Pictures
The film opens in Keelung, 1944, where soldiers of the Japanese imperial army are preparing to depart for the Southeast Asian theater of War World II. We follow a group of officers boarding a crowded train that's making its way to the southern tip of the Taiwan. Settling down into a seat, Joshiya (Aoki Ken) tells one of his fellow soldiers to "wake me up in Chiayi." The former baseball player wants to see the birthplace of Kano (嘉農), the nickname of the Chiayi high school baseball team that he had played against in the legendary tournament.
We then travel back to 1929, when Japanese, Taiwanese and Aboriginal high school ballplayers are rigorously training under the eye of their coach Kondo (Masatoshi Nagase) in the lush fields of Chiayi. While others were dismissive of the team's prospects because they'd never won a game, the coach encourages the young athletes to train hard so as to compete at the Koshien championship.
And against all odds they do. In 1931, after winning Taiwan's regional tournament, the previously obscure team travels to Japan and stuns its rivals at Koshien. Among them, Joshiya, a star athlete and the Hokkaido team's pitcher, is overwhelmed by the team's stamina and admits defeat.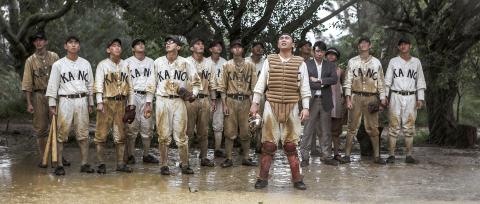 Photo courtesy of Vie Vision Pictures
Kano eventually advances to the finals, but the fierce game takes its toll on Go (Tsao Yu-ning, 曹佑寧), the team's pitcher, who has suffered an injury to his hands that makes it difficult to pitch. Despite the painful injury, Go persists. And so do his teammates, banding together to fight until the end.
Kano, however, eventually loses the game. But as the players leave the stadium, the 55,000 baseball fans who attended the championship give the team a standing ovation, marking a monumental moment in the history of baseball in Taiwan.
A feature debut by Umin Boya, an actor and director of Sediq (賽德克) and Sakizaya (撒奇萊雅) descent who starred in Wei's Warriors of the Rainbow: Seediq Bale, the technically polished film is an audio-visual feast designed to elicit big emotions. The opulent cinematography of Chin Ting-chang (秦鼎昌), Wei's long-time collaborator, transforms a sleepy backwater town into a charming pastoral heaven. Meticulous research is evident in the great amount of historically accurate props, costume and large-scale settings which include the streets of 1930s Chiayi and the Hanshin Koshien Stadium.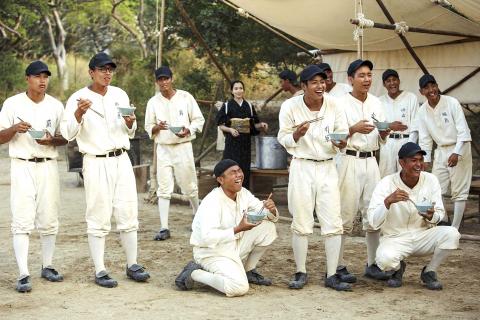 Photo courtesy of Vie Vision
As may be expected with a sports film, the narrative climax is achieved in the game's final matches, where real-life baseball players have been used to great effect. The cast of young professional athletes inject striking energy and gripping tension into the sequences, and the director also deserves applause for successfully delivering the tactics and emotional elements that make the game of baseball so enthralling.
Taiwan's colonial past is ever present in the story and its portrayal is surprisingly upbeat. Whereas Warriors of the Rainbow: Seediq Bale shows tribal chief Mouna Rudo leading Seediq warriors in a violent uprising against their Japanese oppressors, Kano depicts Japanese, Taiwanese and Aborigines uniting for a cause. Most of the first half of film is dedicated to portraying the harmonious coexistence between Taiwanese and Japanese, who together build Taiwan's colonial infrastructure.
However, instead of exploring in psychological depth the lives of the different ethnic communities, the movie at times resembles a work of propaganda — expressed by the character Hatta waving to the Taiwanese farmers with a toothsome smile — and relies too much on composer Naoki Sato's overwrought score which appears designed to sway emotions rather than set a mood.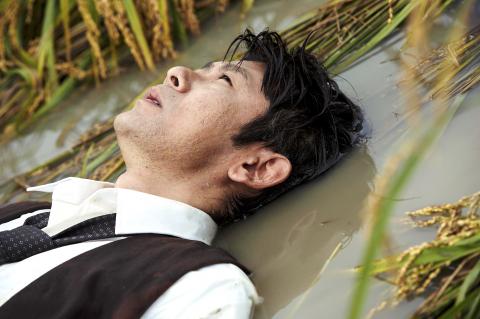 Photo courtesy of Vie Vision
Still, Kano forms the third in a trilogy of movies where Wei and his filmmaking colleagues have created a cinematic world that looks at Taiwan's colonial past through different viewpoints, while inviting Taiwanese audiences to rethink their history.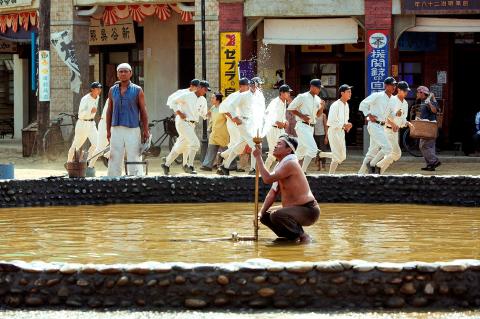 Photo courtesy of Vie Vision
Publication Notes
KANO(嘉農)
DIRECTED BY: Umin Boya (馬志翔) STARRING: Masatoshi Nagase as Kondo, Tsao Yu-ning (曹佑寧) as Go, Chang Hung-i (張弘邑) as Hirano, Takao Osawa as Hatta RUNNING TIME: 180 MINUTES LANGUAGE: In Japanese, Hoklo and Hakka with Chinese and English subtitles TAIWAN RELEASE: TODAY
Comments will be moderated. Keep comments relevant to the article. Remarks containing abusive and obscene language, personal attacks of any kind or promotion will be removed and the user banned. Final decision will be at the discretion of the Taipei Times.