Restaurant review: TKK The Bar
East District is the city's most exuberant area, where you can spot the newest trends in fashion, design, dining and clubbing. A fresh addition to the bustling lanes of Zhongxiao East Road (忠孝東路) screams its presence with dynamic lighting, loud music and a punchy tag line: chicken and beer.
Welcome to TKK The Bar, a new expansion project of the local fast food chain T.K.K. Fried Chicken (頂呱呱).
It's a gastropub that serves a variety of fried chicken, fries, salads, waffles and alcoholic drinks. Since its grand opening last month, the new endeavor has enjoyed a quick table turnover rate powered by a clientele that is young and hip.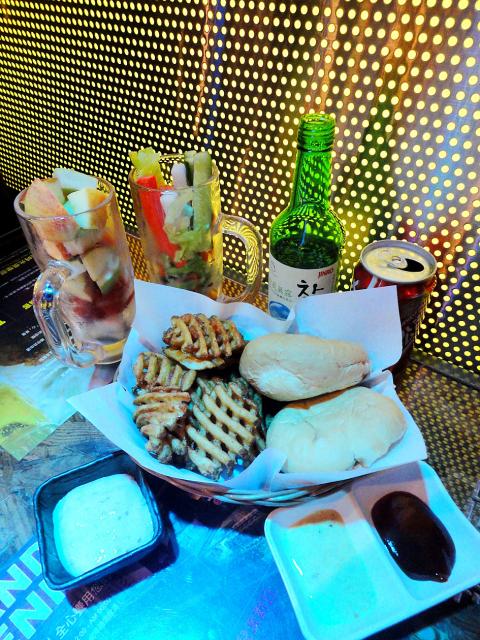 Mini pizza buns arrive with fries in a basket, veggie sticks on the side and fruit in beer glasses. * Excessive consumption of alcohol can damage your health.
Phopto: Tang Hsiang-yi, Taipei Times
I hadn't planned to go, but strolling by the glowing box with a friend by chance, I was drawn in by its flashy LED lights.
Just in case the T.K.K. Fried Chicken chain doesn't ring a bell, it's a local business founded in the 1970s as an alternative to imported fast food brands like KFC and McDonald's.
At first glance, TKK The Bar struck me as a brand-new establishment that shares nothing with the chain. The decorative touches of the old-fashioned fast food chain did not make an appearance in this cool, modern-looking bar restaurant.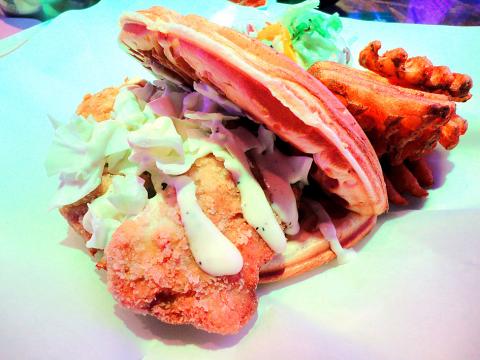 The fried chicken waffle sandwich comes with a small salad and waffle fries.
Photo: Tang Hsiang-yi, Taipei Times
But to my disappointment, the food at TKK The Bar is less impressive than its ambience. The bar menu presents what the fast food chain offers — the usual chicken necks (NT$180), chicken drumsticks (NT$250) and roasted half chicken (NT$349) — with few innovations of its own.
One of the few new items is the fried chicken waffle sandwich (served with a mini salad and waffle fries for NT$210). We ordered the sandwich out of curiosity, and it came just as it sounds: It's a piece of lemon-flavored chicken chop dressed with morsels of chopped cabbage and sandwiched in a waffle. The citrus flavor of the chicken leaves a zesty aftertaste, but other than that, the dish provided nothing out of the ordinary.
Other items we ordered included the mini pizza buns (an order of two served with assorted fries for NT$180), veggie sticks (NT$80) and an assorted fruit box (NT$100).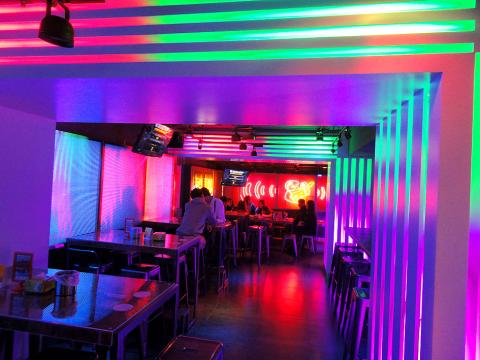 TKK The Bar serves fried chicken and beer in a glowing box of neon lights.
Photo: Tang Hsiang-yi, Taipei Times
At T.K.K. Fried Chicken, the mini pizza is my preferred snack — the pocket-sized pizza-in-a-bun warms up a stomach in need of a quick refill. However, having it in a gastropub proved less delightful. Especially when I know one bun costs only NT$45 at the fast food restaurant. The bun at the bar cost more but tasted exactly the same, though it came arranged in a better-looking basket instead of a paper bag.
Both the veggie sticks and fruits came in beer glasses with Thousand Island dipping sauce on the side. The veggies were cucumber, carrot and radish sticks mingled with lettuce and bell pepper slices, while the fruit box comprised morsels of guava, apple and cherry tomatoes. Everything tasted banal.
Still, the merely-average food quality didn't seem to stop customers from coming, which suggests to me that people don't go there for the chicken. Instead, TKK The Bar is where friends meet, sit down for a beer and maybe some finger food — even when the volume of dance remixes playing in the bar would definitely prevent diners from having a conversation.
For thirsty diners, the drink menu offers plenty of reasonably-priced options. The selection includes a Taiwanese draft (NT$120), Japanese Kirin draft (NT$150), Thai Singha beer (NT$120) and Korean Hite (NT$120). There's also a list of Japanese sawa drinks and fun cocktails based on creme de cassis. We picked a bottle of Korean Chamisul Soju (NT$250).
■ Excessive consumption of alcohol can damage your health.
Publication Notes
TKK The Bar
Address: 21, Alley 7, Ln 181, Zhongxiao E Rd Sec 4, Taipei (台北市忠孝東路四段181巷7弄21號)
Telephone: (02) 2721-3065
Open: Daily from 12pm to 2am
Average meal: NT$400
Details: Credit cards not accepted, English and Chinese menu, no service charge
On the Net: Search for "TKK The Bar" on Facebook
Comments will be moderated. Keep comments relevant to the article. Remarks containing abusive and obscene language, personal attacks of any kind or promotion will be removed and the user banned. Final decision will be at the discretion of the Taipei Times.