DVD & CD reviews
PELLEAS ET MELISANDE, by Debussy; FELLOW TRAVELER, by The Complete String Quartet Works of John Adams; CHRISTOPH VON DONHANYI – IN REHEARSAL, by Hadyn Symphony No. 88; IN SEARCH OF HAYDN, by A film by Phil Grabsky.
When you read that Debussy wrote, about his opera Pelleas et Melisande, that any attempt to create beauty always seems to be taken as a personal insult by some people, you can hear US opera director Robert Wilson heartily concurring. His recent productions have been damned for exhibiting a Zen-like austerity and would-be purity at the expense of the dramatic content of the works concerned. This production, from Paris' Bastille Opera, could be seen in this light too.
In fact, I was expecting to hate this DVD. But then I came to it as someone who hadn't enjoyed Debussy very much, and to my amazement I was more than half-converted to the music by Wilson's production style. It taught me how to listen to the delicate web of sound, and that has to be hugely to its credit.
Almost everything visible onstage, from beginning to end, is blue. The movement has the slowness and deliberation of ancient Japanese Noh drama, with a total absence of props — no crowns, no flowers and no swords, even though all these are referred to in the text.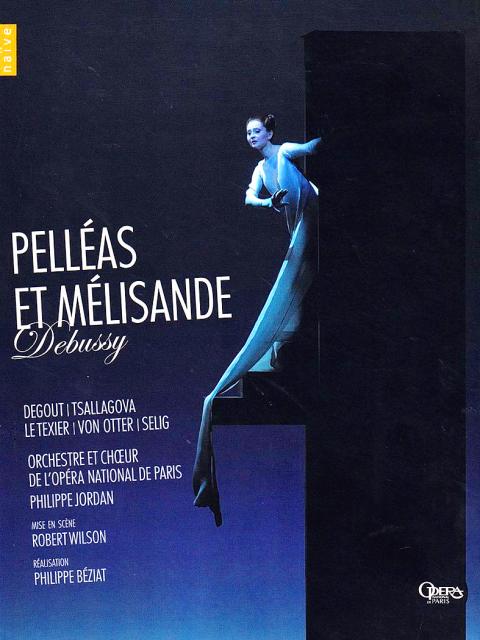 PELLEAS ET MELISANDE by Debussy.
Admittedly there are plenty of night scenes in the work, not to mention caves "full of blue shadows" and dank vaults. But the sense of Zen marionettes in moonlight predominates, even in a scene supposedly taking place at midday. Sometimes the iconography is also reminiscent of ancient Egyptian art, not far removed from Japanese Zen in its ritualistic and stylized formality. Clearly Wilson the aesthete is imposing this style on Debussy's masterpiece, come what may. But I was strangely moved by it, and watched it throughout with only one short break.
Musically, this is a superb product. All the reviewers on www.amazon.co.uk complain about shortcomings in the sound quality, but these must have been put right before my copy was made because its aural clarity is one of its most striking characteristics. The Orchestre de l'Opera National de Paris under Philippe Jordan is outstanding in the way it presents Debussy's score, and the soloists match this high level. Stephane Degout shines out as Pelleas, as does Vincent Le Texier as Melisande's husband Golaud. Elena Tsallagova is a lovely Melisande, and the production is additionally remarkable in having the great Anne Sophie von Otter in the small role of Genevieve.
John Adams is the US' best-known opera composer, responsible among other works for Nixon in China (1987), The Death of Klinghoffer (1991, on the hijacking of the cruise-ship Achille Lauro by the Palestine Liberation Front in 1985), and Dr. Atomic (2005, on Robert Oppenheimer; reviewed in the Taipei Times April 8, 2009).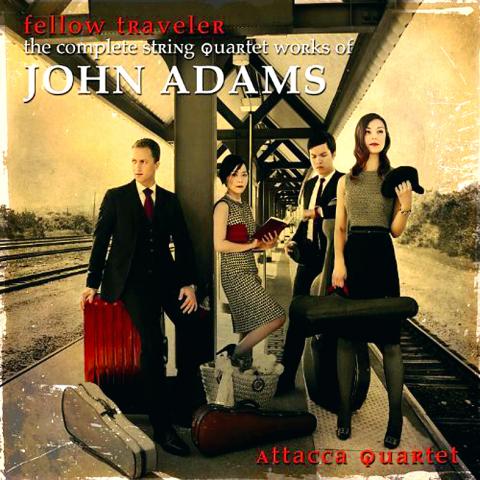 FELLOW TRAVELER by The Complete String Quartet Works of John Adams.
His musical style discards the bleak 12-tone abstraction of the early modernist composers and replaces it with something far more rhythmic, vigorous and dramatic. All three operas mentioned above have enjoyed considerable success, often with the help of Adams' sometime librettist and director Peter Sellars.
Now his works for string quartet have been collected on CD, performed by the youthful Attacca Quartet. There's only one quartet as such, a two-movement work composed in 2008. The other items are John's Book of Alleged Dances and Fellow Traveler, both written for quartet performance, though six of the ten dances also contain a pre-recorded "rhythm loop," a repeated short section of rhythmic sound. These so-called dances are apparently considered "alleged," because no actual dances have yet been invented to accompany them.
The quartet is the most important of the items. It's in only two movements, but at 20 minutes the first movement is very long. It's both extensive and concentrated, and repays endless re-listenings. Indeed, it might be said that repeat listenings are required for anything like a full appreciation.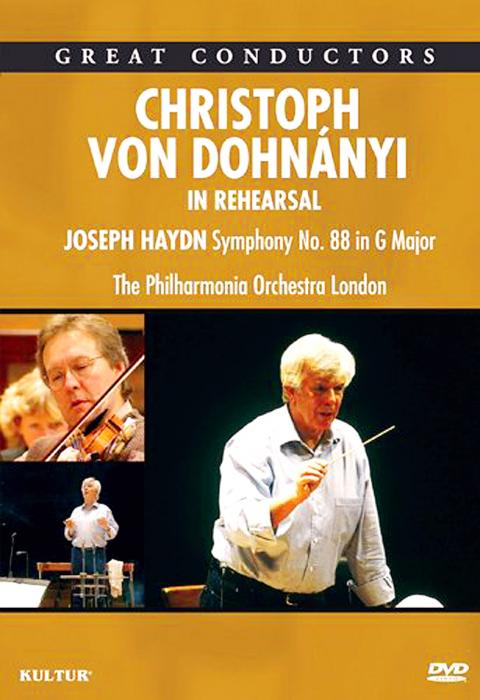 CHRISTOPH VON DONHANYI – IN REHEARSAL by Hadyn Symphony No. 88.
The most easily accessible item is the last, Fellow Traveler, a tribute to Sellars on his 50th birthday. The title is perhaps an ironic reference to Oppenheimer, who was considered a "fellow traveler," for example, a Communist sympathizer, by the FBI of his day. But in fact the music that gets echoed in this short piece (of which this is the first recording) is more that of Nixon in China, the premiere of which Sellars directed.
Either way, the music is stunningly played. The Attacca Quartet was Graduate Resident Quartet at the prestigious Julliard Music School from 2011 to 2013, and is currently preparing to perform all of Haydn's 68 string quartets.
It so happens Haydn has been to the fore for me this month. This is entirely thanks to the Naxos Video Library (www.naxosvideolibrary.com), an organization that puts a large number of DVD recordings online for its members to watch. It in no way limits itself to Naxos's own recordings, and has recently announced the acquisition of 500 items from the Sony Classical label, with more to follow.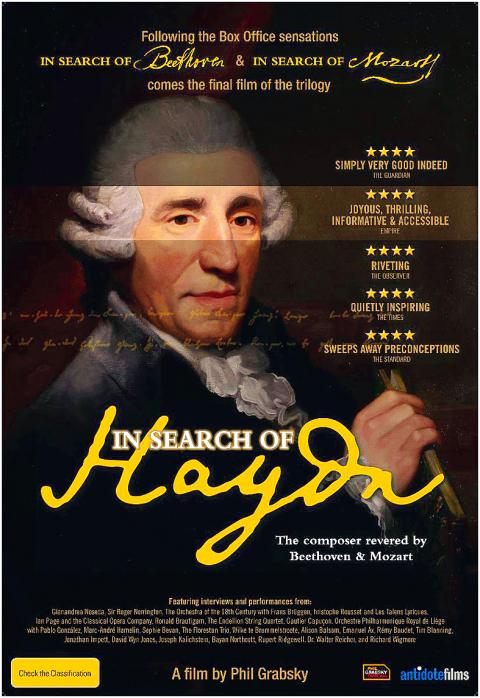 IN SEARCH OF HAYDN by A film by Phil Grabsky.
The library recently added a number of videos from Arthaus Musik showing various conductors in rehearsal, one of which is of Christoph Von Donhanyi rehearsing London's Philharmonia Orchestra in Haydn's Symphony No. 88. This is one of Haydn's finest symphonies, and you watch Von Donhanyi go through its four movements, with comments from instrumentalists inserted here and there.
Then at the end Von Donhanyi makes some astonishing remarks. This is entertainment, he says, but entertainment on an extremely high level. We are totally unable to create music like this nowadays, he adds. It's a capacity we've lost.
Another film available on the Naxos Video Library is Phil Grabsky's In Search of Haydn. It's remarkable on account of the sheer number of musicians, conductors and music historians who appear. Their virtually unanimous opinion is that Haydn is never called a genius, as Mozart and Beethoven routinely are, but was nonetheless every bit their equal.
Of the many instrumentalists who give their opinion, Emanuel Ax is among the most instructive. And the celebrated conductor Roger Norrington concurs, unbeknownst to him, with Von Donhanyi in saying Haydn produced pure entertainment. How one wishes composers today composed to entertain, Norrington adds with a wry smile.
Comments will be moderated. Keep comments relevant to the article. Remarks containing abusive and obscene language, personal attacks of any kind or promotion will be removed and the user banned. Final decision will be at the discretion of the Taipei Times.