Tainted by scandal
Chinese and Taiwanese-Americans are thinking twice about buying products made in Taiwan amid the latest food scare
In the Hong Kong Supermarket on Hester Street in Manhattan, Elisa Kao was scrutinizing the labels on cans of shashajiang (沙茶醬) the way a forensic scientist examines sets of fingerprints. Hardly an unusual sight in Chinatown, Kao was doing what many Asian-Americans have done for years whenever they shop at Chinese supermarkets in the US — she was searching for recognizable brands made in Taiwan.
But this time, it was for a different reason.
"Now, who knows what's safe to eat," Kao said. "Maybe I should start looking for 'made in China' instead."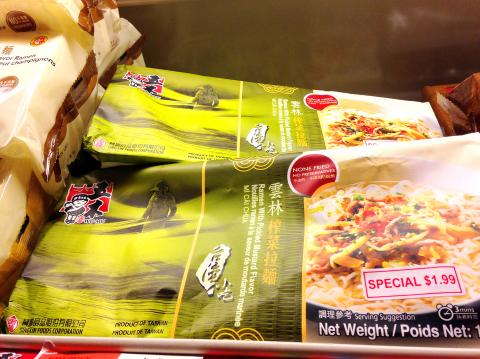 Following the discovery of sodium copper chlorophyllin in spinach-flavored Wu Mu ramen, Asian-specialty stores in New York, including Jmart and the Hong Kong Supermarket, removed the affected noodles from their shelves. Other Wu Mu flavors remained, however, including "Ramen with Pickled Mustard," marked down to US$1.99 a package.
Photo: Chris Fuchs
For decades, three simple words — Made in Taiwan — stamped on canned and packaged food items sold in Chinese supermarkets in the US conveyed a guarantee of quality and excellence. But in the wake of Taiwan's widening food scandal, Chinese and Taiwanese-Americans living in New York, home to the largest overseas Chinese population in the US, say they are thinking twice about what they put in their carts.
Food scare
"In the past, I used to buy Taiwan, but after the recent news reports came out, I'm a little scared," said one customer, surnamed Hsu (許), who was searching for chili paste at Jmart, an Asian-specialty supermarket in Flushing, New York. "Now I'm buying Korean and Japanese items instead."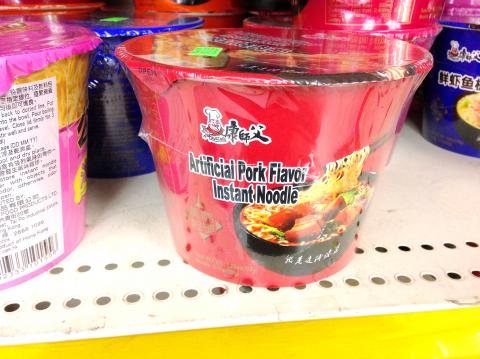 Besides the growing oil and food scandal in Taiwan, New Yorkers also have to worry about the ingredients in phony brands like Kang Shi-fu, whose packaging, design and logo — save for a single Chinese character — are similar to those used by Master Kong.
Photos: Chris Fuchs
Two weeks ago, the Wu Mu (五木) brand of steamed spinach ramen noodles, manufactured by Sing-Lin Foods Corporation (興霖), was the latest addition to the growing list of made-in-Taiwan products implicated in the country's widening food safety scandal. After testing positive for sodium copper chlorophyllin, a coloring agent permitted in food items like gum and dried seaweed but not in noodles, Wu Mu's spinach-flavored ramen was pulled from shelves at Jmart and the Hong Kong Supermarket, two of New York's most popular Asian-specialty superstores, cashiers and employees said.
At Jmart, other flavors of Wu Mu ramen, including pickled mustard (雲林榨菜拉麵) and steamed mushrooms (香菇拉麵) reduced to US$1.99 a package, remained on shelves since they were not affected, workers said. Managers from Jmart, the Hong Kong Supermarket and the Great Wall Supermarket, another popular chain in New York, did not return phone calls and e-mails seeking comment about whether customers could get a refund for previously-purchased Wu Mu noodles, or other items linked to the food scandal, and what they planned to do with any returned merchandise.
No recall, yet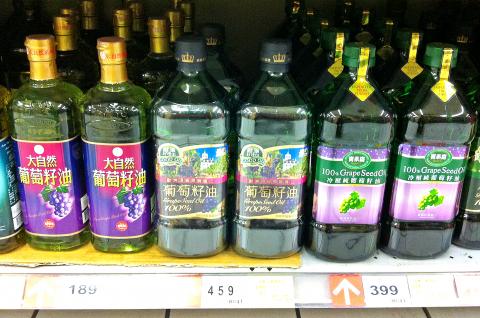 Besides the growing oil and food scandal in Taiwan, New Yorkers also have to worry about the ingredients in phony brands like Kang Shi-fu, whose packaging, design and logo — save for a single Chinese character — are similar to those used by Master Kong.
Photo: Taipei Times
As of Tuesday, the US Food and Drug Administration (US FDA) had not issued any recalls for Wu Mu noodles or other items linked to Taiwan's food safety scare, including those manufactured by Wei Chuan Food Corp (味全), Chang Chi Foodstuff Factory Co (大統長基), Formosa Oilseed Processing Co (福懋) and Flavor Full Foods (富味鄉), according to the agency's Web site.
When asked about how the US FDA issues recalls for potentially harmful FDA-regulated products, an agency spokeswoman, Juli Ann Putnam, referred to the FDA's Web site, which said that "recalls are almost always voluntary" and that "only in rare cases will the FDA request a recall."
On a blustery Saturday evening last weekend in Flushing, Queens, home to many Taiwanese-Americans during the 1980s, shoppers at Jmart in the New World Mall lingered just a little longer than usual on the instant noodle aisle, mulling over which of the dozens of brands they should buy, as news of Taiwan's food scandal made headlines in local Chinese-language newspapers and on Chinese-language news broadcasts.
One middle-aged woman from Guangzhou, surnamed Dong (東), said that she usually does not follow the news, but that this time was different.
"If you're comparing China and Taiwan, I prefer brands from Taiwan a little bit more," Dong said. "The food situation in China has always been a mess, but now in Taiwan, it's almost the same."
Xu, who said she has eaten Wu Mu ramen noodles, agreed with Dong.
"Chinese products are not trustworthy," said Xu, who is also from China. "But the quality in Taiwan now is more variable than ever. I usually would buy brand names that you often see advertised. For instance, I used to buy Kimlan (金蘭醬油) soy sauce. Now, I don't necessarily buy things from Taiwan."
MIT: No longer sign of quality
Many shoppers interviewed last weekend said they began changing their opinion about made-in-Taiwan brands in 2011, when plasticizer Di(2-ethylhexyl) phthalate (DEHP) was found in emulsifying additives used in everything from sports beverages to fruit jelly. Regarded as a cheap substitute for palm oil, plasticizers have been linked to developmental problems in children and are illegal in foods.
Still, some Jmart shoppers, including Helen Chen, said they were trying to take the latest food-safety scare in stride.
"If it sounds like it tastes good, I'll buy it, no matter who makes it or where it comes from," Chen said. "But I'm still surprised about this news from Taiwan. It's got my attention."
Besides keeping straight the growing number of companies added to the made-in-Taiwan blacklist, wearied Chinese and Taiwanese-American shoppers pointed out that they also face another challenge that emerged before the integrity of Taiwanese food items had been called into question — making sure that the brands they purchase are actually the real thing.
"See the character 'fu' (父)? That's not the same as this 'fu' (傅)," a student from Zhejiang, China, surnamed Zhang (張), said as she held up a package of Kang Shi-fu (康師父) instant noodles, distributed by a Brooklyn warehouse, and compared it to Master Kong (康師傅), the famous Chinese brand established in 1991 by two Taiwanese brothers that is owned by Ting Hsin International Group (頂新集團).
One of those brothers, Ting Hsin chairman Wei Ying-chun (魏應充), was indicted two weeks ago on charges of fraud, mislabeling products and violating the Act Governing Food Sanitation (食品衛生管理法) in connection with adulterated oil purchased from the Chang Chi Foodstuff Factory Co that Ting Hsin allegedly produced and marketed under the Wei Chuan brand.
Zhang said she was aware of Taiwan's on-going food safety issues and said she knew oil was one of the blacklisted items. But, Zhang added, she did not know that Master Kong had also been ensnared in the food scandal.
When asked if this had changed her mind about which "Kang Shi-fu" she would buy, Zhang paused and cracked a smile.
"I think I still prefer Master Kong," she said. "It's extremely popular in China. It's the real thing."
Comments will be moderated. Keep comments relevant to the article. Remarks containing abusive and obscene language, personal attacks of any kind or promotion will be removed and the user banned. Final decision will be at the discretion of the Taipei Times.