Destination Penghu
Biking, swimming, windsurfing and birdwatching are some of the outdoor activities that have made Penghu one of Taiwan's ideal travel destinations
Standing on the long peaceful stretch of Penghu's Aimen Beach with the wind in your hair and salt sea spray cooling your forehead, it is easy to relax, chill out and let the rest of the world go by. Maybe that was the envious thought of the busy Portuguese traders, who named Taiwan Formosa (Beautiful Island). Regularly plying their way from Macau to Nagasaki, they gave Penghu's many islands the sleepy name, the Pescadores (Fisherman Islands). It does have that laid back feeling and plenty of sea food, but today's Penghu appears determined to redefine itself and offer more besides quiet beaches and sleepy fishing towns.
Historically, of course, this far-spread archipelago (over 80 islands) has had a unique gateway relationship between the continent and Taiwan. In 1622, the Ming, after battling the Dutch there, encouraged them to colonize Taiwan and so trade with China "from a distance." In 1661, a fleeing Zheng Chenggong (鄭成功), better known as Koxinga, took the islands on his way to replacing the Dutch on Taiwan. In 1683 Shi Lang's (施琅) victory at Penghu for the Qing precipitated the quick collapse of Zheng's followers on Taiwan.
When the French wanted to isolate Taiwan in the Sino-French war of 1885, they captured Penghu. Similarly, by taking Penghu (March, 1895) the Japanese tipped treaty discussions at Shimonoseki and insured their getting Taiwan as well as Penghu. That is the past, but what does the Penghu of today offer?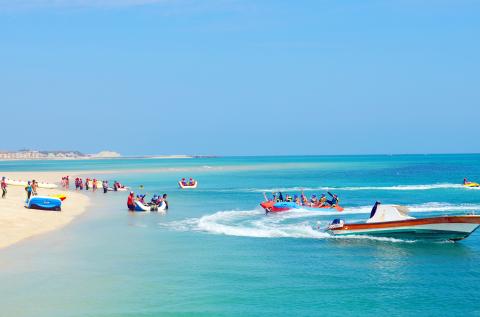 Water sports are a common recreational activity on Pengu and its outlying islands.
Photo: Jerome Keating
GREAT OUTDOORS
With so many islands, water sports are a natural fit. Besides swimming, many beaches have the traditional banana boats and jet-skis. Similarly, there are plenty of places for snorkeling and scuba diving. Windsurfing, however, is putting Penghu on the international sport's map. Strong northeasterly winds bear down through the Taiwan Strait in the off-season from late October up till April while the flat terrain of the islands offers little resistance and the waves are not too large.
For "landlubbers" who still want good exercise, bicycle paths are there in abundance, allowing one to explore the inter-connected major islets of Magong, Zhongtun, Baisha and Xiyu. In Magong city, hotels often provide bikes to tour the city. The larger outer islands of Wang-an and Qimei also have their bike paths, but a word of caution: this sport is best done in the summer months when the winds are not too strong.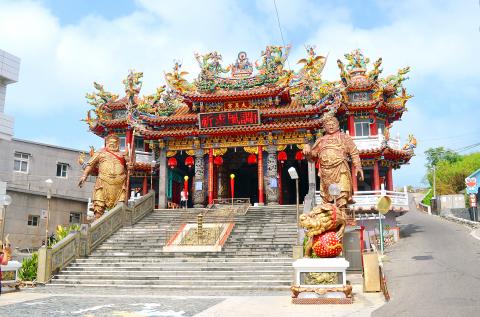 One of Penghu's many temples.
Photo: Jerome Keating
For the geologically inclined, the Penghu archipelago is worth examining. Formed some eight to 17 million years ago, volcanic lava eruptions rose to the surface and cooled down leaving the islands their columnar basalt base. Start with the Xiaomen Geology Gallery and the Tongpanyu Geopark, and then later boat to any of seven designated Basalt Nature Reserve islands spread from north to south; each has its own intriguing, unique formations.
Bird watching may not be everyone's cup of tea, but for enthusiasts Penghu's location on the Taiwan Strait makes it an ideal spot for migratory birds during the winter and spring months. The wide variety of migratory birds includes shrikes, thrushes and cormorants. Six types of terns also use it for breeding grounds in the summer. For sea creatures, the green turtles yearly lay eggs on Wang-an islet with its Green Turtle Conservation Center and aqua farms offer the chance to experience large net fishing as well as night fishing for squid.
With so many scenic islands, beaches and fishing towns, and over 180 temples, "photographic shots" are available most anywhere. Magong city offers old town walking tours, a temple that dates back to Shi Lang's victory and its colorful Xiying Rainbow Bridge replete with summer fireworks, but time should also be made to take trips to the many outer islands with their famous fish trap stone weirs and villages where time has stood still.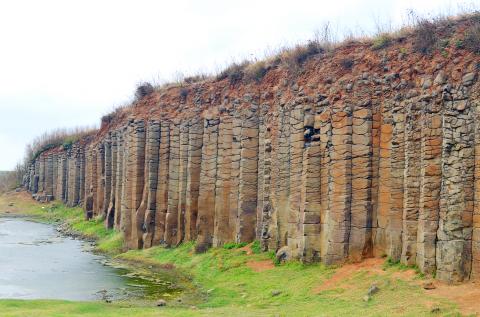 Penghu's remarkable basalt columns.
Photo: Jerome Keating
Surprisingly, though Taiwan's Legislative Yuan now allows gambling on the offshore islands, Penghu's citizens still voted to forego that choice in a referendum in September 2009. Perhaps they prize a quiet serenity at the end of the day; the subsequent three-year moratorium has passed with no large cry yet for a second vote. Penghu's advantage is that it offers all the above at one spacious destination without the hustle and bustle of large crowds and it is only an hour's flight from numerous cities in Taiwan. That may be why Taiwanese are not the only ones to appreciate Penghu. Using single person entry visas, visitors from China now also come with direct flights from Xiamen.
GETTING THERE:
■ Daily flights leave Taipei's Songshan Airport on Uni Air, Mandarin Airlines, TransAsia Airways and Far Eastern Air Transport
SCOOTER AND BICYCLE RENTAL:
■ There are many shops in Makung City offering scooters and bicycles for rent. A 125cc scooter rents for NT$400 per day. Two helmets are provided but tourists must pay to fill the gas tank themselves.
ISLAND INFORMATION AND TOURS:
■ The South Sea Tourist Service Center in Makung City provides information and tickets for tours of the many islands south of Makung. The North Seas Tourist Service Center at the northeast tip of Baisha Island provides information and tickets for tours of Jibei and Mutou islands. Penghu Walker is a well-illustrated map that includes some of the more popular tourist attractions and destinations. The Beauties of Penghu is a detailed brochure explaining Penghu's culture and environment. There are Chinese and English versions of each.
WHERE TO STAY:
■ Camping is possible on most public property. Just pitch your tent or unroll your sleeping bag. A complete list of hotels and homestays on all of Penghu's main islands can be found at: tour.penghu.gov.tw.
Comments will be moderated. Keep comments relevant to the article. Remarks containing abusive and obscene language, personal attacks of any kind or promotion will be removed and the user banned. Final decision will be at the discretion of the Taipei Times.