New concept market
Making use of space created for the Taipei International Flora Exposition, Maji Maji Square aims to create an outdoor space for eating and shopping
The creation of the Taipei Expo Park following on from the Taipei International Flora Exposition in 2010 and 2011, and the redevelopment of the area surrounding Zhongshan Soccer Stadium (中山足球場) and Yuanshan MRT Station (圓山捷運站), made available the kind of wide open urban space that is relatively rare in overcrowded Taipei. For architect Eugene Yeh (葉裕清), it was the opportunity to do something different, and late last year he began plans to establish Maji Maji Square (Maji Maji 集食行樂), an unconventional collection of shops and restaurants that he hopes will increase the leisure options available to Taipei residents. Maji Maji Square officially opened at the beginning of last month.
Maji Maji is located in a large covered area on the eastern face of the Zhongshan Soccer Stadium, facing — but slightly obscured from — the bustling traffic of Zhongshan North Road Sec 6. Last year, Yeh saw in this space a chance to build the kind of market that he had seen during his travels around the world.
"I've been traveling around the world since I was 11 years old. I am now 52 years old. I've been thinking all the time of bringing some brilliant ideas from all my traveling experiences back to Taiwan. … The idea for Maji Maji came from so many corners of the world including a street in Tokyo, a market in Madrid, a food court in Paris, a market in New York City," said Yeh in a phone interview with the Taipei Times.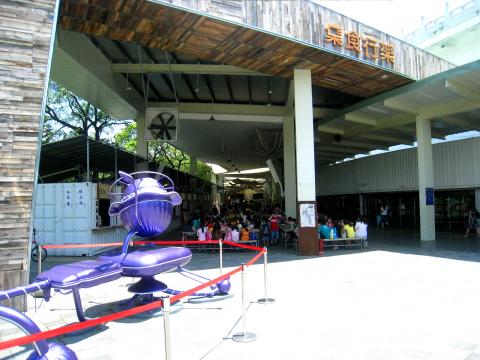 The outdoor food street is a brave innovation, considering that Taipei's residents are notoriously heat-shy.
Photo: Ian Bartholomew, Taipei Times
"When I looked at the location last year, I could see it had potential. It is not such a popular location at the moment, but it is close to the MRT. We wanted to do something to upgrade the Flower Expo food court to make it more attractive. … I believe that this kind of combination [of shops] is not easy to find in Taipei at the moment, but this kind of market square is quite common overseas, and I think Taipei people will love it."
The space, originally built as part of the Taipei International Flora Exposition, has a high ceiling to protect against rain, but Yeh recognizes that it is far from perfect, especially for heat-shy Taipei shoppers. "We have actually had a lot of complaints that it is too hot there and that there is not enough parking," Yeh said. "We also understand that if the space could be air conditioned, then it would not really fit in with our idea [of creating an outdoor market]. I want to tell people that this is not perfect, but this is a kind of more natural style. I actually live in Bangkok, which is much hotter than Taipei, but in Bangkok there are many outdoor spaces that attract a lot of people. So we need to try [in Taipei]."
According to Jay Tian (田澧杰), marketing manager for Maji Maji Square, the area rented by Yeh and his partners covers nearly 10,000 square meters and has a total of 85 shops and booths, 50 of which are already occupied. These range from small food court style stalls with outdoor seating, to chic establishments such as Trio Wine, a trendy wine bar that is a side project of the hugely popular Trio Cafe located in Huashan 1914 Creative Park.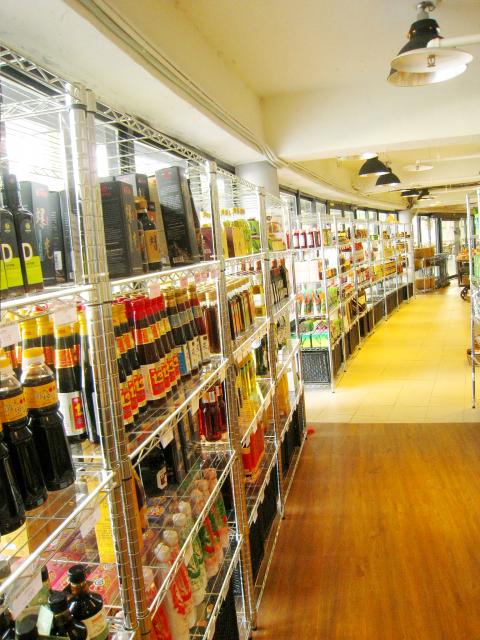 The Maji Maji Deli features many artisanal local products.
Photo: Ian Bartholomew, Taipei Times
Artisanal deli
Yeh takes an active part in the selection of shops that he wants to participate in Maji Maji Square so as to build up something unique. The centerpiece of the square is the Maji Maji Deli, which brings together a wide range of locally produced artisanal foods. "I wanted to bring together the food that I love," said Yeh, who is a passionate cook and gourmet. There are some similarities with upmarket supermarkets such as Breeze Center, but with an emphasis on local produce.
"My first step is to have the produce of local farmers in my market," Yeh said. "Then I want to start importing unique food from other parts of the world. … I like to make a space for all the food I like, where it can be found together. It is a very personal project in my mind, but I want to share these things with people who like to cook at home."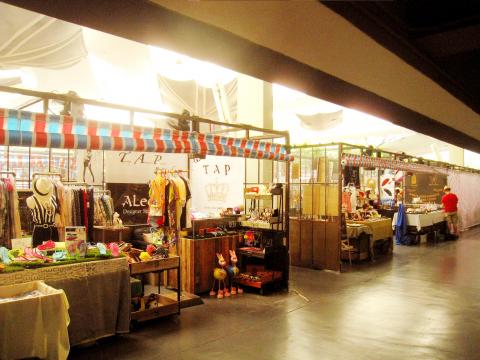 An outdoor arts and crafts market that has plenty of surprises.
Photo: Ian Bartholomew, Taipei Times
In addition to the food court and the deli, a number of upmarket restaurants have set up shop in Maji Maji, and there is a central area for selling arts and crafts. Tian said that when choosing businesses to come in on the Maji Maji project, he is looking for creative endeavors that are not just clones of what can be found elsewhere. "I don't want things that can be found in big department stores. I want Maji Maji to be a place where people come in search of surprises," Yeh said.
Yeh said that despite the need for further fine-tuning, he believes that he has realized his original conception. "When I see people come to explore Maji Maji with their families and friends, I feel 'this is what I want,'" Yeh said. "We also see a potential to expand this idea to other parts of the island."
Adding to the street market atmosphere, Maji Maji plays host to small outdoor concerts over the weekend, with information posted on its Facebook page.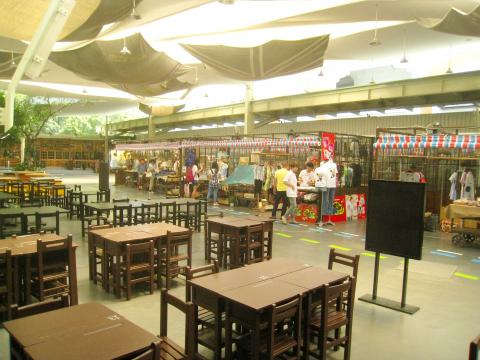 An outdoor arts and crafts market that has plenty of surprises.
Photo: Ian Bartholomew, Taipei Times
Comments will be moderated. Keep comments relevant to the article. Remarks containing abusive and obscene language, personal attacks of any kind or promotion will be removed and the user banned. Final decision will be at the discretion of the Taipei Times.